Well no rest for the wicked…..or wood obsessed…lol. My name is Joe and …....I have a shavings, saw, plane…..ahhhh you name it….it's a great problem to have….right?.....lol
Back at the shop and on the job of coming up with a project that I think will be fun to work with.
I was thinking since I have been very fortunate to find all kinds of cool old handtools maybe I could build a project that might include some of the favorites that would make up an old style tool kit.
Being that is the idea…I wanted to build an old fashioned tool tote. I am trying to catch a simple and yet personal style that will look of an older time…..hard working as well as rugged…and yet maybe be an inviting and fun platform to want to dig in and explore some of the different work pieces from many years past.
My small tribute to the great craftspeople from all those years ago.
So…...I guess we can start with this installments pictures and see my methods of madness….lol
Pic: 1: The mighty Disston took to the pine slabs by making my totes sides…...this will be a bruiser of a tote…..32 1/2 inch sides…..we want some room for the cool stuff!
Pic: 2: Took those over and had a go at my poplar shooting board to trim up and square up the ends.
Pic 3: I looked over some various totes….and really liked this rounded look….so I took to some tracing paper and mapped the lines out. My methods have changed in my recent projects, I use my abiltiy to draw and sketch my ideas…..in past blogs you have seen this…but before my Exercise in artisanship series began…I rushed through ideas….always on the fly. Honestly gang…good by to those days…lol. I greatly enjoy my recent less rushed results, taking time to really be and look at the ideas before just executing them.

Pic 4: Ok ….a little mock up to see my vision coming together.
Pic 5: Here's another interesting way to cope saw out smaller work. I use this jig I made from watching Roy Underhill….it works really nice…and it's a fun way to change up the same old ways of doing something!
If this interests you check the project out….http://lumberjocks.com/projects/56948
Pic 6: There are a few ways you may go about doing this…...hands over the top in a stabbing sawing motion as the previous picture shows…...not bad…..a little challenging…lol. Or you may get your favorite shop stool and sit and do this with hands under…and cope saw the piece this way….ahhh that's better…lol My back thanks you underhand saw style…..lol
Pic 7: Here it is now…..we got it coped out….and had a chance to work on a different way of doing the same thing. I find that to be a great skill building activity….get a job or task…and try to learn 2-3 ways of getting it done, nice to have in your arsenal if certain tools are not near by or in your current kit. Also…..it's nice to just want to change work patterns up as well!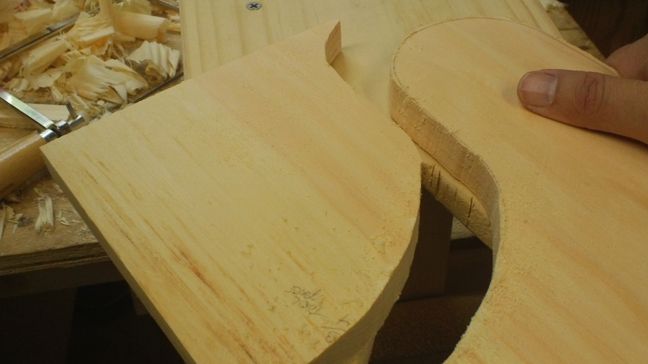 Pic 8: Now I take my handsaw to rip cut a bottom piece.

Pic 9: Fun to look back….remembering my first sawing experience as I view this pic…how far off a line I would wander 2 years ago with my saw..as with everything it improves with doing. I leave the cuts a tad chubby off of the pencils so I can test fit and plane if needed for a snug fitting. One of the best rules of woodworking especially by hand…"More wood is always fine…because we can't add wood if it's cut too short"….lmao.

Pic 10: There it is all cut and ready for some additional mock up to view where we are at.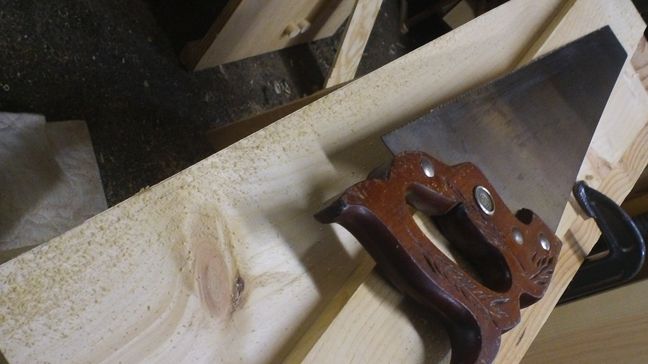 Pic 11: So here is the mockup in this stage of the game. I rounded the sides tops with plane, spokeshave and sandpaper. I also drew the sides inward to joint to the ends thinng up the width trying to subtract the more boxier look that it had….nice…like this better more slender. Then I clamped this together to see how it is looking. We have much to do yet…but a nice start for my ideas. Simple lines here, going with a less is more approach. We will have more to work with soon!

Ok friends, that about does her for this portion of the build. I sure hope you had a great week and as always I enjoy looking at your ideas as well as appreciate your comments!
Take care….CHEERS!
Joe
-- "Always continue to learn, laugh and share!" JJW
---