This morning was a sunny and clear day out…....the kind of day that actually fit the season. Our earth is ever changing, it seems these days people all over the map are in store for surprises from mother nature, some scary and some just plain hard to figure out…lol.
I was driving in my truck…it was crazy out, cars all over, people hustling and racing everywhere. It's so hard not to find yourself becoming the same way…. impatient, hurried and a bit stressed.
Down the street traffic got a little tighter and slower…there was morning church ending and letting people out…..the doors were open releasing the sounds of bells. In a heartbeat…..I became very attentive to the wonderful tones….vibrating such a power….and a message. I think for me the message was…...slow down….....and have hope.
Suddenly the pace of traffic, the hurried stressful feelings were absorbed by the sounds of those bells, even as they grew faint with my truck proceeding forward and onward home.
I had a nice lesson….."always stop and listen to the bells " I told myself…life is at times in need of a positive pause….at least for me….lol.
Later I went and bought a few goodies from a friend…you may remember his name from a past handtool story…Ralph. He had some fun things….and I never mind paying a little more because his tools are always in top cleaned shape…and they have always worked.
Found this VINTAGE GOODELL-PRATT YANKEE TYPE HAND DRILL 1895 take a look …this was in excellent condition…...and honestly the first time I had ever seen one….....I loved this piece….so I purchased!

Got this vintage drill home…and put it to use….and works just terrific…..a definite user.
Also I bought this cool PAD SAW......I just loved the historic looks of it..and will also make use of this. Take a look.

Now…...last week when paying Ralph a visit….he had this bruiser STANELY BAILEY #6......and since I had not gotten one yet…..oh this is a sweet one for sure so I made a bargain friendly purchase….and not at ebay prices!....lol The totes are all together and strong….nice all around!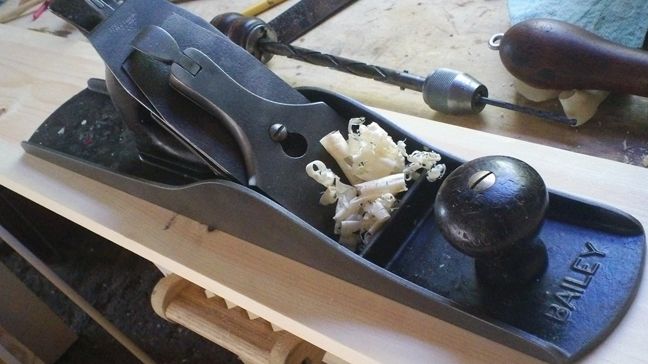 Heres the whole roundup of toys….

This was a great weekend for sure….celebrated my 41st birthday…and what a wonderful and useful gift.
My beautiful girlfriend Jenn bought me….6…..48" rockler pipe clamps…....wow!!!!! She is the best!

Building a collection of all the useful things you need in a shop….well….you know…it can get or seem endless….lol. Needless to say clamps were not in great amount in my workspace….and I sure love these…..just great. Thanks to Paul Sellers for the tips…..love these rocklers for sure Paul! How lucky I am to have such a wonderful person to get these for my shop…..thanks so much Jenn.
Blue skies and humidity free breezes swiftly move on throughout this nice Sunday…..up over the shop…..so nice to see clear blue and a little clouds showing off…lol.
How lucky I am to have such a wonderful environment to get inspired by…..or just daydream a little in and around the shop.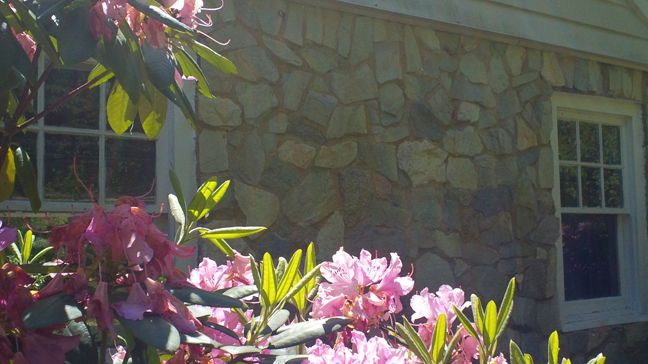 So what does all of this mean…..I guess the combination of the love of woodworking tools and the appreciation for the missing puzzle parts that I write so fondly for and hope to continue pieceing together…...those moments or parts to enjoy the calm and peace we all need so much more of.
I found a little of that as I stepped into my sawdust sunday temple…..haaaa why not?.....sounds like it has more meaning…than workshop….lol…we all have our spaces where life makes more sense than other places.
Well friends, I hope you may have enjoyed this little break from the crazy pace, and had fun checking some old tools out. I also hope you have had a wonderful Sunday.
Be well and thanks for stopping by!
Joe
-- "Always continue to learn, laugh and share!" JJW
---