Good evening once more friends. Here is another installment of this saw till project build I have been having a fun time experimenting with.
This till has been prepared for the task of holding my various saws for the last week or more….....but I wanted to take some additional time on this and try some creative ideas.
I felt this was a nice opportunity to take aim at showcasing various skills and add them to this project to make it extra special as well as different from the rest.
I feel my work can only grow with taking some risks and challenging myself at first time attempts, so this was another situation where I gave that a whirl…..or a spin on the lathe…..lol
Pic 1: I thought it might be fun to add a twist of some cool side pieces with interesting curves so this till is attractive from the sides…or at least interesting to draw your eye to it. I bought some 1/4 inch pine craftboard and had some ideas sketched to have a go at it.
Pic 2-4: From pencil trace to cope saw….spokeshave to file for side chamfers…..these sides pieces were taking shape and fun to create!
Pic 5: I jogged the two pieces once both created….then cope sawed the difference in wood fat…lol. This worked well for getting them in line with one another.
Pic 6-7: Got my bruiser of a rats tail….to help rasp down the roundness to my desired look. Followed up with some sand paper to get everything feeling in tune and smoothe.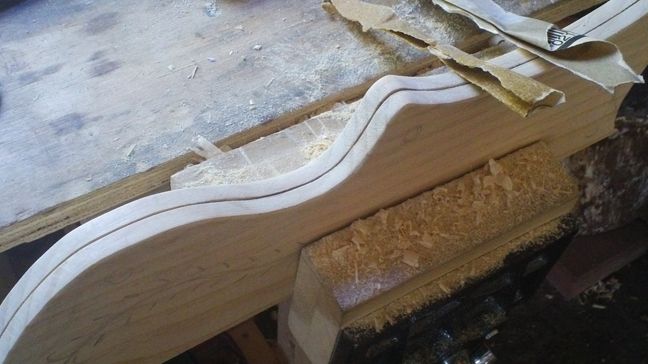 Pic 8: Now I traced on the wheat carving design onto each side piece….this would make for some nice chip carving later and added a little handsaw spirit to the whole tills look.
Pic 9-11: I was looking to try 3 smaller spindels that would be ornamentation for the back of the till. I cut some poplar dowel to desired size..then got my nail to make relief areas for the lathes centers.
I then added a bump of wax to make the piece turn without too much effort.
Pic 12: More for practice then need I created this little story stick to help me in my duplication process at the German Spring Pole lathe.
Pic 13:
Come on gang, gather around…..this portion of the slldeshow we are going 1500's country style foot lathe turning! YEE HAWWWWW....LMAO!
Pic 14: This is a first time for me duplicating spindels for a piece to be used…..and I was very happy with these especially since a few months had passed since turning. Great aerobic workout as well.

*Pic 15:* A mock up of the ideas…...with some more clean up and work yet to be done.
So the lathe was a blast to get using again, it is definitely a multitasking affair…lol. Once you get into the rythm of using your foot….working the tempo with the cutting tools and having that story stick (A nice help indeed) you are off to the races.
Hope anyone who stopped by got something good from this…..one more blog should do it for the finishing touches…..hope you stay tuned and have had a great time in your shop as well!
Best wishes and pine shavings
Joe
-- "Always continue to learn, laugh and share!" JJW
---