Hey friends, hope this weekend is being enjoyed by everyone. Moving on through this project with some learning and shavings I have another installment of where I am on the map with this saw till.
I have watched and kept aware of this cheaper pines cupping and twisting as best as possible. I really wanted this thickness to remain on the boards so I sacrificed planing down in the various directions and trueing it down to smaller than desired width. I actually did at first give it a few sweeps with my jack plane just to see how it would take but quickly figured to make do with it and test the rough and bit of wavey waters ahead.
Pic 1: For checking how the saws will sit I put one against the board to check the angle. You may notice in the bottom right corner my penciled 1×2 mortice layout as well to see where the handles will rest to get an approximate height for their sitting.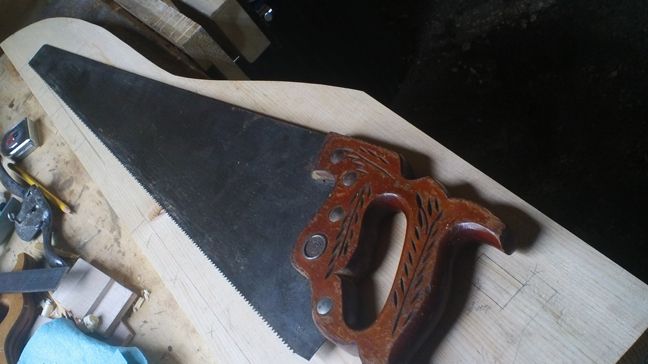 Pic 2-3: Then layed out the lap areas to be removed for my 3 back pieces to get settled into. My new handsaw handle felt great using to make relief cuts preparing for them to be ultimatley copesawed.

Pic 4-5: Here's the cope sawing followed up by a 1 inch chisel for cleaning up the top. Once more the shaprness I recieve from the use of the diamond stones makes this portion of the exercise a real joy. I used to make these chisels work with an older craftsmen stone….I thought they were sharp….ahhh….....not really…lol.
The results now in using these currently sharpened blades is like night and day. The work is really very enjoyable and elevates the the jobs safety….for beginners keep in mind ...a dull blade equals more strength and pushing force….which can equal accidents in the wood…and more imortantly your limbs.

Pic 6: Ok …we have 3 areas each ready for my 3 back pieces to fit into later on.

Pic 7: Ahhhh time for a little trimming up the front of each piece…then checking to make sure each measurement is of even widths…...I got a little out of order here….but no fuss, I made things work out.

Pic 8: This friends…..is what it's alllll about!.....lol. PINE SHAVINGS….wonderful way to spend an afternoon…in my case a rainy one…even better!

Pic 9: If you want a strong, solid and great feeling combo hammer …this vaughn I purchased at lowes…is wonderful for mallet work…..Honestly I would not go back to a wood mallet, this one has great touch especially for getting to work on this lightweighted pine…easy it goes. I use the yellow hard plastic for the malleting of chisels….and the red rubber side ….works great for putting the puzzle together. Here I want to say…there are SOME good hand tools at the big box stores….thank the wood gods…..lol
Pic 10: This process was one truley needed….to get the feel of working the chisels and performing the tail work. I found the work once more very rythmic and enjoyable. The main ingredient is to keep your tempo…..your creativity and focus. Joinery in general is in my opinion not for an angry or rushed person…..because it will really show in your attempts or just plain end the chances for it to be at all by having a broken piece or part….lol.

Pic 11: So here's a very rough mock up of the carcass work. Everything for me is shaping up darn close to what was drawn…...my vision that was in my mind….went to paper….and is now beginning to take shape in three dimensions!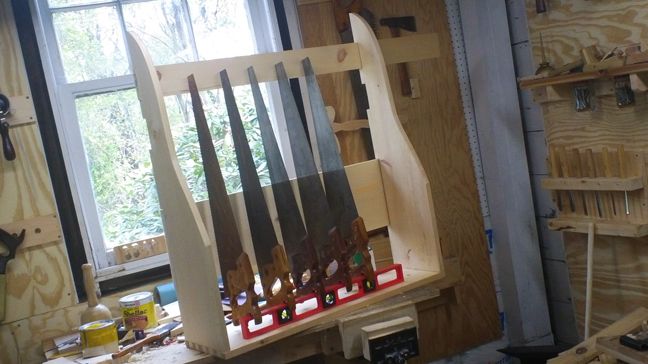 So much more work to be done…......making the mortices for the saws to rest on the bar…the kerfing beams for the saws to snap into…..clean up with chisels/planes…..sandpaper….ways to go yet.
Hope you enjoyed the steps of the journey so far.
Thanks for taking the time and interest.
Be well,
Joe
-- "Always continue to learn, laugh and share!" JJW
---