This series of Exercises in Artisanship is all about making the best with what you have. With a small budget and the challenges of some lower grade box store pine I hope you will join me for the twists…...the cups…..the thrills…..the curse words…..lmao.
Somewhere Charles Neil is going…....told ya!......lol
No really friends all jokes aside….it's sometimes fun to learn to make do with what we have and try to make lemons from lemonade.
In this ongoing process I firmly believe it builds skills to learn how to deal with wood that is not as pleasantly strong or straight as we all would want to work with.
So as my ideas began to take to my sketchpad I wanted to try to build a humble home for all of these nice 50's Disstons I had acquired from many a weekend auction dig…lol
My ideas soared taking a humble almost rustic look and began blending it with a sort of country galootish woodwork theme.
This is the very beginning of a long journey…..so just a few baby steps to show for this installment…...let's take a look and see what I have been tinkering with!.......
Pic 1: Ok heres a quick computer illustration of my basic idea so this at least gives some sort of map to what my ideas are as I go.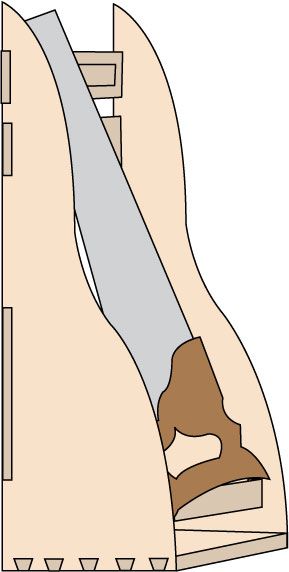 Pic 2: Laying out my line….for me this is entirely a non templated approach…....I do various pencil lines and sort of sketch what my eye likes…...for me…..I know when I catch the right curve so I tighten up the pencils and my first piece will later become my second pieces template.

Pic 3-4: Get out the ole spokeshaving and rough some of these areas out a little…....this stage is more sculpture for visual foundation than clean and pretty finished work…that is if all goes well,,,then the finishing should be next year…lol…....jk…..hopefully in the upcoming weeks…lol
Pic 5: With this roughed out I will now use this as my template for the second side!

Pic 6: A cope sawing we will go again so we have the two sides.

Pic 7: Cleaning up the edges with my southpaw poplar shooting board and this really nice #5 I got for 23 bucks!! (With Shipping!..lmao).....restored it a bit, cleaned the handles and totes…and got her on the diamond stones…..tellin' ya friends….get those diamonds…..this thing makes nice work of shooting some edges! Wow….....poor photo shooting on my behalf…forgot the nice thin shavings pic….whoooops…..later blog!...lol
Pic 8: If you make one jig …....and we all know somehow us wood freaks make nothing short of 25-50 of them…..lol…..you have to make this dovetail deal…the great Paul Sellers shows this in his new woodworking course…..and it is amazing!
Nuthin fancy….and it's a wonderful jig.
Pic 9-11: I am sure this is hard to view….lol…..this cheap box store pine…..with some cupped elements to add to the pleasure of making 90 degrees seem rather fantasy…......but I needed the practice…and I have to make the best of what I have and also made the arrangements to scrap the tails and subtract the 3/4 if need be. Slowly and greatly patient goes the process…..keepng in mind my dovetail experience is green horn at very best…lol
Ok…..this is where my portion of the slideshow ends for now. The experience has been really fun and fairly easy so far but I know with given time will become more challenging. I love that I took my foot off the brakes and just pushed at some elements of joinery that I have little experience in as of yet and will earn some stripes for the journey.
Woodwork is so much like learning the guitar…..you never will get it all in your lifetime….I say that with amazment and wonderment…and get enthusiastic knowing this true fact rather then feel saddened, frustrated or dissapointed.
I am as human as the next person…and although there are times we all….see the various master works of any craft…and go…."oh man….I should pack it up"....lol, I see more as I get older the absolute opportunity to learn more and enjoy the entire process of something I love.
"To long for the technical majesty of great masters and achieve a fraction of there given skills is a worthy effort as long as you live everyday with the hungar of a beginning student."
Be well friends and thanks for letting me share with you.
Cheers,
Joe
-- "Always continue to learn, laugh and share!" JJW
---