Hi once again friends hope this Monday has been treating you well. I thought it might be time to add my third installment of my latest blog and project "Making a saw handle" and I hope you have all enjoyed this mini-series as much as I have in building and posting the progress.
As I have gone on with this build some mistakes were made. I expected greater miscues than I got keeping in mind this is only a first full out attempt at making, fitting and using a handsaw handle…so I kept my chin up and learned more for the next time.
The steps and the way I did them….haaaaa, I really cannot say this is the proper way to do so….it was just the path that I found to try…and all in all I was impressed by taking the jumps that I have and putting the extra time in provided very satisfying results for having no real instruction on this craft.
I do thank all of you for your input and great advice.
Let's take a look and see what choices I made in moving ahead.
Pic 1: First…..a great way to start, a vision from my workbench…...always important to tune ourselves up…..just as the planes, saws, etc. I have come to realize….hey I need to warm up and get myself ready as well to work in the best effort and process that I can.
Pic 2-3: I needed to relieve a wider area for the top of my backsaw to fit into…...now the error here was this width is a little too wide….but I have used the saw with the handle assembled…..the good news….not that bad…but the next time I know to take a little more care on this width, also Andy (Brit) had some helpful advice on the kerfs overall width….it is not too bad…but it could have been a splinter thinner….great wisdom for me to take notes for if I repeat this project again in the future! Thank's Andy.
Pic 4-6: I approached this situation like a mortice….I did this much better than I thought I would have even with the width miscaculation….slow moves and letting the grain direct me…..it was tedious and very fun all in one go…lol I also set my cut lines off the center…trying to actually center it's width more on center of the entire handles width….haaa…somehow that made sense I hope…lol
Pic 7-8: After a bit of maple surgery….haaaa and it felt like it. I made some alterations to the design…and glad that I did. I wanted just a little extra energy to the front portion of this piece, so I penciled on…took some looks…erased….gave it a few different tries…than I saw the lines I really liked and coped them out!
Pic 9-11: Sand paper is a good friend here, it's bendable unlike files and easier to get those tough dips and turns worked out.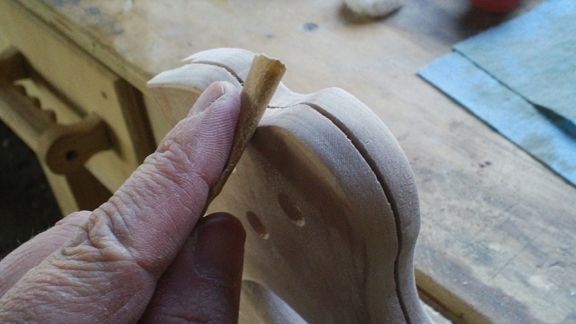 Pic 11: I ran over the handle trying to feel for spots that needed more working, the whole process was keeping me more aware…I tried to keep in mind the historic craftspeople…using instincts..the basic fundamentals to achieve an impressive output. These were simplistic extra efforts that were not being used by me, the very reason I began to change old routines. These shorter and more spirited shop sessions found me the fun of woowork again and not the empty approach of ..how many projects can I do!!!???….that campaign can leave you feeling unfulfilled.
Pic 12-13: Chip carving is an art all on it's own, one that I would love to learn and train more with.
The little ways I have gained I use, so after a little pencil sketch I preceeded to take knife to maple and go slow and steady! After I used a mini file to get into the cuts and clean them up a little.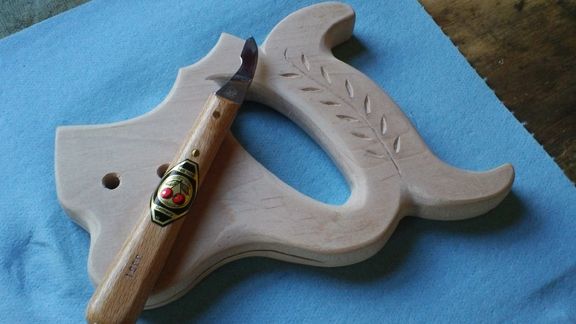 Pic 14: A nice sanding, smoothing, checking, and we are finally getting on our way to a finished piece!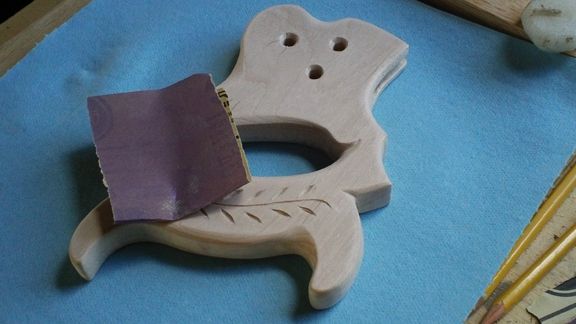 Stay tuned friends if you have enjoyed this series, with some staining and lttle last minute touch ups I hope to share this finished PROJECT.....LOL. So I hope to have that as a finale to this series portion.
Thanks so much for your inspiring comments and projects, be well friends!
Joe
-- "Always continue to learn, laugh and share!" JJW
---