Well there I was walking down each outdoor lane of auction tables…not much on this day I was afraid. A few rusted junked brace and bits…ahhh…..gotta pass….got too many as it is…lol, another old beaten down plastic handle handplane…I can live without that…lol, finally in the corner of my eye..what is this???
Well…. the closer my focus the sad reality of two old disston saws..USA's…not old as in collectable…but old as in ugly condition….lmao. Was I going to pay 5 to 15 dollars for these?......haven't I had enough??.....as the rest of you reading can play along and all together now….NO YOU HAVEN'T JOE.......LOL
Suddenly the man running the table, cigarette dangling from his worn face says "These two saws….you can take em'.....yeah…go ahead take em' they been sitting here and taking up room I need the space." I said…."Are you sure?"..."Oh yeah..they are just gonna end up getting thrown away"....etc.etc… Well I made sure to walk over and shake his hand and proceed to take these neglected saws and exit to my pickup truck….lol
Upon further review I realized….wow….these are both fairly sharp….but sure ragged and the one handle…..just flat out worn away of any shine or sense of life…lol….....poor saw.
Pic 1-2: This is what I was dealing with
Pic 3-4: Starting to sand down this old handle and see what I can do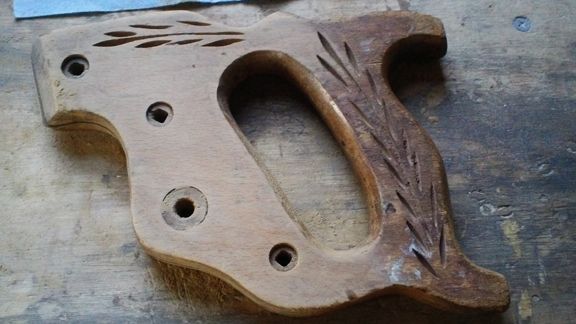 Pic 5: Some Watco Dark Walnut Danish Oil with a follow up of some clear Shellac..and I got this wonderful robust and rustic looking handle…with life back in it!

Pic 6: A cleaning with soapy water and sandpaper and I brought it back to what I think looks really nice…this will be a favorite user for sure, a light sharpening at best because it is almost up to full task as it is.
I went very softly at first trying to find any emblems on the blade….but it was just so badly kept I uncovered nothing as I went on….I was happy nonetheless it's blade is straight and cuts well without a sharpening.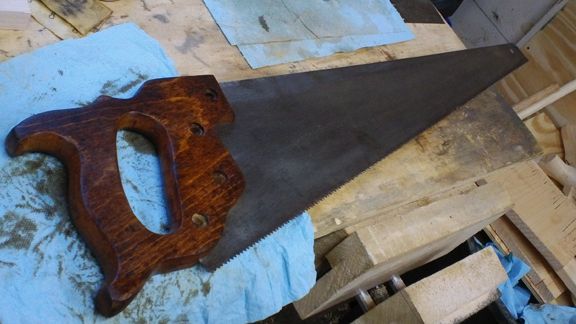 This was a fun cleanup….and I feel extremely lucky to have saved this saw, it's not collectable or highly sought after…it's just an old saw that was sitting on the edge of an auction table….almost ready to hit the pavement, and a nice guy that needed some space gave it to me. If he had a chance to see it and use it now…lol…...he might have said….ahhh….maybe not….lol
Well, I am thankful for it…and thankful for anyone that got a kick out of this. There may be a part 2…because he gave me 2!
Best wishes for now,
Joe
-- "Always continue to learn, laugh and share!" JJW
---