Hey friends, thank you for taking the time to read part one of this blog series, I hope you may enjoy the second installment of this series as well.
This process has been as I expected more of a challenge in Maple…lol. But I realized it provided me the chance to have a stronger handle and learn more about how to work with this particular species.
My entire working process has in many ways changed in the last few weeks. For one thing I now find it more focusing to stop after a new portion of the task and snap a picture of it. In some ways it is almost like making a mental picture as well as a physical one of what I have done….and still have yet to do on the project.
This also provides me to stretch a little and even cool down if I find myself getting into some old habits of becoming impatient or even dissapointed with the current state of the projects status.
An example of this may go something like:
Ahhhh…...be the maple…see the maple…...or…ya know….the old way…this dam thing...lol
HAA….Too funny….I am sure we have all had this happen…..lol
Believe me gang….I still go over to the bench..and the creative addiction starts easily…..oh I want to build a this…..or a that…..I still have to remmind myself…..AFTER!.......LOL
I was one of those people with 2-3 projects going on all over the place…lol.
The best part of this ongoing exercise are the rewards in satisfaction and increased appreciation for the ability and time to explore this hobby.
So….if you want to…let's take a look….I am sure I have some more cool handtools somewhere….lol
After cutting the blank out, before I moved onto cope sawing the handle hole I wanted to see how this maple would rasp. I made a pencil reference line to show my thinking and use….I used my rasp on one side of the wood so not to have any tear out on the opposing side. I used a skewing action and a push stroke to work with the wood and not bullnose it…otherwise it's hello tear out city….lol. Also depending on the curvature of the wood layout….I would switch rasp faces from flat to rounded as needed.
In certain sections I followed up with my rats tail which is so handy….especially when I have to go and draw all this fancy stuff…..geezzz these fancy wood guys….I tell ya….lmao.
Also if you get into a corner…a little help from my pfiel chisels….and we can pare out hard to reach areas for cleaning up our work.
Ok I drilled a hole with my brace and now comes the fun….lol…...not reallly. Snaking the unhooked cope saw configuration through a small drilled hole and reattaching it…to finally create a hole the size of this one. It's a challenge….with hole already made (sorry I got ahead of my camera..lol)....here are a few shots of how I cinched it in my vice and went about my adventure. Again….wax…grease…etc. is a friend for your blades performance doing this.

This in the beginning of the job broke an old cope blade….but this new blade did the job with much greater bite.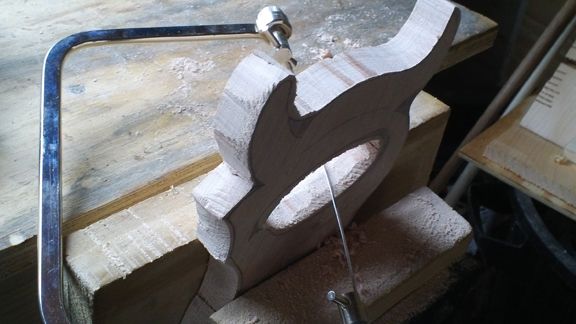 Same idea now with the rasp and working the inside of our handle. Going slowly and accurately….I found that I had been making a big mistake by pushing and almost cave manning these tools to perform. Big lesson here for me…..and possibly for others as well, to achieve even a hint of craftmenship work with the media..not at it or against it. I was surprised at how much easier and actually even faster things were forming and making sense as I practiced this better approach. I used all of my insitincts…....and let the maple guide me through its grain.

Ahhhh a small map unfolds….the picture is slowly coming together now…..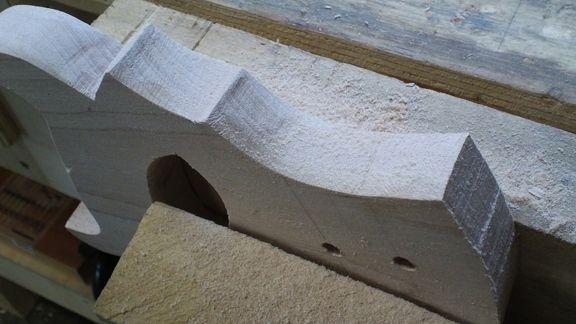 I began to sight down and see where all of the other faces needed to be tended to. The work is now gone from our paper in two dimensions to three dimensions…...although it's a good amount rough still..lol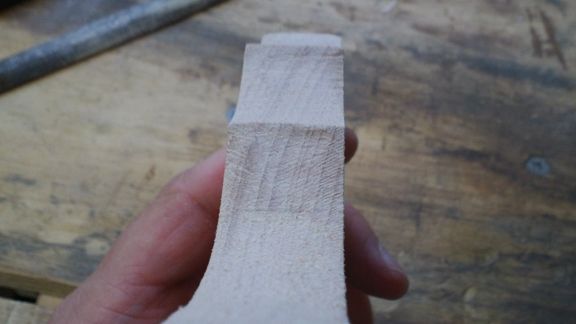 Never leave home without your trusty pocket knife…lol I used this knife to begin relieving the areas I wanted to shape and contour.


Again some use of the pfiels were a huge help.


Little by little we are beginning to see its progress.

Now to kerf down our handle so the blade will slip in it's position nice and easy….hahahaha….I really make that sound so easy….lol….IF ONLY IT WAS FRIENDS…..LOL I used my grandfathers wood gauge here on this. I eyed for it's center by making a mark on one side, then take it to the other side to see if I meet at center….I keep on adjusting until both sides give me as center as possible…then run her down and gauge it!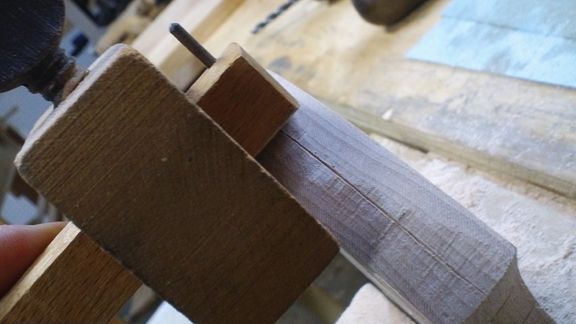 For me…always use your chisel to make a saw trench for ripping this kerf down. I have done little to none of this ripping on such thin stock…so….I just took my time…and rode that kerf flipping from side to side in my vice. At this point you may need a musical moment…if so check out my disston saw guitar jam on this link here and take a moment to rock out (scoot to the bottom for the video) http://lumberjocks.com/jjw5858/blog/28872 ....all this wood business gets to serious!.....lol

Once you get into the groove or kerf..lol…..it becomes fun and not so scary. But keep in mind….for cinching up in the vice….or even rough work with any pressure….you now have a handle that in its front has thin sides and a
loss of strength….so I go easy. I also love how the whole sound changes…you hear a slight acoustic pitch difference…working wood is fascinating.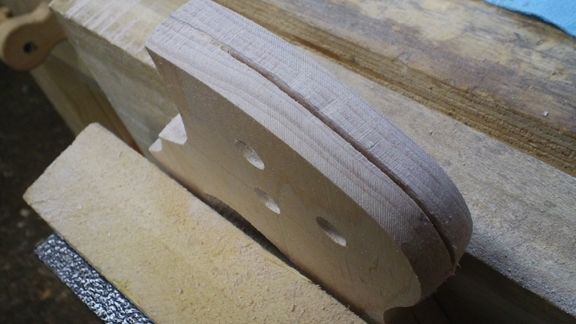 More filing with the various tools and more learning as I go.
Now we have another stage complete. I used a lot of feel, sound and instinct on this..very important for me to really connect with the specific piece no matter if it be this or a new plan for a cabinet.

Ok now I have to make a cut out for the top portion of my backsaw blade so the back thickness will fit in a larger cavity in my handles kerf. Then more shaping and configuring…..more to do indeed….stay tuned!
Be well and thanks for taking the time.
Joe
-- "Always continue to learn, laugh and share!" JJW
---