I thought it might be an interesting idea to make Exercises in Artisanship a blog series! I want to thank the interest in the initial blog of the series title http://lumberjocks.com/jjw5858/blog/29038, glad some of you enjoyed it. Special thanks to Brit (Andy) for the kind props.
This time I went back to the drawing board…literally…lol. I Sketched through a few more ideas to make a final useable handle that will be executed in a slab of maple.
I spent time enjoying the experience for part one and found that I learned so much more by really getting in touch with the tools…and seeing how to make the best use of their versatility.
I hope this step by step process will encourage others to find something you want to make….and allow you to stop and take the time. Exercises in Artisanship for me…....is a learning process all about taking shorter shop sessions but greatly increasing their meaning, enjoyment and quality of craftsmenship.
My hobby in woodwork became rushed, overzealous and greedy for ALWAYS wanting more…..more builds….more tools…....more…more…...and it started to become NOT VERY FUN!....lol The satisfaction levels for my own appreciation of what I challenged myself to try and make were dropping quick.
I think at times it is very human to want to get a gold star from our family, friends and peers. But sometimes in doing so….it can be as rewarding as running in circles…lol
To the hobbiest wood worker….enjoy it as much as you can….I am beginning to. This is a
hobby that can get out of control if you let it…...lol
Ahhhhh….a shop view..this is why we are all rushing…to work with the trees! But let the trees help us to slow down…wonderful way to get started taking a moment and viewing it….
For this project I picked a more layed back sketch….although I truely enjoyed and was very happy with my pine prototype handle…..I went for something a little less busy. The prototype handle can be viewed here: http://lumberjocks.com/projects/63498
Here's the three layouts and I have enough maple to try them all if I like.

Picked this one and got the design over to some tracing paper.

Slab OOOOO Maple…lol. Traced my design to the board and carried on.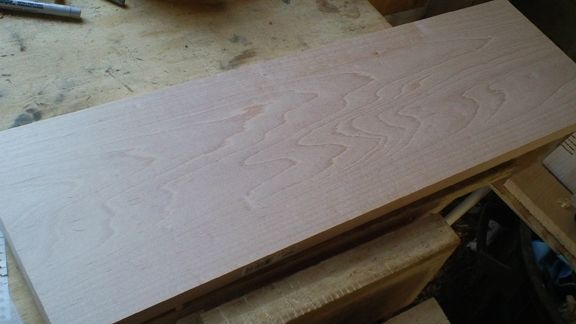 Getting the lines for the holes layed out using my square and knife.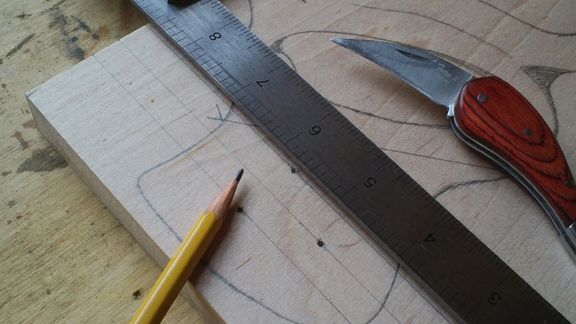 I measured from the top down and recorded their approximate target point for the drill

Flipped over and made sure to record the measures from the same faced side so the holes will line up as good as we can get….for handtools and no drill press….lol (Note: I also made sure to knife notch the ends of my reference lines….to help me connect the lines more accurately over to the other faces…this worked wonders doing so that way.)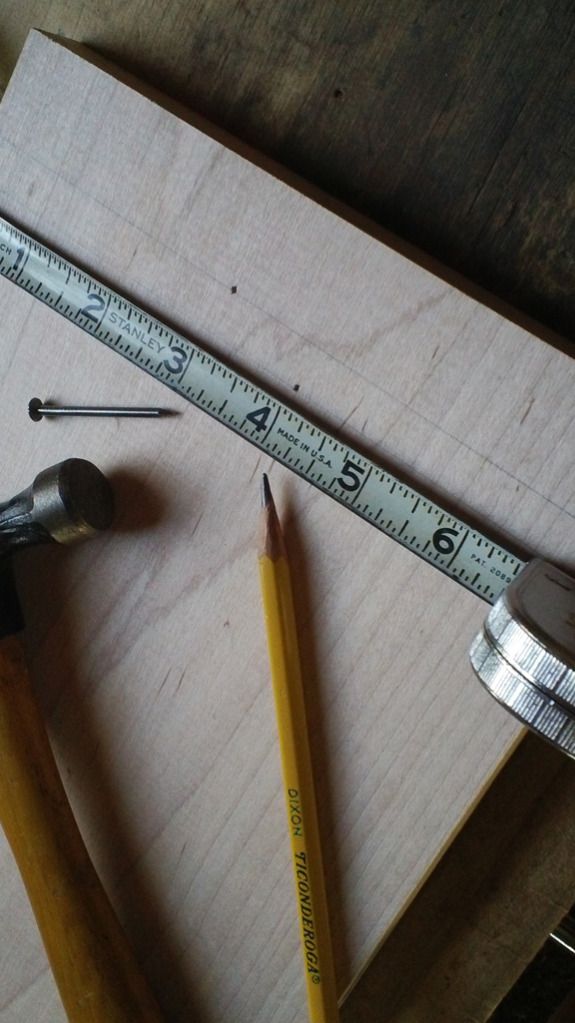 Ok ..lets break out the square and eggbeater drill….had this drill and used to play with it as a kid..wow….30 plus years later…who knew?...lol Square as we can….drill halfway down. Flip and more of the same. Later I will use a brace for making the hole diameter larger with a few more drill bit sizes until I achieve the correct size.

An awesome purchase. A friendly guy at an auction sold me this hand counter bore for a buck….and I use it more than I ever thought…lol

Oh dam….I guess I have to use this lovely little Disston D-23 for relief cuts around the sketch….first auction table on a Saturday afternoon…got this pretty dirty and dull….for 3 bucks!.......Sharpened it, waxed, cleaned…and yeeeee haw too much fun to saw with!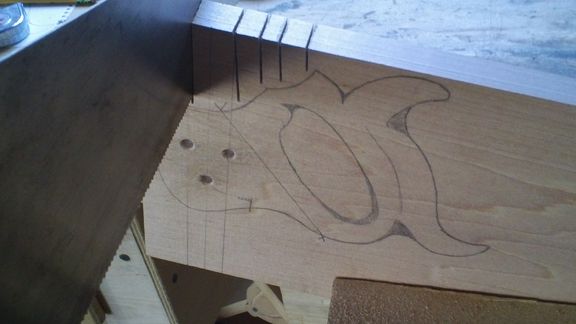 I find that candle wax scoots this through a kerf…of course there are all kinds of grease etc for using. This is a great forearm building exercise…and also …bend your knees!..lol This message is brought to you by absorbine junior…lol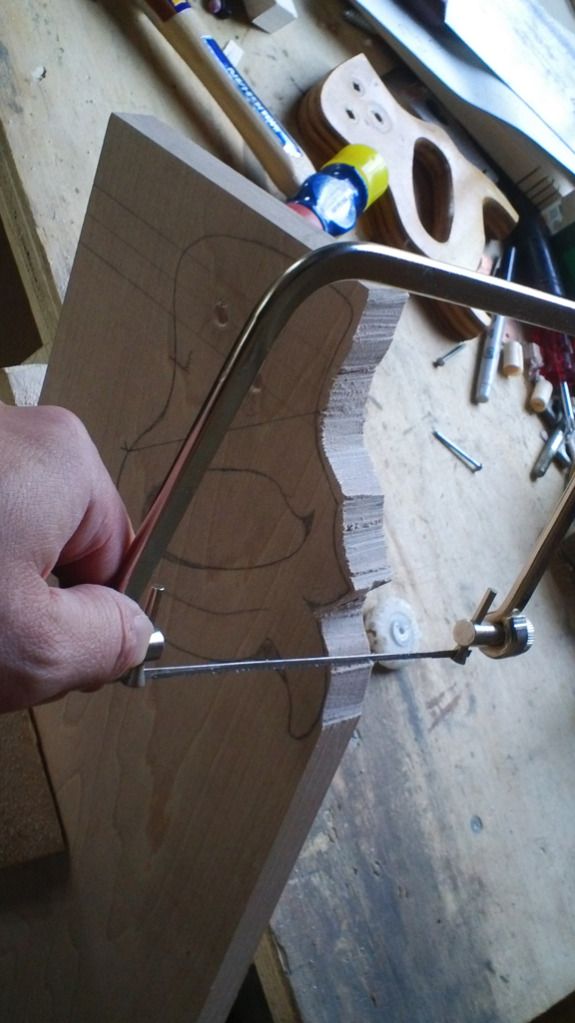 Such a ham that D-23..lol But I decided to cut down my plank as I need to get more up close and personal with the task at hand for a combo of relief and cope cuts.

There are of course a few ways to achieve this…I decided to try this method.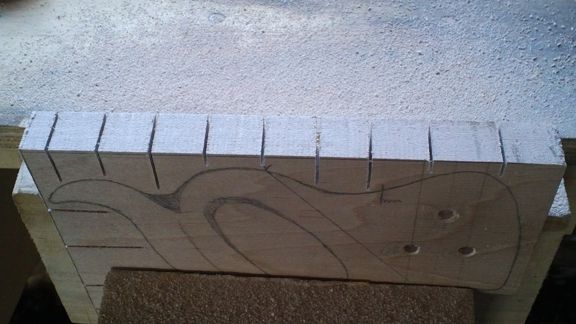 Love using the smaller saws…come in great use for jobs like this.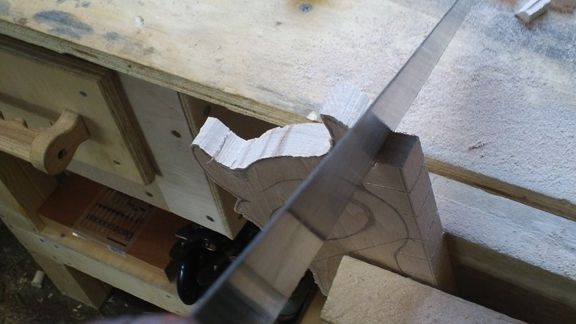 I tend to point the cope blade in an upward position as I saw…leaves some fat above my pencil lines…so I can have room with rasp, files, etc.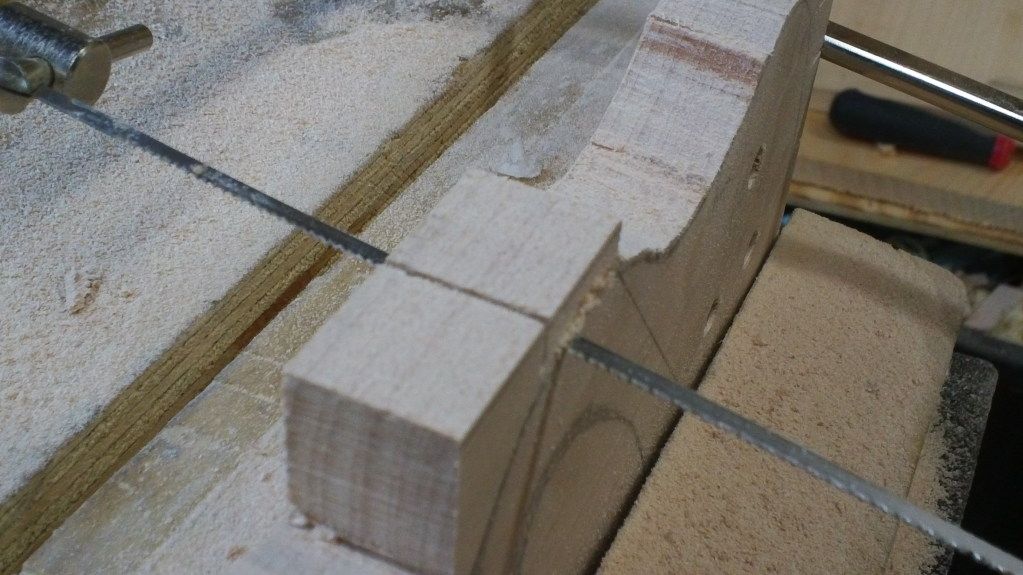 Ok….some harder work on this begining portion…broke an older cope saw blade….got a decent workout…but now….we have our rough blank for the next set of maneuvers.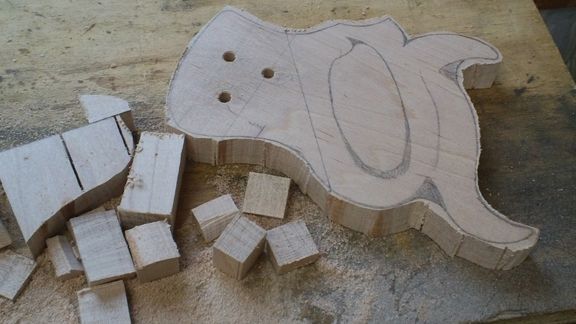 Next blog we will get this handle cope sawed out and do some filing and shapeing.
Hope this was enjoyable…hey, if nothing else you might have at least seen some cool old handtools…..lol!
Be well friends and enjoy your work!
Joe
-- "Always continue to learn, laugh and share!" JJW
---