I have learned in my journey of working wood many things about the tools, the different techniques etc., etc., most of all I have learned many things about being me.
One of the most recent discoveries was uncovering a bad habit of beginning to create in such a rushed pace, almost scurrying about getting involved in more than one project at a time. Before one idea was completed two more had already blossomed until they all began moving into one another. The end result was starting to become a total lack of satisfaction and the lost chances of building additional and important skills.
My woodwork is like many on here….a hobby, an operation of freeing one self from the stressful paces of the day to day madness by taking on the challenges of how to build something with wood. For my story I felt it was of utmost importance to recognize the missing pieces in my shop experiences…..those lost puzzle pieces were the enjoyment of crafting the details…..enjoying the sanding, the staining, the layout…..and most important….working the job to my best standards for the time given skills I have available to me at this early stage of the game.
I have been blessed with some natural tools, I see what I want before my pencil, saw or guitar pick takes to the given media. Why then was I fine with just knocking out ideas with little plan or care?...such a funny business it is that ole grey matter between the ears…..lol
With that said I am so humbled by all of the great work on here, so much time and experience as well as skill and knowledge of a glorious and honest trade.
So I began an exercise….to slow down…..adjust my over enthusiasum for more and more stuff to build…lol…and truely get involved with my natural path….to unleash the artisan.
I would take pride and patience with this work.
Recently I have been so excited and addicted…lol to these old hand saws….ahh… the handles…..the sharpening the auctions…lol….not tough for me to have such a high regard for these historic time pieces of craftsmenship.
I wanted to try a proto type saw handle…..I would draw by hand….and redraw…..getting the lines from mind to paper. Then I would do an entire three dimensional mock up on some scrap pine.
This is the first segment…..getting the prototype worked out…first off….this particular pine was a bit thicker then the maple slab I have wating for doing the final piece. But on I began…..
Here are the tools for this part of the trade: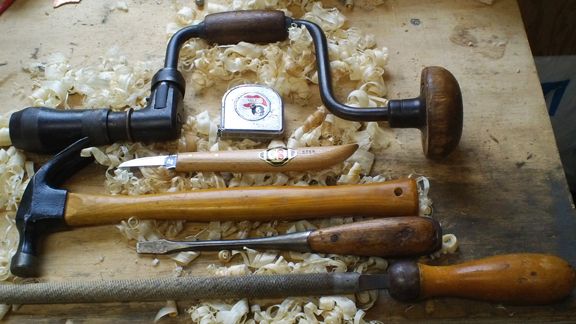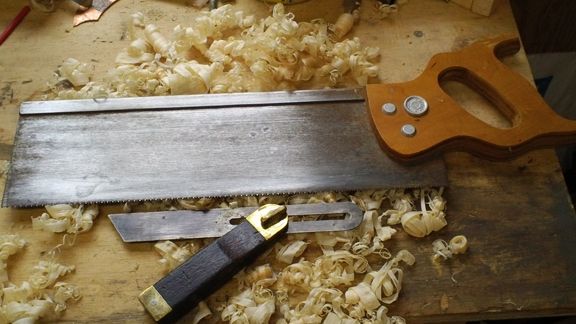 First a pencil sketch (Bless the almighty Ticondaroga!.....lol) Being this will be back saw size I used the older handle and traced it..then redesigned from there. Next was getting it traced over to the tracing paper….then traced onto my pine slab…....After that was setting up and drilling the bolt and saw badge holes from the blade I am going to use. Finally….let the the coping saw work do the rest!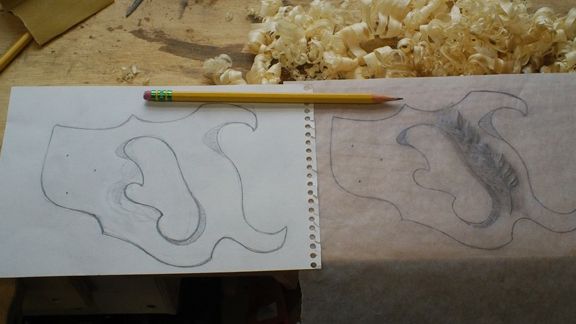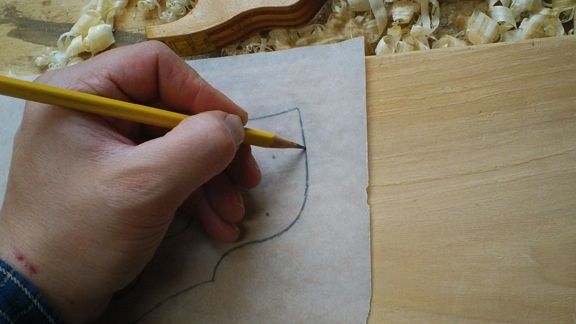 With the coping saw work done I proceeded to brace and bit a hole where the handle hole would be..then get my cope saw inside…...clamp it down and old school hand jigsaw style that baby out…it was a challenge!


This portion of the exercise I did become a little doubtful for sticking myself in such a delicate corner….knowing full well that even though it's only a mock up prototype…it's still pine and wants to dent and chip if you sneeze too hard…lol I calmed myself…and took to the rasp,files and sandpaper…and let the job flow on.

I used for mock up a Disston badge and some bolts to increase the vision of what I wanted it to look like…then I layed out some moving wheat lines for chip carving just to finish the overall look.

Even though it's a proto type I took a full labor of love and care creating it…a few 2-3 hour sessions over the past few nights….I slowed back my pace, enjoyed the details more…..and I have designed and finished my first ever saw handle.
I gently ran my lines for cutting the kerf for the blade to slip in….I used the sliding bevel to gauge the angle from the previous saws handle.
This was a totally rewarding and satisfying experience….to take the steps on this one….see them and work them…..like gameplaning and yet enjoying the process for the sake of caring for my work rather then speeding through it to only let it sit and start something else.
More challenges lie ahead…the maple although more stout for the job…will also take a great amount of working the files and paper. But now I at least feel….I did this first one…..and I did it for the best cause and with the best intentions….a wise person once told me a wonderful thing that helped me build this piece.
"Make something you love tomorrow…and do it slowly"
I did indeed, and as much as I did in fact love making this proto type handle I love that person even more.
For additional pictures of this saw handle please see my projects section!
Take care friends and enjoy every saw cut!
Joe
-- "Always continue to learn, laugh and share!" JJW
---