Hey everyone, thanks for all of the interested comments on my last blog of my hand saw cleanup (Grandfathers Disston Rancher rebirth) http://lumberjocks.com/jjw5858/blog
This time it was the last of his two saws…his Red Diamond crosscut! Man, did this deal need some serious elbow grease…..indeed….lol
Red Diamond from what little I know was a spin off of Sears craftsmen tools?...My Grandfather was given a tool kit that included various things such as a Jack Plane, Crosscut Saw, Yankee Screwdriver, Brace and bit…etc.
Anyone out there that has a greater knowledge please feel free to let me know.
If you are interested in seeing the handplane those of you who are not familiar with my projects/posts can check this link to see the tote I made for it here: Grandfathers Handplane from a Christmas Past http://lumberjocks.com/projects/57215
As I was saying, this particular saw….was real gunked up and in deep need of some real cleanup. For as bad as it looked I am pretty happy with getting it as good as I did.
Here is the before…..lol
Now I went against my previous theory…and took the handle off…..ahhhhh…..what the hell!...lol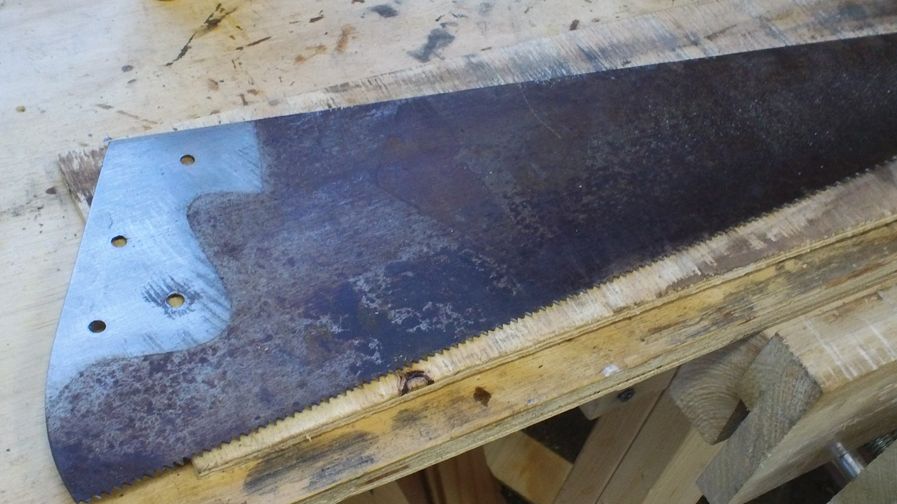 Ahhhh we are getting it cleaner now!
Cool badge, maybe someone can tell me about it….....I figure it is a look alike…lol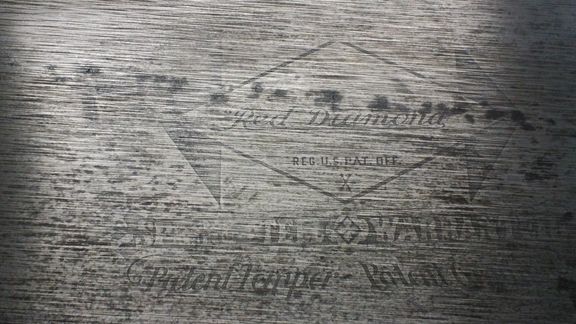 The blade is 8ppi, the rake is not very aggressive so it cuts well but a little slow. Not sure of the actual set either. I have not gotten to setting a saw yet….more to follow with practice and the help of Paul Sellers…lol

Handles very nice and cuts a straight line, it is definitley so nice to use a clean and sharpened saw!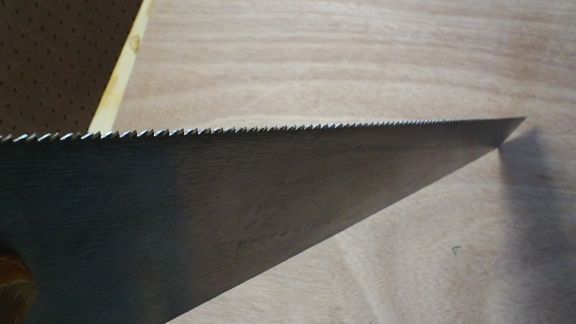 Here are the two together cleaned and sharpened….these saws have been around me at some point or another all of my life. Crazy when I really think of it, I have only been involved with woodworking for not even two years of my 40 year life….and now..here I am in great excitement cleaning them up and surfin' the kerf!...be sure to check the new music vid!!!!
Honestly I think this the first cleaning…and probably sharpening they have ever had….lmao!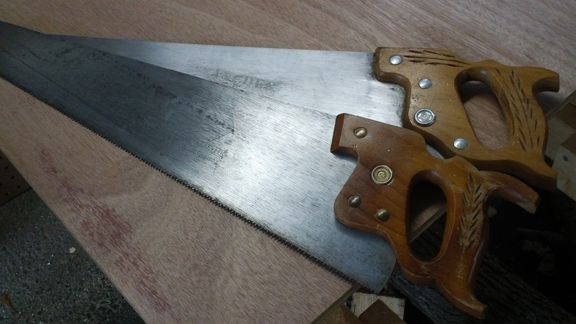 Yes here is the link to the new music vid….had some time to throw a jam down and I like to call it surfin' the kerf!....Take a listen and enjoy.

Ok then friends…maybe I should go and get cleaned…..and also sharpen up….lol….take care and have fun!!!!
Joe
-- "Always continue to learn, laugh and share!" JJW
---