Well I guess it might as well be a good time to add this blog for I have the pics…...and the work is done.
This old Disston Rancher rip saw has been in our family far before I was in our family….lol
I can remember seeing it in our garage…..in our old log cabin home. I think back how lucky I have been to have spent my early years inside a real log cabin with all of these great things…the old garage…..and old tools!
Of course as a kid….you think of it hanging there….as sort of an ornament on the log walls…one not to play with at 6…..lol
My grandfather pretty much had handed the saw down to my Father…who used it for the usual odd project in the house…or sawing some wood out in the yard on a summers day.
My Mother also used it….my wonderful mom was quite the do it your selfer….haaa, she had no problems working hard and using some old handsaws….she did a fair amount of ripcutting herself on some of her weekend projects as we had wood paneling in some of the rooms where we did not feature the underlying log walls.
Some 30 years have now passed….like years like to do I suppose …..I think years like to show off their speed once you get older…..keep you chasing time to get all the good stuff in that your able to.
So I began making cleanup plans for old The Rancher…I have been learning more about these old saws….and I felt…let's take the plunge, sharpen..and clean it…lol
I must take a moment to greatly thank Mr. Paul Sellers, his great wisdom and teaching has abled me to begin to learn how to sharpen handsaws…..thanks so much for this gift.
So here are some pics of that….I did not go all out in my efforts by taking off the handle….I know many do….but call me crazy…I have a theory on old tools…if the handle fits good…..feels good…...works good…..leave it. I am not selling it…so a few rough dirtier areas around the handles…fine with me…..lol
Years and years to try and work away: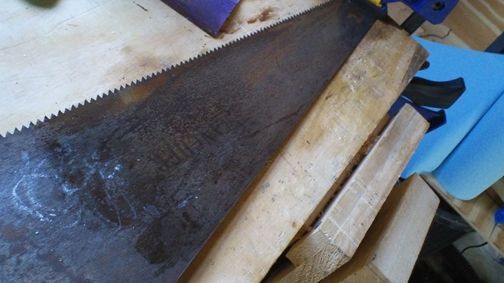 Some hard work sanding with soapy water then metal polish and I was pretty pleased with the efforts: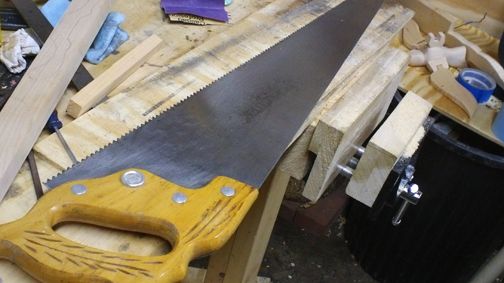 Sharpened and ready for some ripcuts….Pine as well as Oak moves with a relaxed effort now!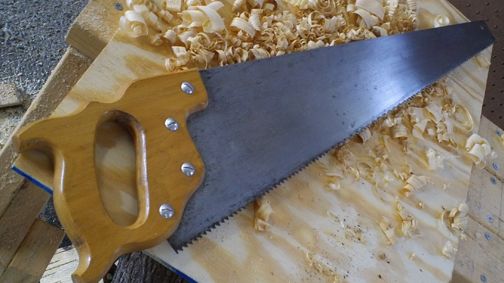 So there it is…..a tribute to the core of my family really. A saw that was my grandfathers handed down to my father and mother for their use…and now it finds me for use.
I feel good about seeing it…feeling it and knowing….we got the cobwebs and layers of gunk off it.
Now….I see a board…I look over..and there she is the old Disston Rancher…calling to me….lemme at that wood we have some ripcuts to make!
Enjoy all of your work friends, be well!
Joe

-- "Always continue to learn, laugh and share!" JJW
---