Isn't it funny…..it's always when you least expect it when you stumble upon something you had no idea you would find.
There I was on a rather chilly 45 degree morning outside at an auction..the isles of tables although sometimes windier than your spirits care for…there were still enough vendors aboard the blacktop with secret finds to go around for all…..lol
For old handtool pickers this for me was a pretty sweet morning indeed.
I had just begun my journey of understanding older classic hand saws …..as I have only been on my woodworking experience for less than 2 years…and I had a few newer Stanley Fatmax saws that were my main go to saws with my various wood projects. It can really be hard to get all of this cool handtool stuff in….the planes….the chisels….the money….well…..all in due time….lol.
(By the way…..I really cannot throw down Stanleys Fat max series…what it lacks in the wooden handles and old fashioned themes…..it makes up for in it's performance…pretty tough little saws for under 30 bucks. Also I own there modern version of the wood handle crosscut…..not bad at all for the cost.)
With that said…we all love the old saws..the Disstons…wow….what histrory and integrity of well made craftsmenship to hold and work out our ideas through wood and planed efforts…....a real beauty to use and to own.
But….even though I was lucky to have 2 Disstons from my Grandfather…..they needed extensive cleaning, sharpening and tlc (More on that in upcoming blogs)...so finding something a little more ready to use I began to do a little internet ebay waltzing about…hoping to find something that fit my budget….and ya know…..get something with shipping that was not…$15.00-$25.00!....lol
So…..there in the corner of my watchful eye…after about 25 minutes and actually getting to the end of the search….theres a saw….a…...disston?...."Looks like a nice one" said the guy holding the blade and acting like it was a must have for me….."hey ya cant beat it, everything is a dollar" he followed….............Let's say folks…....Clint Eastwood would have lost that day…if drawing dollar bills from our wallets was our duel at high noon….lol The dollar and a friendly thank you….and I was amazed.
If only I knew what the next 25-30 steps walking on air had in my future….an old lady with a pile of all kinds of stuff….allll over the place…..sticking out of the pile….two aged wheat carved handles….as I began to extract them…oh holy saw orgy batman…lol….they both looked for their age…..dam nice…....how much? "5 dollars per saw" she said…......DEAL Joe said….LOL and it was off to my truck like a crazed professor of utter madness of things that cut wood!!!!....Bwaaaaah ha ha haaawwww….!
After getting them home….I obviously realized my purchase was not making the pages of the Disstonian Institute….haaaa…..but these were not in anyway an everyday purchase for 11 bucks!.
They feel well balanced, sighted down very straight…still even a bit sharp….all USA badges of course not the classic old 1800's early 1900's badges…but hey…..11 dollars friends?......not all that bad either! For the money spent…that does not barely cover the shipping on ebay…..lol
So I am a pretty thankful new owner.
Here is the trio for eleven dollars: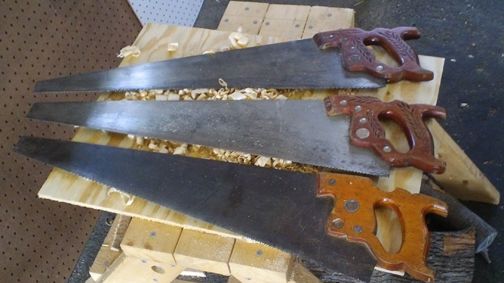 This one here was one dollar:

Ten dollars for the two top ones:

The block letter logo….I realize not so sought after…still a nice saw, USA badge

I hope this was enjoyed by some of you, and many great auction finds to you all!.......You never know…what is gonna be under that next pile of what many call….. junk!!!!!!.......lol
Happy hunting and great saw dust
Joe
-- "Always continue to learn, laugh and share!" JJW
---