Hey friends, I figured It may be time for me to try doing a project blog…..so..I hope this may be of interest to someone.
This was a fun or more like….CRAZY challenge I set for myself to find out…what could I do in a two hour time limit….with ONLY 2 hand tools?
and for extra fun…and insanity…a piece of rescued pallet wood….lol
So….I set the standards a bit higher….a $5 auction Spokeshave….and a recently bought Stanley 35 plane that I had to work on a bit…thought I would put them…and myself to the test and try making something.
That something for challenge purposes only and NOT used for the kitchen…..would be another spatula.
So here we go….AND THE CLOCK STARTS…..NOW!!!!....LOL
PIC ONE Heres the tools for the job at hand

PIC TWO tracing the shape from an old pattern to the pallet wood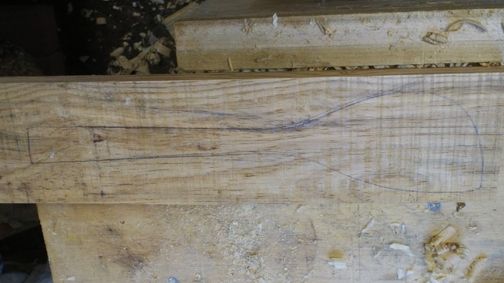 PIC THREE let the shavings begin…and the workout!...lol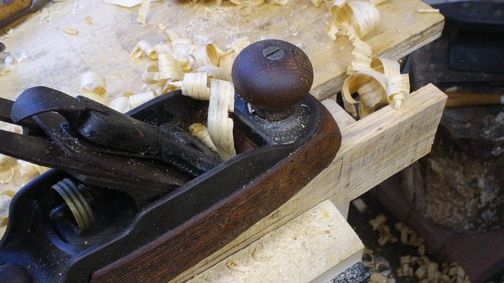 PIC FOUR The art of spokeshaving…wanted to see how far I have come with all these tools..and how well I am able to use them…so on we shaved…..

PIC FIVE/SIX The clock about a half our in and being this challenge only provides these tools….gotta put myself and my two blades to work…and keep on shavin down to the patten lines!!!!!....lmao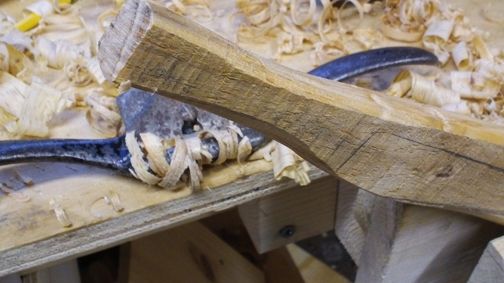 PIC SEVEN Oh yeahhh….the workout is in session now….muscles and instincts at full caveman wood person mode…..ME CARVE SPATUUULAAA…..LOL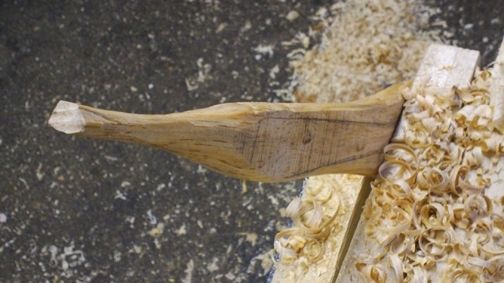 PIC EIGHT/NINE Thanks to the great wisdom of Paul Sellers…I have began to use new methods of working with a plane….and so I began to round over my edges….and keep working the wood down.

PIC TEN Flip over and work the topside with the spokeshave and plane combo…we are at about…45 minutes or so….the drama!!!...lol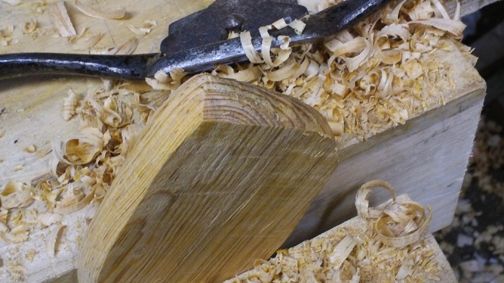 PIC ELEVEN Let's call it a wonderful mess…....hopefully not the finished project…lol

PIC TWELVE Ok we are just an hour in and getting there….at least that's what I am telling my shoulders…haaa

PIC THIRTEEN/FOURTEEN back to rounding the bottom handle over…I used a skewing method and found my way threw it as I worked at it. About an hour and a half at this point…oh and the clock is racing for such ….madness really….lol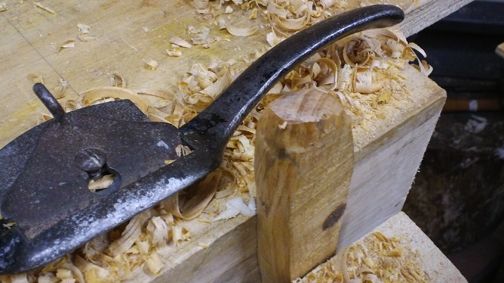 PIC FIFTEEN OK…..here it is…it took about an hour and 45 mins to get this shaped and ready for some sanding and oiling…...this here is polished and not for using in the kitchen….ya know…...for BLOG PURPOSES…..LOL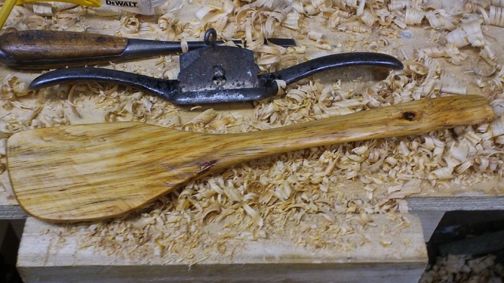 PIC SIXTEEN Well….I did far more than I thought I was capable of using only these two tools….and a two hour time limit…..I will say..what I was seeking in this challenge…were the answers…How far have my handskills become in less than only two years?.......How much can you do with a plane…..and a spokeshave??
I learned a lot…and got some great exercise in the process…lol
I hoped you may have gotten a kick out of it seeing some wonderful old handtools…..still show there worth!
Be well friends….man…..time for a cold one or two after this….lmao….....CHEERS!
-- "Always continue to learn, laugh and share!" JJW
---