This is a project I built a few months ago. It is a new router table which replaced the antiquated one I had been using – a much needed upgrade for my shop.
When I think back to the day I received my first router table, I have to smile because I got it shortly after we moved into our current home – that makes it about 25 years old. I saw it in a Highland Woodworking catalog (then called Highland Hardware) and immediately knew I had to have it; you will see a photo of it below.
But that was then and this is 25 years later. I'll modernize the new router table by incorporating dust collection and hopefully a router lift. I am going to add a t-track to the table and possibly the fence which will enable me to easily attach things like a feather board. And, in an effort to make better use of shop space, my router table will be incorporated into the extension table of my table saw. This will free up some valuable shop space for other uses.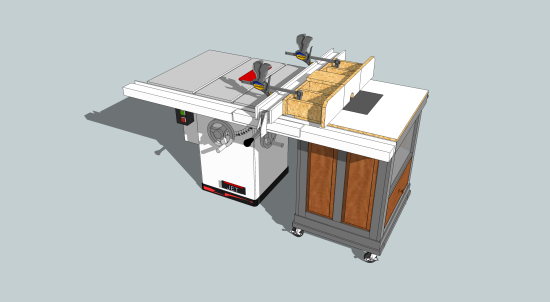 This router table design is based on one I saw in Fine Woodworking issue 216. What I liked most about this design is how the router table fence simply clamps to the table saw fence making removal a snap.
But, I did not want my version of this router table to hang from the table saw's fence rails. I have been thinking about adding a cabinet to sit next to my table saw; something that would provide additional storage space. So, in my router table design, I am building an enclosed cabinet with one large drawer and I have added casters just in case I have the need to move it around my shop.
Construction Begins
To get started, I decided to build the case first. The sides are simple frame and panel construction, but this is fancy stuff for a router table – those are mahogany raised panels you see in the illustrations. This project will result in a nice router table and it will help me get rid of some small pieces of mahogany that have been lying around my shop for a while.
After forming the rails and stiles for the frame, I use a scrap piece of MDF to determine the exact size needed for the mahogany panels. Once this was determined I used my old router table to raise the panels.
As you can see from the photo above, I have no dust collection for my old router table (note the cool grain in the mahogany).
I had a conversation with my dad about a painted project he is about to complete. He had purchased a high quality brush and commented how well the paint went on. I usually buy either a cheap brush or at best one that is medium grade. For this project, I decided to try a high quality brush and paint. The paint is Benjamin Moore Regal Select – the kind that is both a primer and paint, and in combination with the better brush, the paint went on fabulously. The cheap pine from Home Depot has never looked better.
The mahogany looks good – this is the best grain match given the scraps I had to work with. I did very little preparation for the wipe-on poly; just a light sanding to try to tame some of the moderate tear-out from the power planing and routing.
Next Up
I need to paint the back of the frame and then cut a shallow dado for the shelf which separates the router area from the drawer. Then I'll begin making the back which is a similar frame and panel design, except it will have quarter inch MDF panels instead of mahogany.
Thanks for reading – Jeff
-- http://jeffbranch.wordpress.com
---