Well, this is an UnProject, so I really couldn't call it a project now, could I????
But it is important, because it's about MY SPACE. The Freezer, you know the d…. freezer is about to leave MY SPACE. Sherie has been diligently shredding documents from centuries ago, that took up space, much better suited…to the Freezer.
It's a new freezer. The last one, a Gibson small chest freezer, bought in 1983, lasted until last year…27 years. Back in those days, Gibson built great freezers. The seals died. Not the compressor. We decided on an upright. Had Lowe's do that, selected it on line, went to the store, and the next day, it was done, the old freezer gone…Good Show…Lowe's. We would do that again for sure. Simplest and neatest appliance purchase ever. And We Got It On Sale!!!
OK,OK,OK…..carrying on here…..
So, Here I am in Mass Destruction Mode, taking down some shelves that were here when we moved here, in 1985.
.....in progress, starting…....
Now before we entered upon this horrific endeavor, of course, we had…
Senate hearings, and Environmental Protection Agency Impact Studies. With input from the public as required.
...meaning Sherie said, "Get with the Program".....and aren't you gonna start repainting the garage walls as you do this?"
.....right….
The Weapons of Mass Destruction…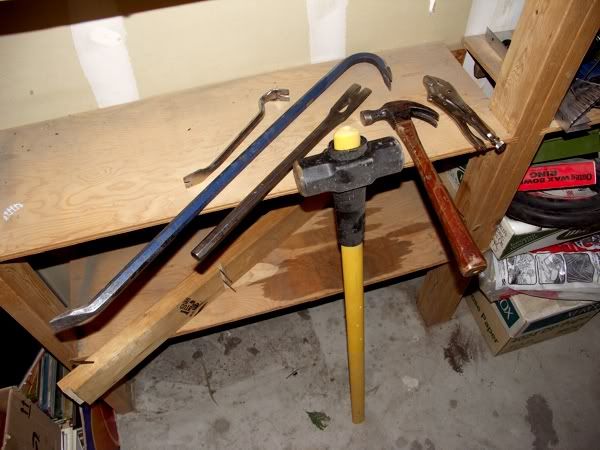 Now, I bet these are all familiar to those of you in the do-it-yourself mode of umpteen year.
From the left…
1) Small wrecking bar, about 22 Caliber, ...would you believe, Roberts – Made in West Germany, with some stuff about the cast molding I can't read. How old is that?
2) Standard Stanley Crow Bar, must be 45 Caliber, I think that is the brand, the label wore off decades ago.
3) Pry Bar. Found it in the shed by the house in Fairbanks in 1975….38 Caliber. It's so old it might have fired musket balls. But it is stamped "Stanley – Alloy 1460"
4) Sledge Hammer – Craftsman. Full auto, and dominating, 50 Caliber. I think this is my third sledge hammer in my life, and I suspect it will be my last. Beautiful construction. First Class.
5) Hammer. Sob. Sob. It has been with me I suspect for 30 years at least. But the claw was no longer sharp. So I went and got another hammer on the rack, a Stanley Workmaster, and it took out those nails with a vengenance. Caliber 30-06.
6) Standard very old ViseGrip with heavily embossed jaws, made of first class steel. Caliber – Pellet Gun. Or maybe Fox Terrier. You somehow get the head of a nail exposed, and clamp that Terrier on it and lever up the ViseGrip with the 22 Caliber wrecking bar, and then you are in business….
OK, enuf of the WMD, we got her done…..........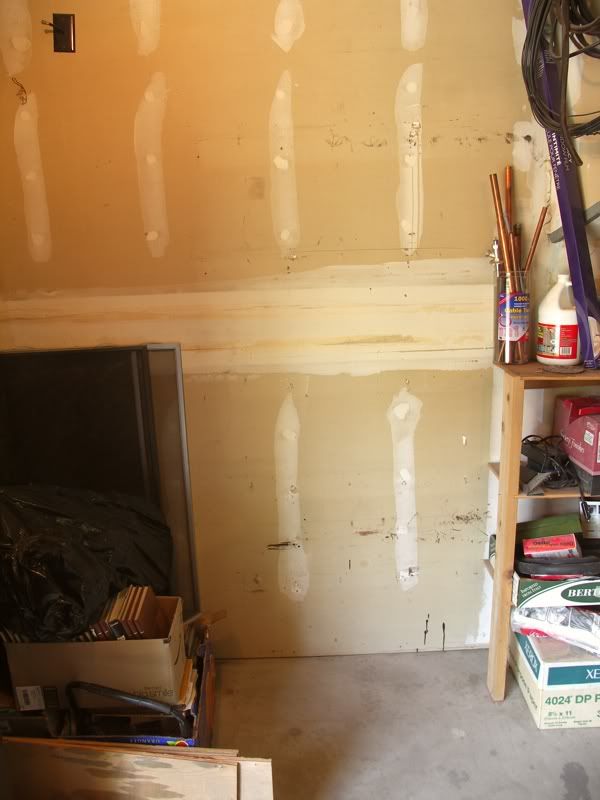 The Freezer will fit right there!!!
The pile of wood, totally stripped of nails for saving or disposal…...
........and her is the goll dang freezer that is gonna be moved…........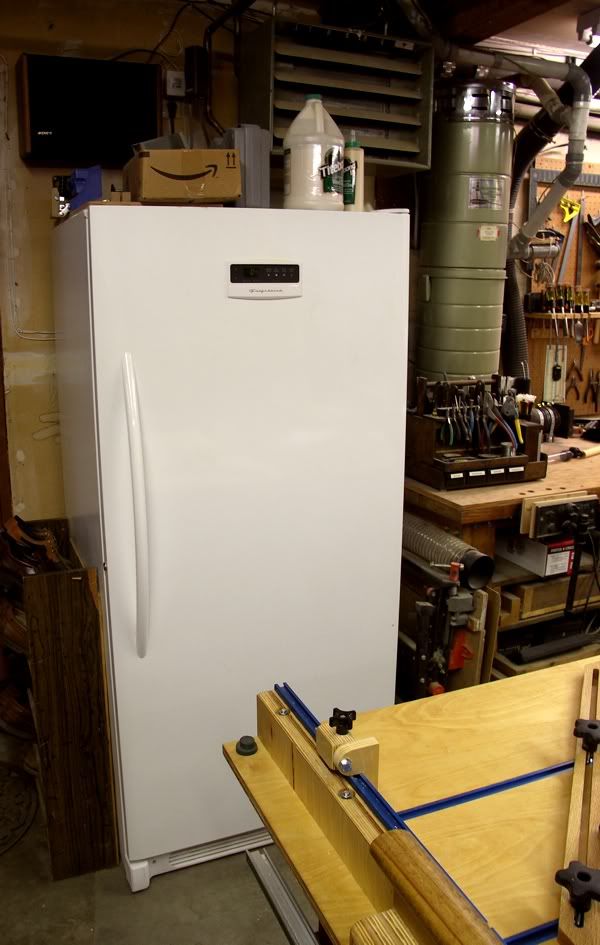 Now that was a satisfying UnProject.
Got to use the WMD, and I am gonna get that freezer out of my shop.
Might be able to use some of the wood for shelves elsewhere, we'll see.
James Bertelson reporting in the LumberJock war zone, that's all for now, folks….........(-:
...Oh and for reference, any of you guys got bigger or better weapons?...........
-- Jim, Anchorage Alaska
---