PREAMBLE
We have all done it. Unless I am the only imperfect one here…which is a distinct possibility………….(-:
In the shop, and you see a problem, something happens over and over again. That's a reoccurring issue. Fix it.
This is a real mundane problem, with a real mundane solution. However, instead of trying to buy something, like a simple plastic tray…....well, got all this scrap, let's put it to use.
PROBLEM
I am sure most of you do not have this problem, but I am constantly moving things in my relatively small shop so that one of the project tables, which is being used for gluing things, suddenly has to be an outfeed table, or something similar.
Now, I don't know about you, but when I am gluing, I have a glue bottle, a small pan of water to wash off my fingers and small brushes, a bunch of folded up paper towels, usually some quick drying filler, and a putty knife as well. Moving all this stuff is a pain.
In addition, there is water involved, it inevitably spills, so I have to have newspaper there. Need something to hold this stuff, need containment for spilled water. A plastic pan, aluminum pan……all kinds of stuff might work.
SCENARIO
But I am a woodworker, an LJ at that, and I have scrap, and scrap is always a temptation……right? It's free, headed for the garbage or the fireplace. Satisfaction in using scrap. Probably an award out there for it….and there has been an LJ contest or two, using just scrap. Enter the scrounge mentality.
Digression:
I am sure there are those of you for whatever reason, irrationally scrounge things up to do something, because of past experiences, or upbringing. Folks my age, had parents who came through the depression. They were real careful what they threw away. It is amazing what simple things gave them pleasure, because they had been through rough times. My folks lost everything. I remember rationing in WWII. I remember the end, the headlines about the atomic bomb. We didn't have a car until I was in eighth grade….because we couldn't afford one. So there is my sob story, and my paltry rationale for……..making do. Because, I do not have to make do. But it is burned into my psyche. So, understand, what follows……..
SOLUTION
Let's see, lots of wood, some acrylic, plenty of tools, easy 'off the cuff' design.
Want it to be easy to carry around, handle the occasional spill, be big enough, have some aesthetic value, and like all my shop objects, outlive me………(-:
Make a box with handles, big ones along both of the lateral edges. Have some left over 1/8" pine trim pieces from the minibench, cover some plywood surfaces with pine trim.
The box: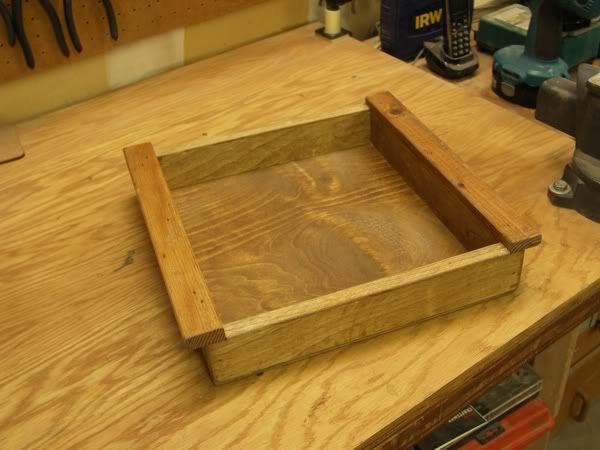 OK, you say, that looks pretty good…….but wait a minute, what happens with the spills?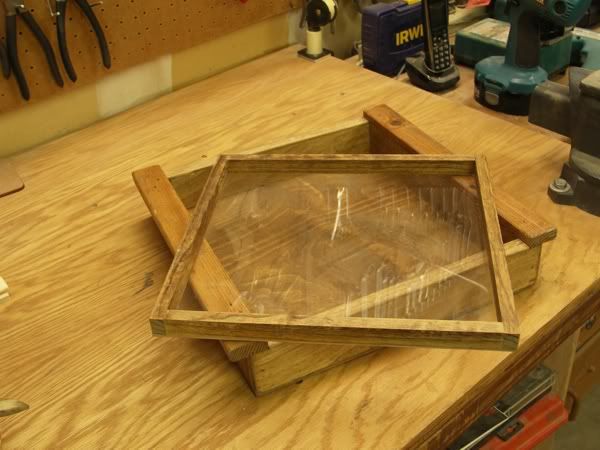 OK, made an acrylic insert, silicone caulking attaches the wood rim. Should do pretty well.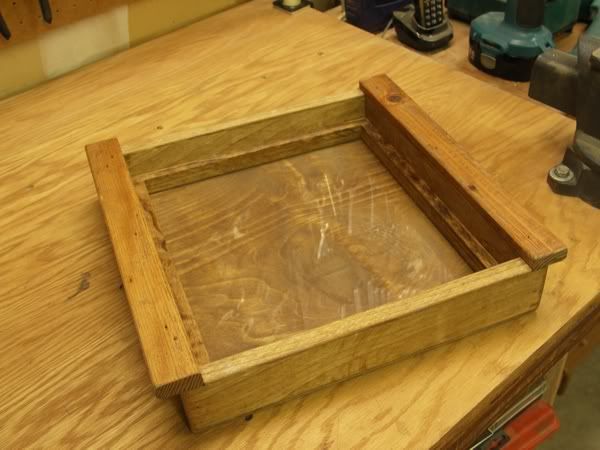 Yup, there it is, acrylic insert in place. Can take it out and clean up any spills, it is basically waterproof for the usual spill, no problem.
……..and here it is in use……….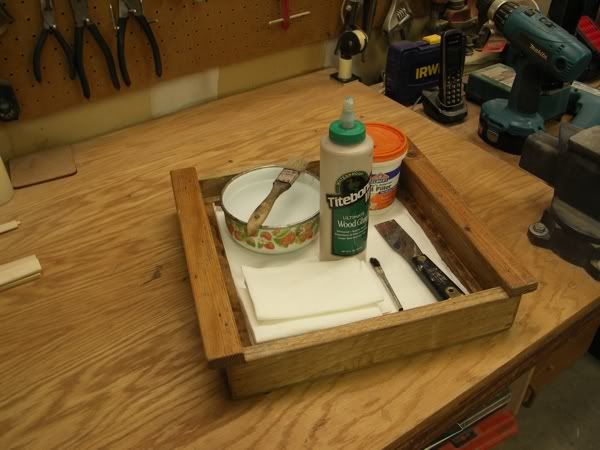 Now, that really didn't take too long……….but you know….a simple plastic tray would have worked. But I get a lot more pleasure out of this totally overwrought creation.
I am sure I am alone. I apologize for……..taking your time, appreciate your indulgence, and will try to do better next time.
But you know, I really like using that tray……..really……….(-:
-- Jim, Anchorage Alaska
---