The big door on the minibench, to access the compressor, the next step. I am going to make it lift up, so that the weight of the door will keep it in place, along with a bullet catch.
So I had to make a place for the hinge, since this is an on-the-fly plan change.
Chisel, to make room for the hinge mount. Glue chip-out chisel first, the one I had sharpened. Had to finish with a small new chisel…..the old glue chipper is better…...the WorkSharp has some work to do.
Fit the hinge mount in. But it is not to the level of the door, because of where I had to place it.
I had to overlay it with a 0.25 inch x .75 inch x about 18 inches long piece of pine, to level it to the door.
Needed trimming down on the wide 3/4 inch side, more on one end than the other.
Sand it perhaps….....?
Titebond III glue on, put it in place, ohmygosh can't sand it there… and no shoulder plane…..)-:
So I picked up that piece, the backside laden with glue, stuck it in the old wood vise, ah hah!!!
....a challenge…....can I fix it, before the glue dries…........
To work…with the block plane, 18 inch target…out come pretty curls…....
.......no adjustment needed, in the groove….
Back and forth…....as fast as I could…dappled sunshine streaming through open doors…...wind whistling, ruffling my shirt, tousling my hair…
Plane some, out of the vise, put it in place, check the fit, back to the vise….plane some more…out of the vise….put it in place, check the fit…back to the vise….....plane some more….....
Well, no other way to make that piece fit….with the glue on…before the glue dried.
Yup I did it…..
...where was the crowd, cheering me on, I beat that machine with my hand plane….......(-:
So got it done before the glue dried and clamped it in place.
Of course…......I could have wiped off the glue….....but…....come on….......it was a challenge…....
.......fun in simple things…......
...the scene…the piece gone and done…ready for the door fit tomorrow.
......ain't there a few whisps of smoke in those shavin's?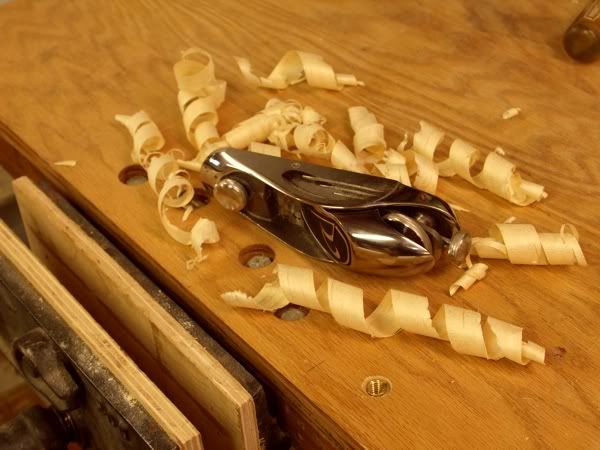 -- Jim, Anchorage Alaska
---