I don't know about the rest of you LJ's, but I walk into my shop and it's like putting on an old pair of slippers…….a real old pair, 26 years old to be exact. I know where everything is, and probably could literally find anything I need in the dark. Don't want to be in the dark……..although sometimes I really am clueless…..but, you know what I mean.
Sure, my shop is changing from its plebian DIYer origins, and mutating into a woodworking shop. But that redefinition isn't a far stretch, most of the basics, big saws and all, were there.
But to make another point, it isn't just that the old shop is so familiar, that it allows me to rapidly make small projects within hours, frequently without a trip to the store for wood or fasteners or finish…………..
The real point is………the shop EXISTS.
So, I have a new vacation home.
No, not a furnished condo complete with groundskeeper, housekeeping, swimming pool, golf course. No. Not me.
Sherie and I have a 16 year old fashionable two story house perched on a hill in a small town of 839 people in northern Washington. This town is filled with Victorian homes and artsy shops…..and good restaurants.
The house has outdoor decks, balconies, and railings, all of which require maintenance. There is a two car garage with a shallow alcove off to one side…empty. The garage is in the house, under the bedrooms.
I can tell. One sniff, a casual glance. Only one pair of electrical sockets. Lousy lighting. Clean naked walls. No nail holes, not even patched blemishes. Shiny spotless floor. This soulless house, exists in La Conner, Washington.
But where the heart of the home should be, there is only an epoxy painted floor… unblemished, clean, dimly lit.
Silence. Sterile.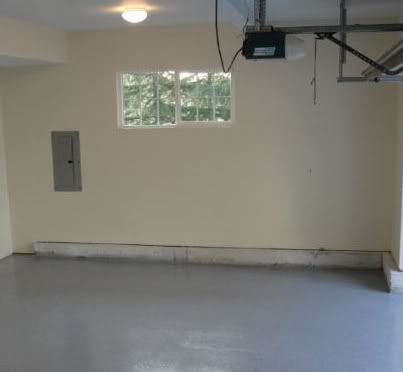 If this house was alive, the detritus of its existence would be evident
…the place with be alive with the aroma of creation, casting a dull haze on the household and permeating the carpets and the air. You might detect a hint of pine resin, perhaps the subtle scent of oak, a wincing whiff of burnt wood might waft by…….perchance the rancid smell of linseed oil.
But the clincher, the centerpiece of my evidence, with this I rest my case…
...there is not a hint of ……… SAWDUST
Now I must digress…especially in what has been presented… as a philosophical treatise. And here I…well…really make an excursion, into the mythical battleground of two giants that lay claim to the lighter, perhaps more frivolous, yet artistic spirit of mankind.
There is the woodcraft goliath, and the fiber arts denizen.
I identify most closely with the former. Sherie with the latter. She might say the quilting room, with its sewing machine and table, ironing board, etc. might well be the heart of the home. But I just can't identify with that. The only odor, perhaps a little formaldehyde, but I can't really detect even that. Perhaps a little ball of lint somewhere to evidence her activity. I mean how many quilts can you use? Granted she knits some, weaves on occasion, and even spins a little. But surely that quilting room cannot be the heart of this home, that puny motor on that sewing machine can't even be 1/10th hp…….a 1/10th horsepower home. Come on now! Well, since this is the LJ forum, I surely don't have to belabor the point. You understand.
End of digression.
So I says, I will energize this home, give it a new heart.
TOOLS.
That's my mantra. Of course, how do you set up a shop…without having a shop?
Shops usually evolve slowly, I think, especially at first. I remember a slow evolution from a small collection of handyman tools to a do-it-yourselfer shop with considerable woodworking capabilities. It took many years, without a specific purpose, just responded to needs with more tools.
But I needed an instant shop in La Conner, because I really can't even imagine a house without a shop anymore. And when you are setting up a new house, inevitably you have to fix things, hang things, etc.
So here is the garage, now with a pile of tools, but certainly not a shop yet.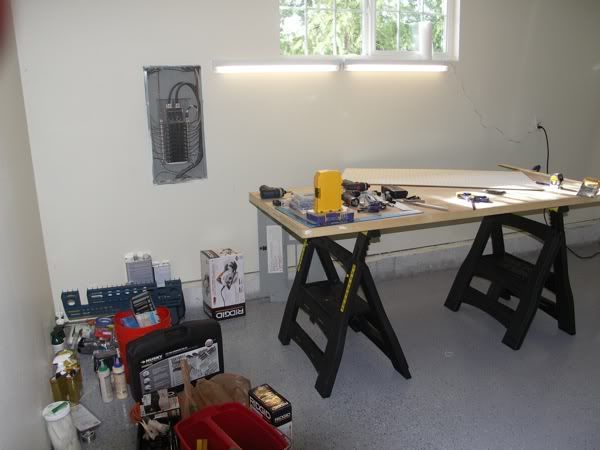 Note that I have temporarily placed a couple of lights on the wall, have a slab door on a couple of Stanley saw horses for a workbench, and already have the panel cover off trying to figure out how to add more circuits and plugs.
This house needed some stuff repaired and painted, so I collected some painting supplies, minimal woodworking tools, and an assortment of general purpose tools such as socket wrenches, files, etc.
It needed to be organized, so I got some pegboard and placed some of it on the wall in back of the workbench. Here is a picture of my setup to cut the wood strips to mount the pegboard.
Sure miss my RAS sitting idly at home in Anchorage………(-: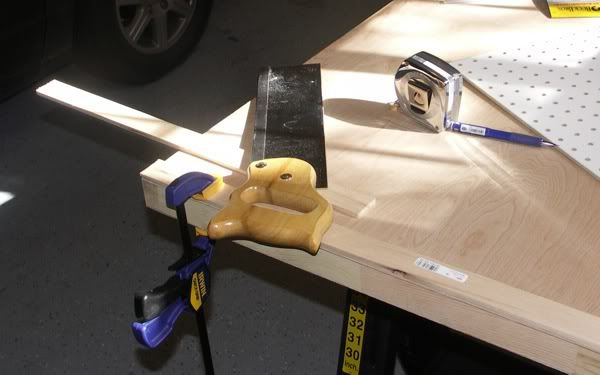 I used some precut ¾ x ½ inch strips, and some ¼ by 1 and 3/8 inch strips, gluing them together in appropriate lengths and positions so that none of the holes in the peg board would be blocked. Thanks to Dave Owen for that idea, although I had to use a different approach because I didn't have the tools to cut dadoes. This was a little slow, but worked well.
I also added two new circuits of 120 V 20 Amps, and can easily add a 240 V if needed later.
So here it is, the shop as we left La Conner, heading back to Anchorage:
There are a number of cheaper tools, but they will get the job done for now until I find out what this shop will evolve to. Note the cheap Stanley chisels……actually pretty darn sharp off the shelf. I bought those when I found myself looking for a chisel while putting up the pegboard and lights.
A close up of my few power tools. Note that I got a compressor and pin and brad nail guns. That was to make the glue up of my pegboard supports reasonably efficient.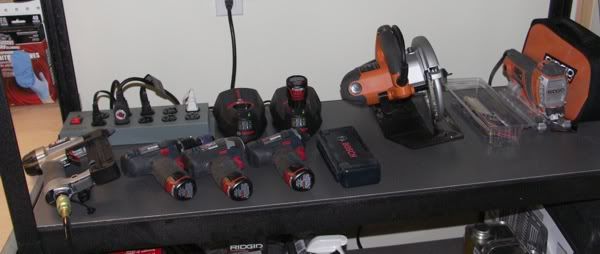 Here is a picture of a novel support for some Quick Change files that use one handle. Made with scrap materials on hand, peg board and some wood strips. I enlarged the peg board holes on the top piece, and countersunk the holes on the bottom piece so that the handles would stand upright. Glued together and spaced properly with some wood strip pieces.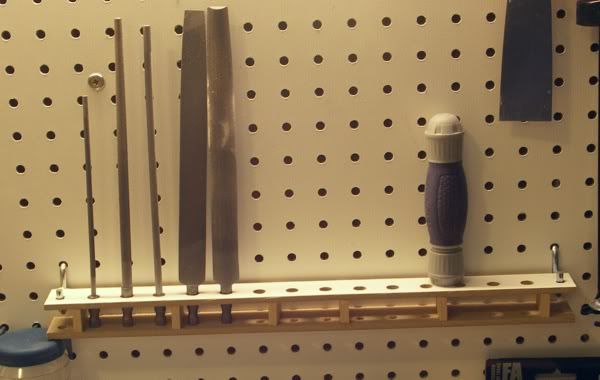 Here is the shop busy at work painting a post cap to replace one missing from one of the balconies.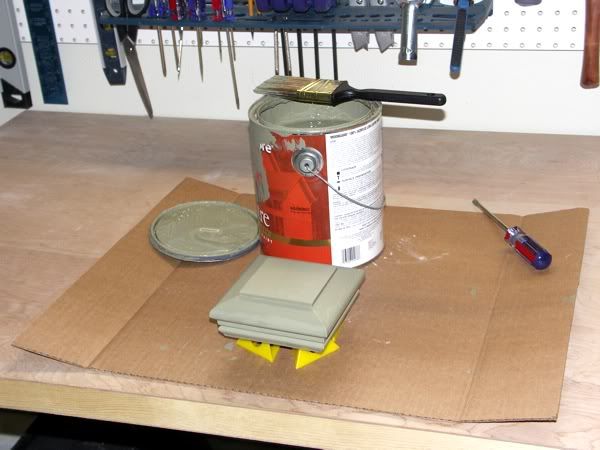 I bet you can feel that happy shop at work.
I bet you can hear the heart beat of the hand saw and hammers.
Yup, the La Conner house has found its soul, and is now officially alive………..
Alaska Jim – vacationing in La Conner, Washington
-- Jim, Anchorage Alaska
---