OK, let's be honest, we all do it………the impulse buy, or let's call it a Drive Buy. Much more descriptive. You know, you have been eyeing something, even may have done a little research on what to buy……..but you are Driving your cart down the aisles. Eyes flickering to everything new and shiny, wondering what would fit in your nest, at this point your brain functioning in Crow Mode, you know……birdbrain. Impulse in Command. Feeling good, perchance. Probably pleased the spouse recently, perhaps got a raise, or you're down in the dumps looking for any kind of high."Yup, I may be feelin' worthless, but my credit card still has charm. Let me lay it on you……………"
Actually, in all honesty, I was looking for a reviewed item, by the Fine Woodworking gods……a Porter Cable 12V drill/driver and impact driver combo. They thought it was a great buy. Powerful, light, and reasonably priced……..
……………but wouldn't 18volts be even brighter…….have a little more shine……hmmmmmmmm…….
Really folks, I looked for that PC set in Lowe's, while buying some electrical stuff for my latest and greatest shop endeavor, modular tool carts, project carts, and cabinets. But I didn't find the exact one. I knew that my old friend Makita lurked at the nearby Home Depot store, but…….I was in the aisle at Lowes. I had decided my Dewalt Power Screwdriver was a failed purchase, after about 3 to 4 years. Not enough power, and the battery had to be charged daily. No Dewalt. Porter-Cable……..not a stand out in the battery operated realm. A little dubious.
But there, the new romance in my shop life……Bosch………recent good experience with a router buy. I had confidence. There it was shining to my right……….as I drove the cart down the aisle….needing a Drive Buy.
I picked up the drill/driver…….holstered it and then after appropriate hestitation…. drew it again slickly and smoothly, definitely a kill.
Hmmmmm. Well, really it hefted just like the latest Makita, last purchase before the Dewalt……a Nickel Metal Hydride brute, but it is heavy……and definitely passé.
The impact driver…….I could see those screws and lag bolts succumbing to its manly power. Even more compact…..perhaps would fit in a leg holster, for a last ditch attempt at survival……
While contemplating a rigorous search for the absolute best…..the box found its way into my cart. The Drive Buy. $199.00……….not on sale. More than the reigning FWW PC superduper saver scoop.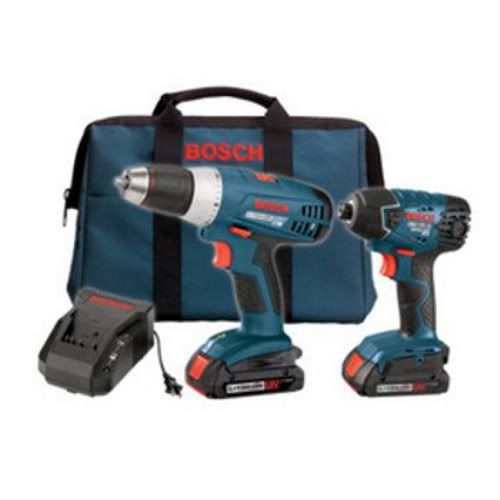 But it was 18V, it exuded testosterone, I don't think I deceived myself…….Bosch…….cool stuff………worth more…….pride of ownership. More chrome than the competitors.
The next day…..some pretty inconvenient angles, confined spaces, drove a couple of pilot holes and a couple screws, then a lag screw………a perch for a 4" dust collector tube when not in use. Impressive power. Light weight. Compact. Just great.
Today same thing, drilling holes, very difficult approach. Holes………I just couldn't believe how fast that drill went through ¾" ply, and a piece of metal.
And then I set up the 5/16 inch bolt with the nut in back, with an oversized washer. It was a bad angle for the second one………couldn't see well……the first one went perfectly….and with the second one gave the impact driver a second squeeze couldn't tell if the bolt-nut was tight……and watched a 5/16 inch hex bolt head with an oversized washer behind it sink into and start to destroy the ¾ inch plywood.
Yikes………I had a monster in my hand!!!!!!!!!!
Did I tell you, the drill has an automatic chuck lock so that you can really ratchet down on that drill bit with minimum effort…….wonderful.
I have rarely been so impressed with a tool on initial use……..in this case two of them. I don't know what the long term will bring, but I am optimistic………
……….with my latest Drive Buy……….
By the way, I still haven't read the instructions……….(-:
Bosch 36618 drill/driver
Bosch 25618 impact driver
$199 for the set at Lowe's…………
PS
I have a zillion things to blog about, I am way behind……….but trying to complete some stuff……..
But I knew……out there…….someone……would feel much better that they were not alone……….
……when they do a Drive Buy………
Alaska Jim
-- Jim, Anchorage Alaska
---