'Tis Thanksgiving…....gotta be thankful.
Just thinking about my activities today….....well….......a lot of lumberjock influence. It has been a very busy day. Got up at 0500hrs and didn't stop working in the kitchen dining area until 1100hrs. I took off 30 minutes to drink my coffee and check my email. Right now it is a typical Anchorage Thanksgiving….....34 deg, and snow balls are falling from the sky, you know, warm enuf that the flakes clump together.
So what did I do today? Of course, first some family stuff…...er….....flock stuff. Kermit needed his stainless steel palace, you know, the one big enough for the largest of macaws, which he lives on and in much of the day….......cleaned. That took over an hour. It is not a cage, because there has been no door on it for years. Kermit is 20 years old and is very predictable. He is the king of the household, and he has a palace….......and servants, and I am one of them….......(-:
A picture, that will explain the rest of the morning…....taken on the huge granite kitchen island that has a sink, dishwasher and a 6 burner gas stove with oven…......and tends to be piled with a lot of stuff, because it has a lot of space. Who's rule is that?...........stuff expands to fit the available space…........you know the gist of it. The most significant part of the island is the oven, a flaming hot gas oven, giant thing, that…...............cooks the world's best pizza.........made by Sherie….......with the worlds best rolling pin.................................
Behind you see the stained glass French doors leading out on to the porch, where the turkey is now at 102 deg on the grill, as you can see, if you squint, on the remote receiver for the electronic oven thermometer.
Here is the case I made last Thanksgiving for the thermometer, Sherie bought it in an emergency to replace my old meat thermometer, she couldn't find one of the old analog beasts that will survive a pizza oven at a 1000 deg ( well maybe slight exageration by 500 deg or more) so she bought the electronic one….......which is really great….....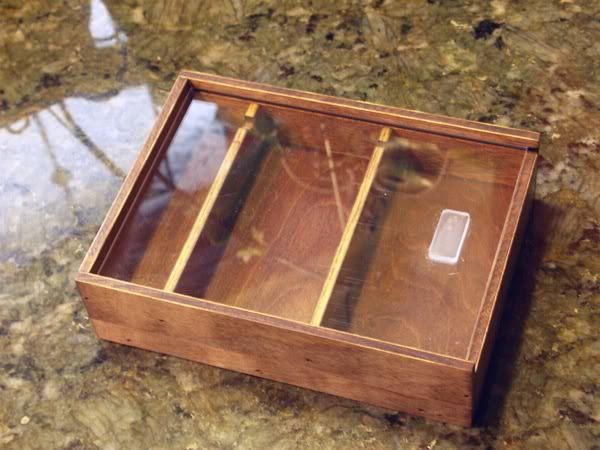 .......and the thermometer in the case…..........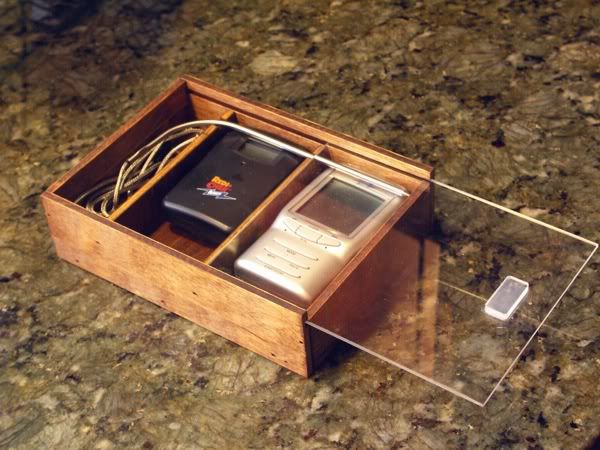 I blogged about this last Thanksgiving.
But the important thing to note is…...............my first home made pie crust…....TA DAH.
What brought this to mind was nbeener's newest box, a product of learning from his mistakes on the previous box…....which is a NIGH UNTO PERFECT BOX.................did I say that right Neil…........(-:
Neil comes to mind, because with my original post, he obviously developed a fetish issue with the case and the thermometer…......if he ever comes to Alaska I will place it in my safe deposit box at the bank.
So the implication is…........my next pie crust will be better, it has to be, because I am using the world's greatest rolling pin…...........recognize that one anybody?
Next time I will do what my mother did…....make a double recipe for a single crust so you always have enough, and what remains is made into crust cookies covered with sugar and cinnamon….............
The crust is flaky, tastes good, etc., made with good old fashioned Crisco (in stick form). There wasn't quite enuf to look pretty, but the pumpkin pie is now cooking and looks great.
Now how did I get roped into making a pie crust…........the overall premise is quite reasonable, since those of you who are familiar with Sherie from my other posts…......remember that she has a…........hmmmmmm…....supernatural ability to get her way with me.
We are having a total of 7 people for dinner, including Kermit it is 8. For some reason, everyone seems to buy pre-made pies in this family (not me), and I do believe my mother was a fabulous pie maker in the old tradition. So when I complained about the prospect of store bought pie, Sherie said…....."well I could make the filling…...." whereupon I said, with minimal prompting…......"I will make the crust"
So the pie is nearly done. The turkey, which is filled with stuffing I made from scratch as always, is cooking. I always cook them on the grill (using it as a convection oven), and it is progressing nicely.
So the homemade thermometer box, the special LJ rolling pin, and the pie crust an example of a first effort….....quintesential Lumberjocks….........ain't it?
So I am happy to be a Lumberjock today, with the activities intertwined with my adventures and friends here on LJ's.
Happy Thanksgiving, Lumberjocks…..........hope you have as much to be thankful for as I do….......
Alaska Jim
-- Jim, Anchorage Alaska
---