Now tell me why did I build this thing?
It should be made of rosewood, and inlayed with ivory and ebony, considering the amount of time I have spent, and the grief it has caused, and sawdust it has generated.
I have been at this thing off and on for months. I originally naively started this thing so I could better control routing slots in the oak miter arms I was trying to make for my super sled.
After getting well on my way, I of course found a neat article on how to do the slots on the router table, in a twinkle, yet.
........IN A TWINKLE!
Dahhhhhhh.
(pardon me while I gnash my teeth, and self-flagellate for the umpteenth time)
Moral of the story, a little research of the literature can save you about 7000 curse words…......
(I have outstripped my vocabulary of unprintable, politically uncorrect, and blasphemous exclamations, and let me tell you, we physicians have large vocabularies, and a proportionately oversized group of epithets to add emphasis to our erudite, and sometimes not so erudite, commentary)
A little research can also save you about a hundred hours of work, with the most dastardly manufactured construction material ever invented, surely by the devil himself…........MDF. Another name for this thing would be the MDF MONOLITH…..here it is sitting on one of the project tables, for an overview…........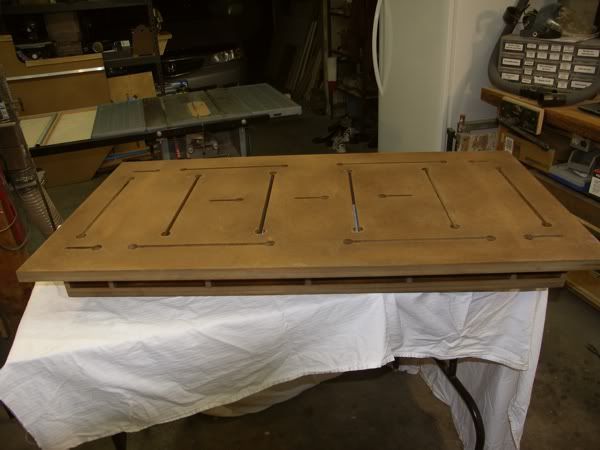 MDF….....damned MDF.
I swear even my toothbrush and dental floss, let alone my comb, and my Jockey briefs, have been clogged and corrupted by the odious silt generated from this stuff, rising with the slightest touch, in noxious clouds, to cover everything in the shop.
I will forever remember routing that stuff…......
..... with earprotectors, a face shield, and a mouth mask…..sweat running down my face, making little rivelets in the MDF mud coating me.....peering through the corrosive plumes of desert sand-like stuff, trying to get a glimpse of my lines, to see if I had yet another time, gone astray.
I saved these masochistic episodes for times when I felt particularly guilty about some moral deviation, having found this to be the supreme self-punishment [no, I am not going to confess about my deviant behaviour…......(-: ]
I also made my dust collecting gizmo along the way, as a result of being…..
.........covered with (it must be made of finely ground camel dung) the effluent that it vengefully spit at me as I tried to coax it into something of value.
You would think the stuff would at least be light weight, but oh no. I am sure the EPA will some day tell us we can no longer use MDF because it is primarily composed of lead, or depleted uranium.
And then when you try to finish it, you would swear the finish when applied to the top…....falls straight through it and ends up on the floor. They should make sponges of this stuff.
All right. Thanks LJ's, for allowing me to vent a little, I needed that.
OK, to tell the truth, this project table top is a very useful item.
I was using it constantly while I made my dust collecting gizmo. With appropriate holddowns, I used it for glueups of the box, glueups of assorted plywood appendages, and a way to firmly hold the acrylic while I filed the proper profile in the hole for the bullet catches, etc.
It is reversible, one side being smooth, and interlaced with 3/8 inch slots for holddowns and jigs. The other side has pedestals to facilitate through routing and cutting, and of course the mirror image of the slots.
The pedestal side:
It is one inch thick, composed of two layers of one half inch MDF. The top is one piece, the pedestal side is made of many pieces to reduce the amount of routing, and allow the vertical face of the pedestals to actually be glued to the top piece and entrapped by other pieces, all for strength. The pedestals also bridge some of the long slots for strength. The pedestals themselves have a long slot running the whole length.
It has been finished with the ubiquitous Dark Walnut (can't get Black Walnut anymore) WATCO. Never looks dirty….....because it looks like it is made of dirt. The finish has no dimensions, so it doesn't screw up mechanical constructions, and it can be recoated easily at any time.
This reversible top fits in one of my old project tables, whose tops are just dropped in, held by cleats, but not fastened on. But I will make a whole new base for this thing, partly because it is fairly heavy, but also it will be made to store most of my clamps.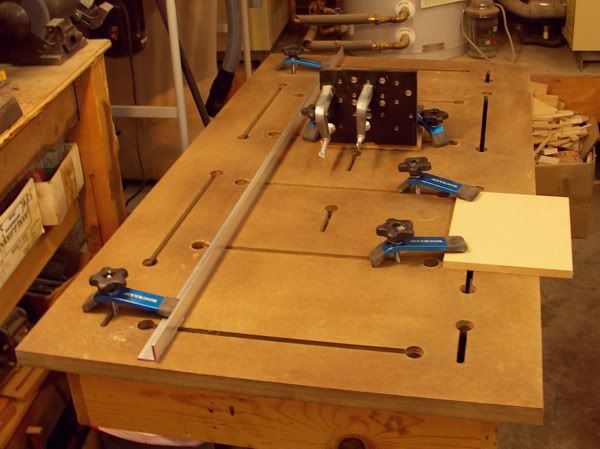 So you see it in a temporary home, with a few examples of simple holding situations, but it will soon have a new much more robust base.
Needless to say, I can dream up a myriad of attachments and gizmos for this item.
Most of them won't be useful, but they will be fun to make…............(-:
Here is the other side in mockup use, ideal for through routing and cutting:
I have also been wondering if this might be used with a plunge saw, I really need a better setup to cut large sheets of MDF and plywood into manageable pieces. Of course I have a large panel sled, and will blog on it since it is now finished, as well. Thanks for absorbing my, at times, vindictive prose, and my amateurish photos. Have a good one…......(-:
Alaska Jim
-- Jim, Anchorage Alaska
---