I designed, built it, use it, like it….......but what is it??
I have come to a point where I am finishing off a number of shop fixtures. I was thinking I was like Tolkien with his Lord of the Rings Trilogy…....I have read them all…...and then realized I had a quad…......
What a disappointment…...all the famous hip and iconic people, (maybe that's the problem, I am not hip or iconic), do…..... TRIOLGIES............... Rats.
I even tried to find the word…quadigy. People use the word for things, but it isn't a real word, I think. But folks seem to think it ought to be a word, because it crops up on searches.
Therefore…....I have a QUADIGY
This is a part of a long saga of intertwined, off beat shop projects that I am about to complete. The only one left of this quadigy is a super sled, which is more mainstream and just waiting for its miter arms. Completed are the panel sled with its oak trimming (Oak Trimming?......for you neophytes to LJ's, thats what LJ's do), the dust collector gizmo, and the project table top. All of them are kinda unique and have been used some in an unfinished state (you are thinking that there is nothing really unique anymore, but you have forgotten how nerdy, and off the wall, this old senile Alaskan really is).
But this blog is about….......the gizmo. It is done done done. I know what it does, but I really don't know what it is!
So here it is: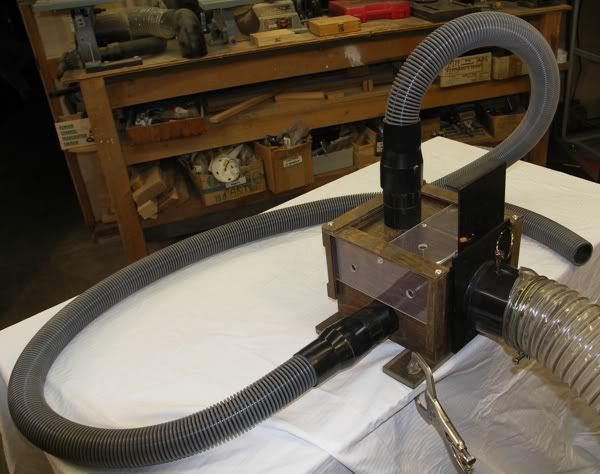 Kinda like hydra with multiple inputs…...errr…....exputs…......well really…...hmmmm.
........it sucks a lot…......that's its job….......if it were my job…...yup…..thankfully it is not my job.
So come on, we need a name. It is fed….or drained…..again, this is difficult…by a…..
4 inch dust collector branch tube at the back. A blast gate is installed there.
Why the blast gate? So I can close it off without going all the way to where ever it is hooked up. That way I can quickly turn to another tool that has a nearby blast gate, open it up and use it briefly, close it, then come back to where I was and open the blast gate on the gizmo again, and start sanding, drilling, whatever again.
There are four bullet catches on this thing. They can be pushed back down with some pressure from the acrylic covers, and they pop into an appropriately located hole, so as to firmly hold the cover. With enuf pressure from the cover, they will move out of the way and the cover can be closed again. There are finger holes in each of the covers.
You open and close these covers with a quick forceful snapping action. I like bullet catches, and I have used them in many objects over the years.
This thing slurps a lot of sawdust. The top, front, and both sides have….(no, LJ's, not orifices).......ports…..that sounds good. Each of the ports has an acrylic cover that covers the port when not in use. The acrylic cover has a hole for a bullet catch so that in the case of sides, the cover will be held by the catch while you are attaching a hose. The top one actually has the bullet catch situated to keep it closed, because gravity is not a factor. At the front there is a slot…..(no…..not a trough)....also with a cover that can be pushed up and is held by the bullet catch.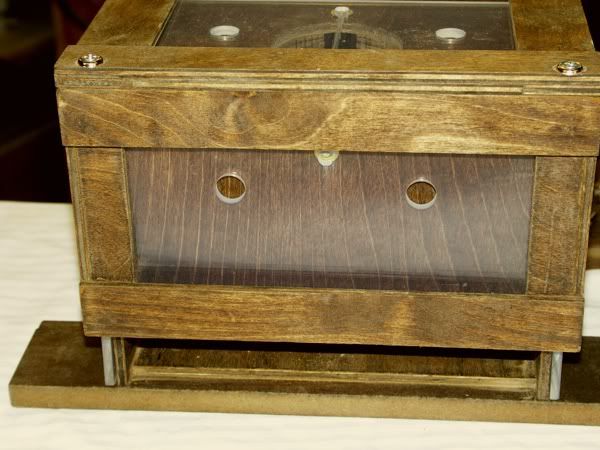 It is feasible to use two of the ports at a time with the flow from my DC.
Here is a detail of the inside illustrating a port. You can see a 3/4" piece of plywood, with an offset circle cut in it so that one side, in this case the bottom, is open. Meaning you can cut this with a band saw like I did. Then, only the closed side opposite the open side is nailed and glued in place. The circle is cut exactly the same size as the narrowest portion of the tapering hose connector. The the connector can cause the unglued part of the plywood to spred slightly, giving a very tight spring action fit.
This is a very quick and easy way to make ports that exactly fit tapering hose connectors with a tight spring action. You can use a piece of scrap 3/4 inch plywood, and cut it with whatever works for you….scroll saw, jig saw, or band saw.
Now, just for novelty, this gizmo will take an aluminum and MDF slide, inserted in the bottom of the gizmo….... .......so that it can be moved smoothly along, to follow what you are doing. Here it is on my new project table top ready to slide along, as you create sawdust, with some tool or another, on the board clamped in front of it.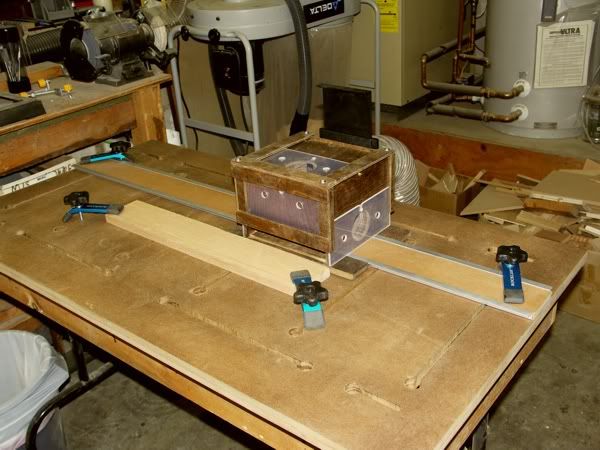 The slide is clamped to the table. the gizmo runs over the slide without touching the table, so it is smooth. And the gizmo has flanges which grasp the slide so that it will not tip or come off.
Anyway, I know what you are all thinking….over engineered….is that a compliment or not? Time to lay down the glove and tell me where you stand.
OK, OK, OK. Back to the business of explaining why in h… I made this abomination, that looks like it has been transplanted from some Greek mythologic horror story…..with the gizmo being one of the monsters.
I was making this project table top…....one of the quadigy.....also now completed, and I was having MDF dust flying everywhere as I routed slots, all the way through the MDF, meaning sawdust could exit out the top and the bottom, and hence was making a real mess. I found I was hooking up hoses, and trying to clamp them in place, usually in an unsatisfactory fashion, partly because the router and the drill were on the move and quickly got out of range of the dust port. Hence, I invented this gizmo, with options for one or more smaller hoses, or just a slot opened in front to place near the workpiece.
So there you have it. A device to facilitate dust collection from drills, sanders, routers, circular saws, etc. This gizmo can be clamped near to the action, or if the action keeps moving, moved along a slide without having to reclamp it in a new position.
We need both a descriptive name….....and of course….....Neil will demand that it have a pet name.....you know, a name like Norton, the shop mascot, the fancy sanding block has.
So what would be a good descriptive name, that lets you know what we are talking about? And then to individualize it, give it personality, something I can talk to when I have a lonely day, what would be a good pet name?
Thanks for viewing
Alaska Jim
-- Jim, Anchorage Alaska
---