Knowing that I was under the gun.......fresh from vacation…....didn't have any excuses, I thought I would immediately post a blog entry….........
BAMMMMM…................
Only 5 hours after arriving and waking up late, recovering from the dreaded red eye special, just back from Hawaii,
...TA DAHHHH….....a post.
Now, you should realize, that my mind is still in vacation mode. Today is recovery, tomorrow is an adjustment day off, to get in the mood for work, and Tuesday is work again. Don't we all need a mood adjustment day? I may have invented the concept….....but then again, probably not.
Don't complain about this dredgeup from past….......PLEASE….....I have a long way to go before I can touch Dick Cain.............
Any asthma attacks from flying dust, as Barb dusts off those forgotten hall closet projects Dick?
Nah, we know Barb probably has to do all the work, dusting them off, taking the pictures…...........
Hmmmmmmmm?
Dick will rise to this challenge by finding more projects…........
OK,OK,OK, shouldn't be poking fun at Dick to deflect criticism from you vultures just salivating for another chance to roast poor old Jim. But I knew Dick would be there right in the first echelon, rubbing his hands…....best defense is a good offence.
You know, while in vacation mode, I realized that what I had been doing all these years, renting condos instead of buying, was definitely the most cost effective and easy approach. But I still fondly harkened back to my motorhome days, an example of an entertainment money sink folly. The motorhome has found a new home with my daughter in Fairbanks. Low mileage, but over 20 years old.
Instead of this old, yet to be revealed (aren't you excited?) project, I thought I could post a Sketchup diagram of a motorhome simulator, something that seemed appealing to construct, combining woodworking and electronics, right up my geeky alley…........
.........you folks understand, something you dream up in the midst of heat stroke while lying on the beach defying skin cancer and sunburn, trying to conquer your incipient terminal dehydration with one more beer with lime........as you conjure up these absurd projects in your alchoholic haze, your genius distracted by the occasional scantily clad wahine strolling by solely for your amusement, obviously lusting for your 70 year old well oiled, pasty, slightly lumpy, and sagging, physique…..........
Well, back to my epiphany….......I could put it in our oversized bedroom on top of the closets. Video screens all around simulating the scenery as I drive down the highway. We could even conjure up artificial smells to remind us of the overflowing chemical toilet. Then there is the outrageous noise from the wind and the motor easy to generate from an included audio system. Kermit, my 20 year old mitered conure, riding the top of the steering wheel. Very interesting to see him stay on top of the wheel as you turn a corner, he got good at that. Kermit would love it, reciting total verbal repertoire in his loudest voice, the only saving grace being that he is truly funny and remembers the most outrageous things….........
OK, I know, this is a cheat, but I was reminded of this item by a post authored by Rich Greer about sharpening knives......with his Worksharp 3000.
Now I have a Workshop 3000, about one year old….......and yet to be used…......(-:
.......so I am searching for a purpose for this shiny gizmo gathering dust in a forgotten corner of my shop….............(-:
Now Rich, being a buddy, understands. We both like sleak looking over-engineered gagets. My new computer comes to mind.
I decided I needed an easy, always available, quality solution for sharpening my very good German knives. So I had Sherie give me a Chef's Choice 3 wheel sharpener. Now I can sharpen a knife in under a minute, unless it has a nick and then it take longer. My sharpener sits on the pantry counter adjacent to the kitchen, along with a lot of other appliances. I also made a cover for it, to protect it from dust, about 2 years ago, before I decided to do WW as a hobby, so it is more in the DIY mode.
The cover has purple heart ends, rabbeted to fit the 1/4 inch birch ply top and front and back. The back has a slot for the cord. The oak handle came from my junk box of scavanged knobs from discarded furniture and such. This was made essentially from bits and pieces and has nail and glue construction. Finished with clear WATCO. It is not in the main kitchen, so didn't have to be beautiful, mostly functional, but it is consistent with the pantry quality surroundings.
It meets the LJ ultimate condition for merit and self satisfaction:
Built from scrap and materials, including the WATCO, already in the shop.
We might spend a modest fraction of a million dollars setting up the shop….........but if we build it from scrap….......all is justified….saving our planet….mother earth gives us a loving smile................I don't think I'll get into politics here…...........
The Cover on the sharpener.
.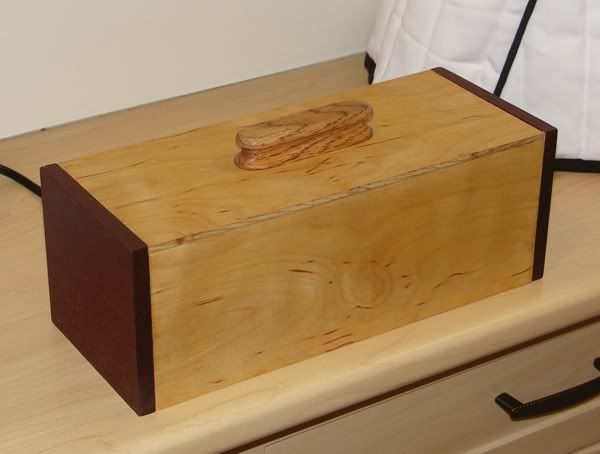 .
. The Cover off the sharpener, ready to use.
.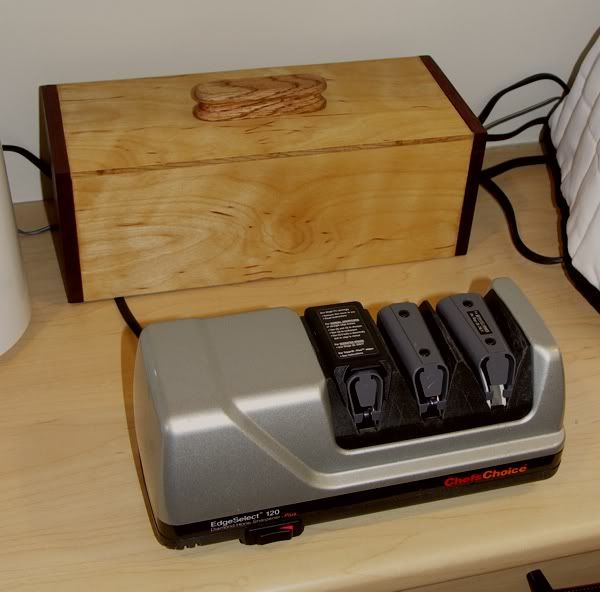 .
. The back of the Cover, to display the notch for the cord.
.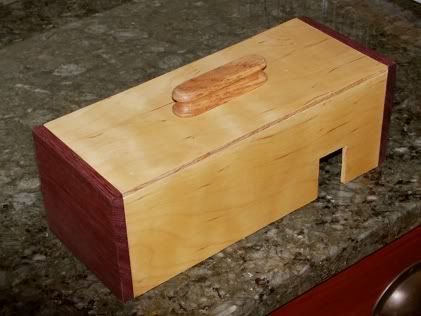 .
.
Just a blast from the past…..........
Alaska Jim
.
.
........in recovery….........tomorrow is mood adjustment
-- Jim, Anchorage Alaska
---