Today is my one year anniversary at LJ's…......what follows is discovery, intrigue, reflection, and my usual tomfoolery, set aside 5 minutes of your time….......I guarantee nothing will be serious, the mantra for this post….take it all with the smile that is intended…........
I now know what happens when you have been captured by Lumberjocks…......interned for a full year…....you ascend into paradise!
No it is not addiction, it is internment. "Addiction" is an inadequate description for the reality of the Lumberjocks's experience…......not only have we been captivated and addicted, but more accurately, lets think about it, we cannot break the addiction….we have been captured….....interned for the duration, and after a year we ascend into paradise.
Now the usual format for an anniversary note is the…......'gees thanks for all the friends, good times, help, and camaraderie'.......you know, mush and gush.
But I am not thankful….......... I'm upset! Nobody told me about the rewards that come with seniority and loyality. I might have wondered off to another forum, looking for the ultimate fulfillment, greener grass, funnier jokes…....but not finer girls, you unmarried guys should know the girls are the best right here…........(-: .........did I say that right?
I am going to spill the beans. I am going to show you newbies what you have to look forward to…......
Here I am in LJ paradise, that's where you end up after a year, I know it is so.
This picture is from yesterday:

Me getting relaxed on the lanai….....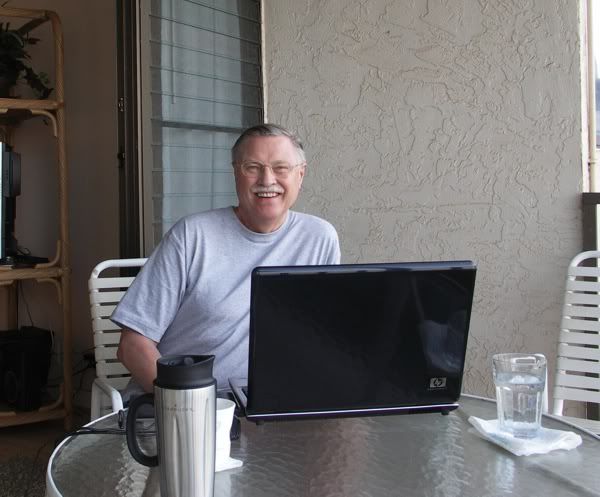 OK, I got the rancor off my chest. Except for the clandestine society stuff, paradise and all. Somebody out there want to tell me the secret handshake please…............?
Done with the discovery and intrigue…........so now to the reflection…...........
Yup, one whole year, nearly 1500 posts, I have kinda moved in. For those of you who don't know me, (perhaps you don't want to), I am an anachronism. No projects in one year.
OK, OK, OK, I know. Some of my blog items might called projects.
But I have OCD. The dominant feature of my personality.
When I do a project, there will have to be an aspect of artistry, shock and awe….......
SHAZAM!!!
Sherie will have to beg me to place it in the living room…..........
Everybody understand that?
But I am good at self discovery, introspection….....
......I have devined my purpose in the woodworking world, what I really want to do…...
I love to make shop projects, that enhance my capability, enlarge my horizons…....to help me make more shop projects, that enhance…....etc
......and now for the smaltzy part….
Time to reminisce…..
Hoping to conjure up memories…........a few words, and a few pictures…...........selected from many blog items….
The first item, it kinda defines my personality, and provides some amusement, is about tuning up my tablesaw, and here is my gizmo, lets call him Rube, for obvious reasons: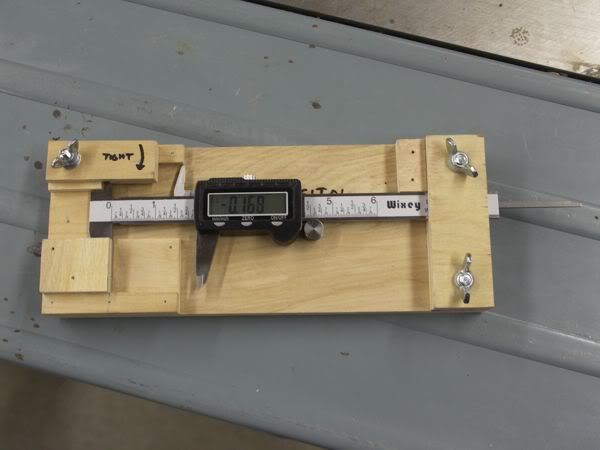 The following says it all…........
So as long as the digital caliper lives….and it is constantly in use, because remember, I am compulsive…I will have a means, at the expenditure of untold…I AM NOT TELLING!!!!...hours, to check the alignment of the saw and fence that was perfect from the outset and has remained so without checking for 20 years.
I will never learn.
To read the whole humiliating story:
http://lumberjocks.com/jbertelson/blog/11361
Hmmmmmmm…........
My benchtop clampdown downdraft table (Dusty), is in use and performing well:
........a little modern art indiscetion, on a Saturday night: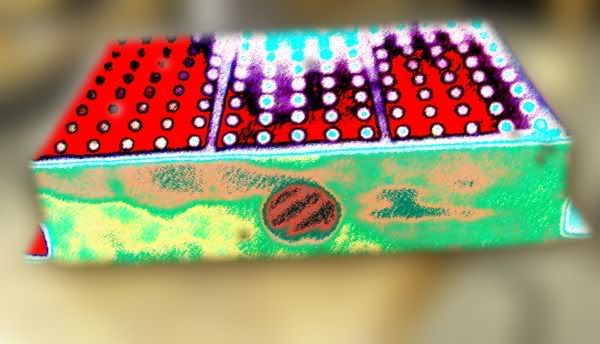 ........and dusty with a graphically altered addition, a smile:
You know, I have noticed. I am not alone. There are a lot of frustrated graphics artists and…........
......well….......children's book illustrators on LJ's…...........
This is a serious addition to the shop: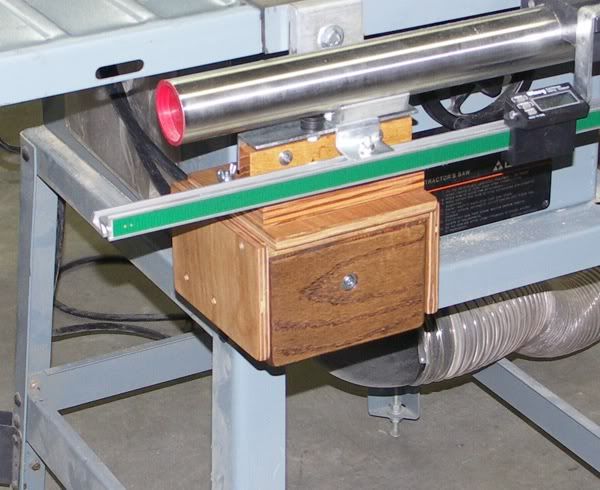 I declare this the ultimate TS switch…......OK…..my ultimate TS switch…...
.........here is a good starting blog entry on this indulgent overkill for a TS switch….........
http://lumberjocks.com/jbertelson/blog/11761
A whole lot of stuff about sleds and totes in my blog, but here is a picture of Tammy…. ......... a love affair with a tote, but this girl does her job perfectly….....
...a link to the story…...
http://lumberjocks.com/jbertelson/blog/12542
And then there is Norton, the shop mascot, who gets referred to occasionally by me and others, one of the fanciest sanding blocks around…..........
Walnut knob, oak mechanics, spalted birch base…..........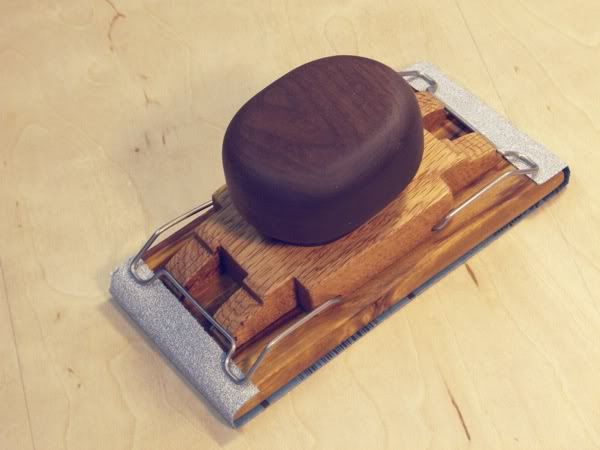 Norton is actually in regular use. I have not placed a soft pad on him, he is used to remove bumps and lumps on objects, rather than just for smoothing.
Enough of this stuff, a last item, this is my favorite post for many reasons. The story, the simplistic project from scrap…......
.......and I was in some kind of literary groove…....
Utilitarian Projects #3: Dirty Dancing, and Quick as well- Garden Honey Do
http://lumberjocks.com/jbertelson/blog/16142
.....go read the blog if you haven't….....a couple of minutes….
It starts out…...
Innocently Sherie asked me, while I was in a good mood, yesterday out eating lunch, and this is a for real quote……'Could you cut up a couple of boards for me?'
The Sketchup Plan….....
Finished product in the sun: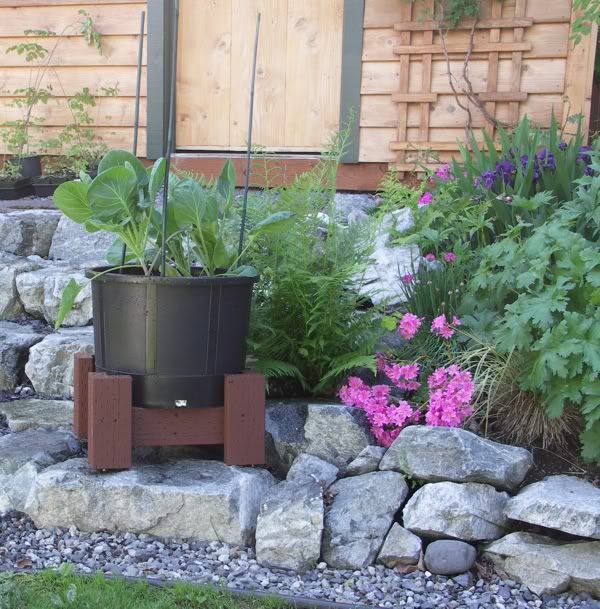 Norton and I say thanks to everyone…...
.........of course to Martin who makes it all possible…...
...and to all my friends and buddies who give me a home on the internet…...
Alaska Jim
-- Jim, Anchorage Alaska
---