I posted this same item in an old post about birches by Don Butler, and thought it was worth reproducing as a blog item. The picture has been used in a very old blog item here before…..............
Moose like birch too….........a picture from my front porch…...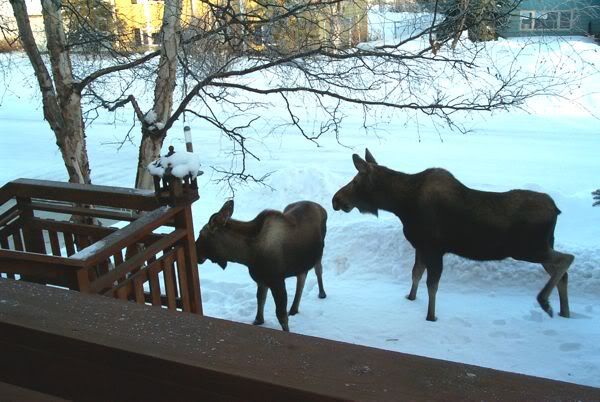 ....if you look closely, you will see the peeling bark on this birch, which is pretty typical. Don Butler had posted a picture of a birch that was really exfoliating its bark and wondered what was going on. But if you live among birches, you find it is fairly common.
I burned almost exclusively dead birch trees in my cabin stove near Central (essentially at the arctic circle). Mostly birches, spruce, and alder up there. Moose love the alder and birch for food.
But what brought all this to mind was another moose story…........from yesterday….......
Yesterday I was going around the back of the largest hospital in Alaska, to park where I always do near the obstetrical wards. They have special parking for the docs near labor and delivery. In front of me were three cars and a truck in the lead, who was delivering something, obviously, and hadn't been to the freight dock before and was going slow.
I started mumbling to myself about a traffic jam on the back road. The truck finally turns off, and then the next three yokels do the mistake most people seem to make, braking just as they come to and go over a speed bump, guaranteeing they will get jolted, and making their progress insanely slow. (roll over the speed bumps, no brakes….......pet peeve of mine). So finally the last of the cars gets over the speed bump and move on, so I get to go over the speed bump, and I have only 25 more yards to go, at this time I am getting irritated…......when out from the driveway to my right from behind a maintenance shop marches a moose, and starts ambling down the road at a snail's pace. So I decide I will just have to wait for her to clear the area, now really getting irritated…......when suddenly another moose walks out and gets in line….........and then another moose. So I have three moose ambling down this narrow road in front of me. I mean out for a lazy morning stroll, heading probably for the nearest birch tree to nibble on.
OK, at this point in time, irritated or not, I had to laugh. First it was a traffic jam of cars, now I got a moose jam. You don't try to hurry the moose, because if they get pissed will charge your vehicle kick it and dent it. (if you hit a moose at highway speeds, both you and the moose are likely to die).
So finally after a few more minutes…....I got to my parking lot, and by that time there were about 6 cars behind me…................birches and moose…......staples in the scenery up here…..........
-- Jim, Anchorage Alaska
---