I decided I wanted to work with MDF some more, and test out the router table mods. So I made a couple of totes. Practice for the miter arms for the sled, that I want to be truly buff.
This was an experiment for me, using MDF for the totes.
Finished yesterday, they look and work fine. Dados and glue, no metal in 'em. Finished with my ubiquitous WATCO, medium walnut variety. I suspect I could have made them somewhat smaller in plywood because of the much better integrity of plywood. But I think it would have been nominal, so it worked out fine.
One is for T-handle Allen wrenches that I was overdue in buying.
So here is the T-handle tote, perhaps better described as a tool rack, a permanent place to put them….........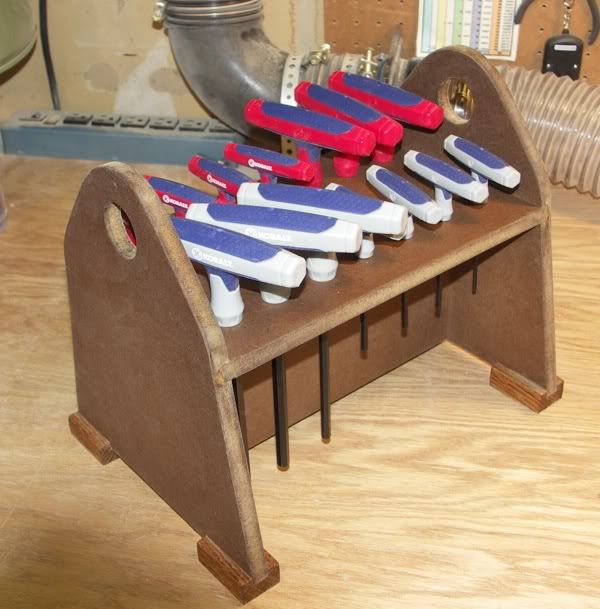 The other is a 15, or was it 20 year overdue redo of a tote that houses tools near my soldering station.
That is also where my magnifying fluorescent light resides. There is a panavise installed there also, and I have multiple jaws for it. So I do precision work, anything that needs magnifying or holding in a small vise, and soldering.
For instance, I ran different wire into the safety switch/plug-in bar that came with the old router table. The old wire was cheap vinyl, although 14 gauge, and quite rigid, and I was running it into a switch box that doubled as a junction box inside the new router table base. I needed to solder things and magnify them, and I held the strip in the panavise as I desoldered, and resoldered the new wire.
So I have some duplicate electrical tools, precision tools, and soldering things in that tote. It is truly a mixed bag. I will probably put some punches of various sorts there also, this weekend, or later. It has a lotta stuff on it, and room for more.
Nothing special…......finger holes to haul it around….....
......and wooden clogs…..not fine Italian shoes…....Dutch wooden shoes…...but made of Oak. So a little class.
And here is the bench tote, built the same as the T-handle tote, just different dimensions. It houses tools for detail work, soldering stuff, and other work…......holds a whole pile of stuff. Standard screw drivers for slot and phillips, a whole retinue of pliers and clippers for electrical, including a first class wire stripper and a brute of a wire cutter. Scissors, miscellanous soldering items…a bunch of small precision screwdrivers…...and still has room for more.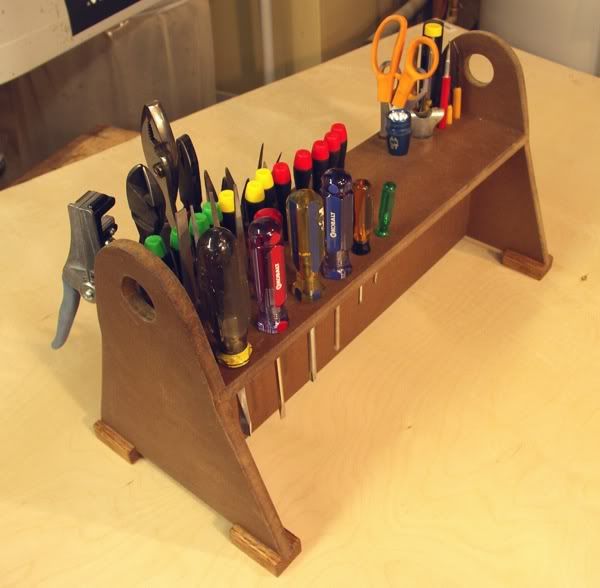 -- Jim, Anchorage Alaska
---