Yesterday and today I got the little front fence installed, the push handle-blade bury block assembly constructed and installed, and the fence calibrated.
I am now ready to use it to make my quick and dirty temporary router table modifications, and then make the miter arms. Need the router table fixed to do that. First a couple of pictures, to make the explanation easier….......
..........sled from the back…......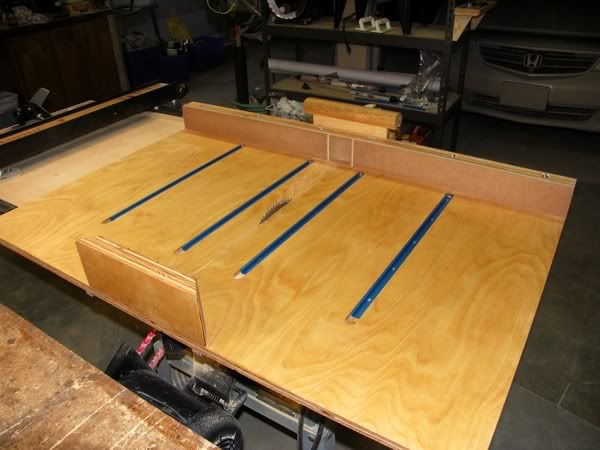 ........sled from the front, the operating position…....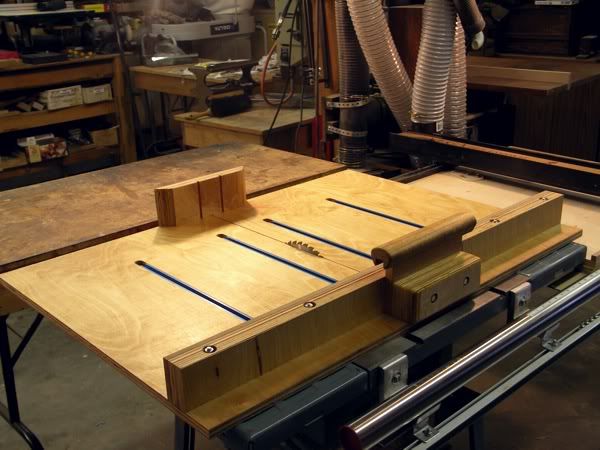 So let me digress.
I know I should have taken a picture of this, I blew it…......
If you notice, instead of a closet rod for the handle as I initially planned, serendipity intervened and as I hunted for the piece of closet rod I had somewhere, I stumbled upon this piece of railing for a stairway.
Perfect. Better than the rod. So I pulled out my Oshlun 8 inch bargain dado set, used only once before on some ZCI's, and dialed iin a very tight fit for the vertical piece of plywood, and eyeballed the center, it turned out to be adequate, and pushed it through with 2 pushblocks. Looked at the dado.
This is hard to believe, I had only used it on MDF before with good results, but that was not a good test. Not only was this dado perfectly square, but all surfaces actually looked like they had been polished. If there is a better dado set out there, it must be that you can see your reflection in the bottom of the dado. There is nothing I could do to those surfaces to make them better, and this was a low priced bargain dado set. Wow. Bought this on the advice of a LJ review. Read them reviews, gals and guys.
So back to the story…...........
So I did the glue up for the handle support and bury block, rounded and sanded it because it sticks out a little from the back, and will easily get damaged, and I will brush up against it.
I am finishing everything with clear Watco, but I used a little medium walnut on the handle. I attached the handle-buryblock assembly with two lag bolts into the fence, no glue. I thought of four, but it is pushed against the base, so even as the fence gets cut higher, it will still help to hold it together because there is no motion possible in the up down direction…......just speaking of forces of course. So except for the rails, no glue anywhere, on purpose for maintenance. But of course, then my fasteners have to be robust, and they are.
Here is a little more detail of the handle assembly…...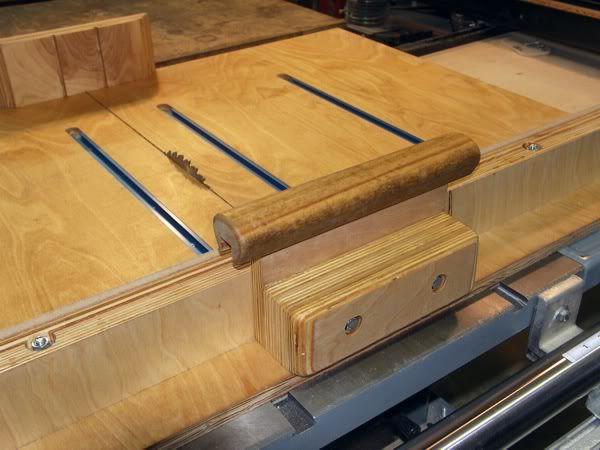 OK, now to the calibration. I had actually done a quick and dirty calibration yesterday, you know, make a cut and flip it over and compare, that's how I did the initial calibration, after making the initial kerf.
So I get out my 6 inch try square, use it all the time, I should put a ring in my nose to hang it from.......
by the way the measurement tote is used literally constantly…..and start putting lines where the fence is now…....
What is this?, the fence is off angle in the verticle.
D——. I already jointed this thing. Get the jointer back out, easy deal, recheck the jointer for everything, reread the internet explanations of how to use a jointer. And did this and that, and figured out I moved too fast. Moved real slow, perfect right angle. Whew. Neophyte in action.
Put the fence back on. Do a 5 cut test. Off 0.003 to 0.004. Adjusted…redid the 5 cut….and got just about 0.001…....not worth changing. By the way, all this stuff about alignment comes from LJ's.
So now my sled is functional. I can use hold-downs and even do 2 foot rips. All that is left is to install the stop block T-track, and make the miter arms. But that will wait for the router table quick and dirty mods, and then on to my utility computer cart for the office….......that started this whole venture into hobbyist woodworking.
My next blog item is some philosophy, and this blog got so long, decided to make two entries….......
-- Jim, Anchorage Alaska
---