It's been a good Christmas weekend at the Bertelson's in Anchorage AK. We had a an enjoyable Christmas day, with family present for the annual Christmas Day Dinner, got some great gifts, and I finally saw my namesake for the first time in pictures, named James EagleBear Shirk. Third child, for Anthea and Marcus Shirk, Fairbanks, AK, so they weren't johnny on the spot with pictures, gets to be ho ho hum after awhile (-: .
Fairbanks is an uncomfortable distance away, not much 4-lane highway, maybe 40 miles, so the 358 miles going straight north is not a winter drive to be taken lightly. Air travel is down right expensive from city to city in Alaska. So we will bide our time and see James EagleBear in a month or so. We did see James at Thanksgiving, I did some 4D ultrasound on him at the office, not quite ready to be out in the cold world yet.
OK, what is with the EagleBear middle name. That is Marcus's oldest sister's name, and he thought it would be fitting and I think so too.
Here is James: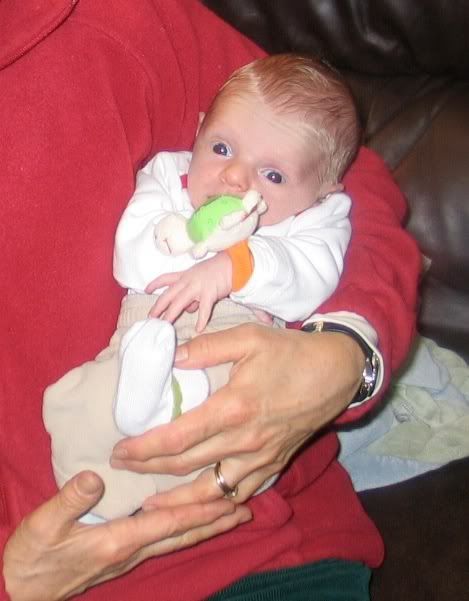 Handsome, as is fitting for my namesake….....(-:
Have talked to 3 of my children, one to go before the weekend is out. I can see what is going to happen in future holidays, I got a preview on Christmas day. Sherie, many of you know that is my wife, has a brother in Dallas, we traveled to Oregon in September with him this year for two weeks, and he was with us for 2 weeks in England and Scotland a few years ago. Well, he was present for the occasion on Skype, there for opening presents. I cannot guess what will happen when all the kids get into it.
Had a great session with DaveR and Sketchup on GoToMeeting and Skype. Dave is a whiz with this program and a natural at teaching. His dedication to helping us all out is, well, unreal.
Thanks Dave from me and everyone else on LJ's, you are a great resource and an even better friend.
A little shop time, this afternoon. Had to make a box for the now, perhaps, infamous remote oven thermometer. With its probe wire, transmitter, and remote, it was going to be a project to keep together and undamaged. So I made a box, will put the plexiglass top on it tomorrow, and then finish it with….................WATCO, what else, but perhaps a little lighter variety than my Black Walnut stuff for the shop.
Take care, best to you and yours for the holidays….........................
-- Jim, Anchorage Alaska
---