After much knashing of teeth and pulling of hair, I decided on a compromise.
1) I am going to use 3/4" plywood, which I have and can obtain that is flat, i.e. not warped. The weight is not significantly different than the 1/2" MDF. The loss in blade height of 1/4" is inconsequential, because very thick pieces would undoubtedly be narrower, and I would cut them with the RAS.
2) I am going back to the original back design of Scott and Nixon, i.e. 11.5". I don't need to worry about the plywood breaking off of it like the MDF. If it works for Scott and Nixon, it should work for me, and my plywood is thicker. Note that the wood the handle is attached to as well as the blade safety block will hold the pieces together until I make final adjustments of the main fence.
3) The rails (miter slides) will be 3/4"x1/8" aluminum bar backed up with 1/4" ply, hardboard, or MDF, I don't think it is too important.
4) I went back to 28" protractor arms, since this size board can handle them.
So I am ready for the critique, throw your best punches…...................
Front view: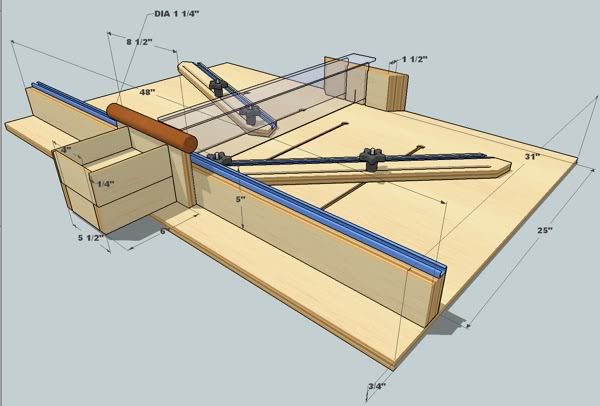 Back view: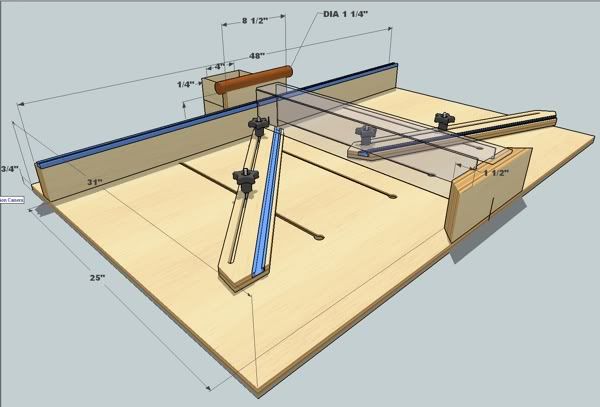 -- Jim, Anchorage Alaska
---