After patron, Timbo, stefang, Scott, and NBeener goaded me on, and dbHost had more ideas, I decided I had to do the SoooperSled. So I ordered the stuff from Rockler, and now it is here. So I made a design. Still not sure whether to use plywood or MDF for the base, the plywood up here is kinda marginal. Can use it for the fences, glue up a couple of layers and make sure it is straight, but don't know for the base yet. Got a message into Timbo re that.
So assuming I use plywood I have a design. Not much new, I had Nixon's stuff and Scott's stuff up on my side computers (I frequently use three computers, one is my last main computer, the other is a cheap thing I built, and my aging main computer, all running on old, but good, 21" monitors).
I digress…..do you ever think how much heat these things give off, infrared, I am always toastie, browning in front of these monitors…......(-:
So anyway, I made a design and I am looking for comments….....cause I will be working on it soon.
Here it is from the front: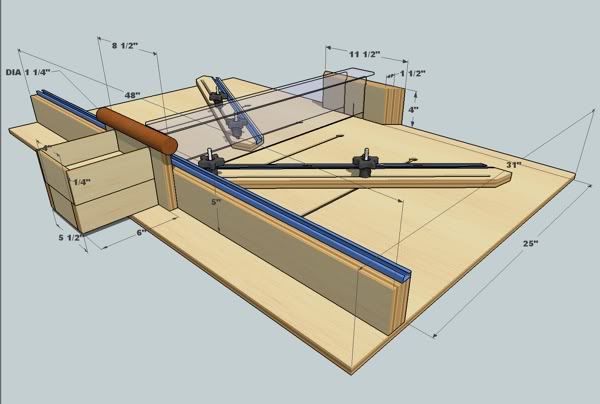 ...from the back: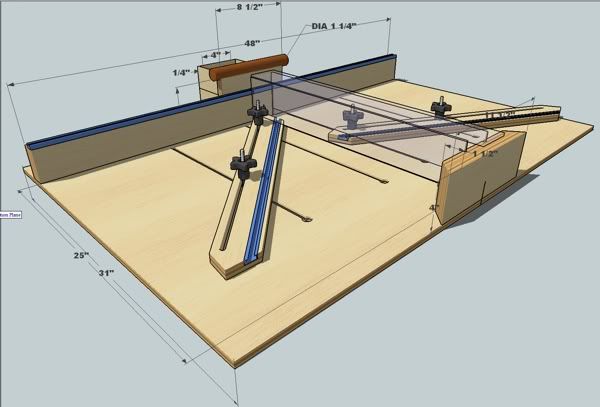 Tomorrow morning I will post a link to the Sketchup File and the textures I am using….......
-- Jim, Anchorage Alaska
---