Note: I was asked to describe my tool tote after it was noted in my push drill blog. So here is my command performance (-:
....probably more than you asked for.
My tool tote was born out of frustration and need. I had a plastic one that started falling apart, and was totally inadequate in any case. So I built mine, lets call him Tommy, and his sidekick Betty Bit Box. This is a utilitarian as it gets. Built about 22 years ago, it has traveled all over the state in the bowels of my motor home, suffered through rain storms (motor home fixing), snow storms, trips to the attic, out to fix the gate and the fence, onto the roof to install antennas and fix the flashing and shingles, etc. It has primarily an electrical bent, but is used for plumbing, woodworking, any shop project, etc. I suspect I will build a totally woodworking one and put different and new tools in it. So here is my thoughts on tool totes:
PURPOSE:
Whatever you are interested in. Really, if you are going to build one, build two or more at the same time. The concept is simple. Carry your tools to the job in a tote that has dedicated tools, that are never removed from the tote, because then you always know what is there.
I think there may be two main types:
Portable Fixitup Tote: That would be similar to Tommy
Workshop Tote: Mostly for moving commonly used tools to the point of action. Some people make large ones and put them on wheels. That is something different than Tommy, but has the same philosophy.
PHILOSOPHY:
Totes should fit you, and your tools. They should be extremly tough and durable. They should be mutable, meaning tool racks should come off with a few screws and be replaceable. They should be portable. You never have enough totes, I need more.
DESIGN and CONSTRUCTION:
There should be as many different designs as there are totes, meaning, this should be about as custom and unique as things get. Build it to fit your tools.
Considerations include: Size: too big and you can't move it. Weight: this is a big issue, Tommy is heavy, so construction materials and size should take weight into consideration Durability: Metal would be fine, but it is not too mutable. Wood is mutable, but heavy. Plastic is probably just not workable. I chose wood, because I can build in wood easily, you can make it as tough as you want, refinish it with ease, and it is mutable. Construction: I used nails and glue for much of the main construction, and then screwed add-ons to the main frame. Trust me, nails and glue with butt joints, even with ¼ plywood is amazingly strong. Tommy is 22 years old, and nothing on him has broken. Finish: Danish oil works great, refinishing is easy, nicks, scratches etc don't destroy the integrity of the finish. Parts: Totes are a great use for scrap, salvage drawers ( Tommy's are from my old broken purchased plastic tote), and Rube Goldberg designs. Handle: It should be a rod so that you can pick it up at the point of balance. You will pile things on it and in it, and the center of gravity will change drastically. So use a rod over the top to carry it. I used a dowel.
My tool tote, Tommy, and his sidekick, Betty the bit box
.
Betty contains screwdriver bits, extensions, countersinks, etc.
Tommy got his 3rd, or is it 4th coat of Watco today, just so that I could show you the construction, and give you a better idea of how it is used.
Tommy with his tool racks off
.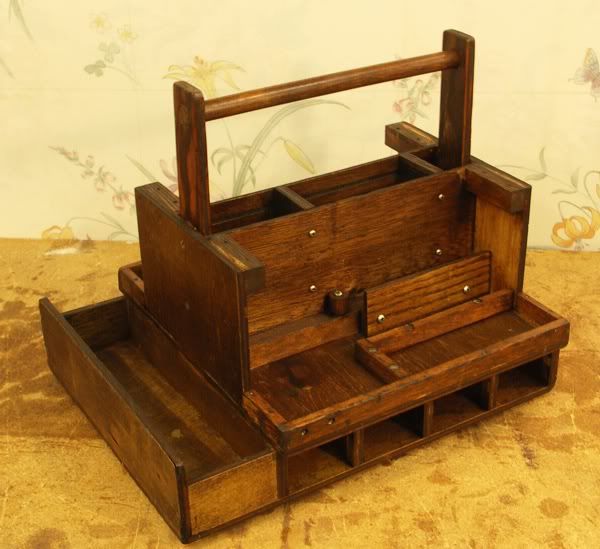 .
Tommy's tool racks
.


.
Tommy's drawer fittings, the plastic drawers have to be lifted slightly to pull out, so they don't open on their own
.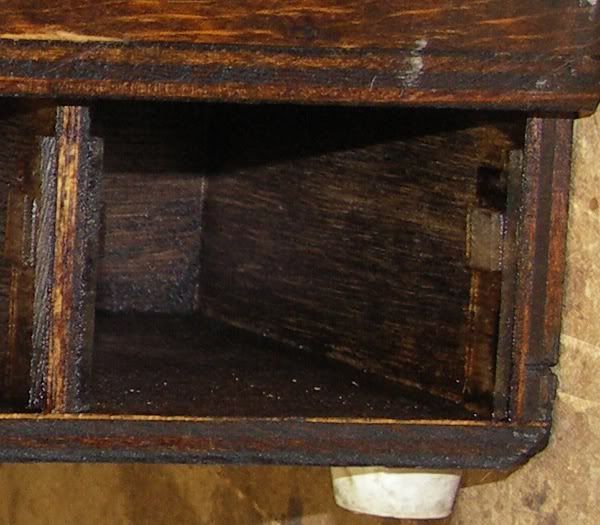 .
Tommy's contents
.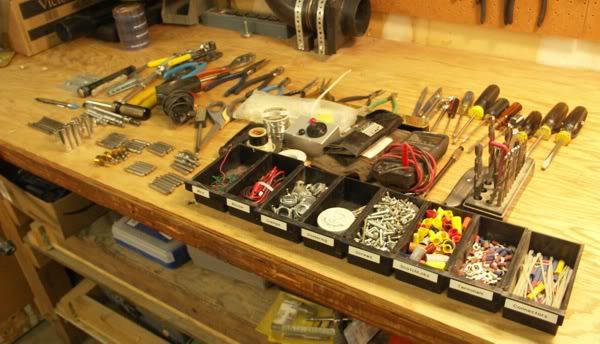 .
Tommy's drawers
.


.
Betty bit box open, note the piece of a rubber baby buggy bumper that stops the sliding top.
I took this picture after turning Betty upside down and shaking her. Betty is designed to keep
everything in place when the top is closed.
.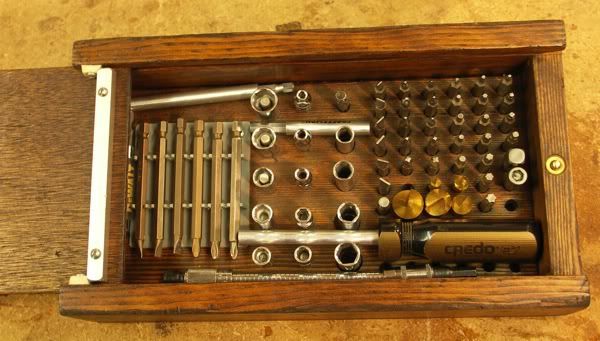 .
Betty nearly closed, you can see the latch mechanism, it is very firm and it never opens unintentionally
.


.
Tommy filled from the left
.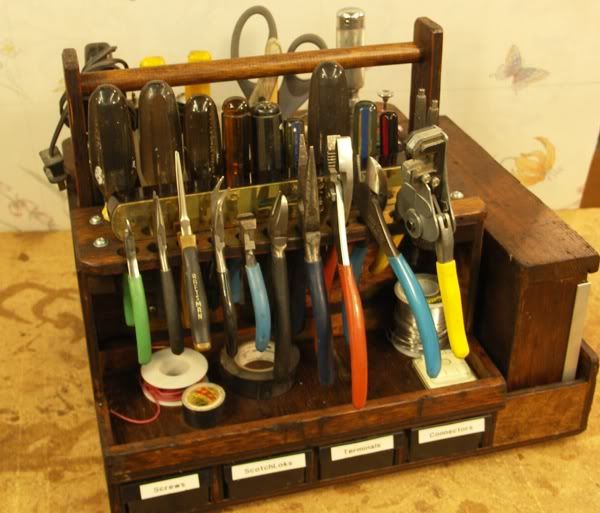 .
Tommy filled from the right
.

-- Jim, Anchorage Alaska
---