What follows is a true story,……Tammy arrived without a motor……..and we found it…..and the rest is true also, so help me SAWDUST …………
Of all the joyous sounds of the shop, there is none more beloved than Tammy TableSaw's wonderful whine. She is a proud Contractor's Saw, born to serve, born to create, born from love. When Tammy starts a whining, all the other tools become alert, knowing that they too will soon join in the song. The whine of the saw is the herald of creation, the shop will become a beehive of activity, the Master will attend to us……..it's the end of the gloomy dark time, and the beginning of the happy glad time.
So Randy Radial Arm Saw loves Tammy, and never tires of hearing her. You know Tammy has a very beautiful Delta gray coat, that makes you think of Unisaw, and you dream and dream. So with such a wonderful coat, it is proper and just, as it should be, that Tammy has a wonderful whine. And so Randy Radial Arm Saw one morning upon arising, saying his respects to Grandfather Tool Bench, said as much, just basking in the friendship of Tammy, who gave so much to the shop.
"Bumpity, shhhhick, shhhick, whirrrr", said Grandfather Bench, "Tammy Table Saw has a wonderful whine, because it is the reward the Master has given her. It has been in the family ever since her grandmother a thousand times removed was brave enough to become the herald of shop creation."
"Oh Grandfather Bench, that sounds like a story", cried Randy, "Please tell it to me, for I love Tammy, and I know I will love her more, when I learn how Tammy got her wonderful whine."
And here is Grandfather Bench's story:
Tammy had a humble beginning…….ohmygosh…. someone forgot to give her a heart.
Even the flies have a heart, the trees murmur, the grass grows, the winds whisper, with a heart. No one can be happy without a heart, there is no whine, there is no purpose………, there is no harbinger of creation. Tammy sat dejected, cold and silent. The planks in the wood pile wondered, what would become of them.
And Tammy, depressed……she wondered….would anyone ever love her, she yearned to whine, to create…….what could she do? The Master asked "What is the matter Tammy, you are not creating…. the tools of the shop all need you." Tammy, mute, uncertain, powerless…. how could she be the harbinger of creation, her dream…….she had no way to answer…….she had no heart.
The Master, wise, wise to the ways and…the failings of the RETAILERS, seeing there was no heart, fretted…. was there time?...... and frantic, said "Grandfather Bench, Tammy has no heart!" Bench said, "Go forth, it is a quest, you must find the misplaced heart" ……..so the Master went forth, entered the lair, pleaded, cajoled, threatened,…………reluctantly the RETAILER relented, came forth……..the Master seized the heart….Tammy's lost heart!!!
This heart, was a wonderful heart…..it could run just fine at 110….. or stronger yet at 220, it was a strong heart. The Master rejoiced, a new spirit for shop creation, and gave her a stout 110 volts.
And so it was, that the harbinger of woodwork in the shop came to be, a most wonderful and jubilant voice to herald the start of….creation.
"Bumpity, shhhhick, shhhick, whirrrr", said Grandfather Bench, "but that is not the end of my….most portentous tale. Tammy had greater dreams, and so they came to be, so sit, be quiet…..listen carefully… to the rest of the story."
Now, you should know, from times long forgotten, that in our humble shop, where we all seek to flow with the winds of creation, there is…….a most pervading……no…..fundamental, necessary, and controlling influence….some say it is invisible….like the wind, like the murmurs and shrieks of our endeavors……it may cease to be at any time……and most horrifying…lead to darkness and impotence…..........it is the POWER.
Randy, you must realize that the Master has given us the POWER, so we must not be afraid, it is the POWER of creation, but it must be respected……..only the Master can control it…ON…OFF……the Master has it at his finger tips. So we must thank the SAWDUST, the all pervasive spirit, for the POWER, and the kind Master that controls it. From it comes the light and the force that guides the Master as we create…it is our destiny…….and without the POWER, there will be no creations…………
Deep in the work shop gloom there is pillar, it is a shrine to the POWER, placed there by an ancient forgotten race of woodworkers. And through the millenia, it has had many offerings and gifts placed at its feet. Some errant knight and his fellow monk, on a quest, were so grateful for its shelter, that the monk gave it a soul, a heart of its own, and the knight christened it Peter. And he deemed that Peter should serve woodworkers for the rest of its life, providing light, and energy, the POWER. And he came to be know as Peter Power Pillar.
And so it came to be, with many gifts and offereing, Peter gained more power, great stores of 110, and anon, 4 new sockets of of the strong and able 220. Peter became a great benefactor to the shop, and the shop adored him.
"Bumpity, shhhhick, shhhick, whirrrr", said Grandfather Bench, "you won't believe what happened next."
Well, the Master, I am sure he was under the spell of the WoodWitch, did think that Tammy needed more courage to carry on, and asked Tammy, was there anything else she needed……..anything that she might desire to carry on as the herald of shop creation…..
And Tammy, now thinking……Why, he needs me! Why not just proclaim my hearts desire………. and Tammy said, "I would like an INSERT, ………yes, a Zero Clearance INSERT………… "
And so it was inserted……….
And I really need more WHINE, so that I can properly herald the start of creation in the shop..So the Master installed a new LINK BELT, and PRECISION PULLEYS.
And then Peter, seeing her new splendor, gave her a very special gift, new POWER…….the strong and able 220………
And then the Master seeing, the new POWER, hearing the WHINE, bestowed upon Tammy a new POWER control, Samantha the Switch, made from wonderful wood, so that Tammy might better control her new POWER, now in a most beautiful way. And Samantha was dedicated to safety, and to help Tammy control her awesome POWER.
And Tammy was happy, she thanked Peter and the Master, hugged her new friend Samantha, and WHINED with delight………………
And now Tammy can help make even bigger and better creations with her new power…….with zero clearance…….and a WHINE to stir the heart of all the tools in the shop, and fan the forces of creation as never before.
"Oh that's a wonderful story.", said Randy Radial Arm Saw, "and now I will love Tammy Table Saw even more……..forever."
"Bumpity, shhhhick, shhhick, whirrrr", said Grandfather Bench, "and Randy, because of your friendship, your constantcheer and good will, always chipping in to help………there is a gift for you. Peter says there is plenty of POWER to go around, and all the tools got together to give you a gift." And he gave Randy a shiny wrapped package.
And Randy, excited, carefully unwrapped the shiny package, and found inside a new beautiful yellow plug, and it was for 220. And the Master helped him discard his old white plug. Randy put on the new beautiful yellow plug. The Master, adjusted a few things in Randy's heart to use the new POWER. Then when Randy started up, he found he too had a new voice, for he had lost his startup cough.
Now Randy too, could sing the song of creation as never before.
The end.
And here are the illustrations for the story:
Samantha Switch on the saw: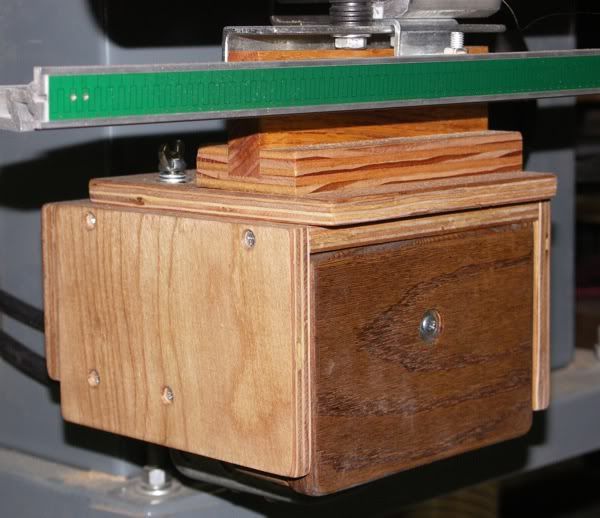 Samantha Switch back and top, notice the dust cover now on the back: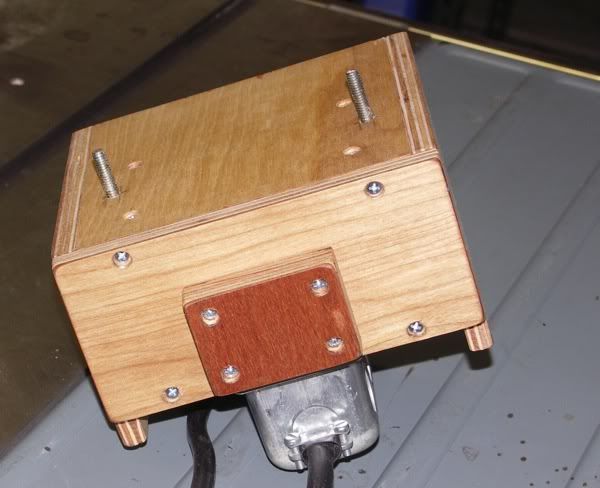 Samantha Switch from the bottom, in off position. Now the only place to pull on the switch plate is the center underneath. In this position the switch is totally protected from dust:
Samantha Switch from the bottom, in on position:

Peter Power Pillar, at the top is the 220v main switch, just below it is the box used to split the cable into 4 for the 4 sockets

Peter Power Pillar, sockets on the other side:

Zero Clearance Insert from the top, bottom, and end. They will get a couple coats of wipie on poly:

-- Jim, Anchorage Alaska
---