I feel embarrassed to put some of my very practical projects, utilitarian things, into the projects category. Note that I have no projects, but have completed two woodworking projects for the shop and posted them…..here in a blog series. I am reserving the Projects category for my true woodworking hobby projects…............should I ever do them (-:
Here is a table I made for my son when he was 13 years old, about 28 years ago. It was used by him until he left for college. Since then it has had many functions, and a lot of heavy abuse, and withstood it all. After a remodel it got covered with…......stuff…......and is now becoming unencumbered, and will be used again. After seeing it, I realized it was somewhat unusual. So I thought the design might be of some use to someone. It has proven to be indestructible. The top is only screwed on, a 3/4" sheet of plywood, so it may be replaced. I made it from my own thoughts about engineering and design. It was meant to be abused, used, and to be tough.
Note the leg design, with a somewhat cantilevered approach.
A side view. Note the two 2×4 legs, the cross beam to the other side, and how they are fitted together.
Here is an underneath view. The table is very easy to upend, very light, in spite of considerable strength. The 2×4's are fir. The 3/4" pieces are all fir plywood. Construction is screws and glue. Note the glides nailed into the horizontal leg members.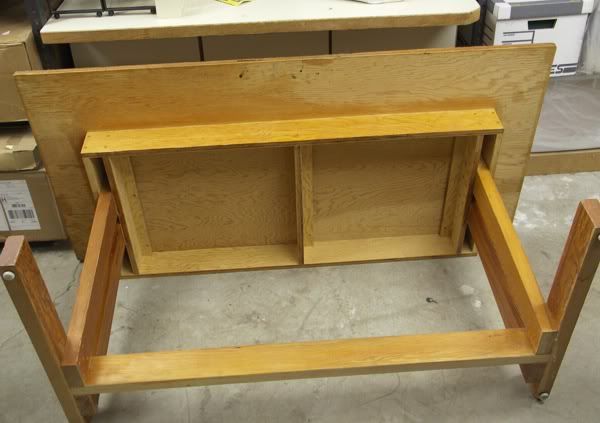 Here is a detail of the legs, boxed in with plywood. The screws (they are easy to see) and the glue, with the boxed in construction, give this an unusual strength, considering the cantilevered design. Notice the horizontal piece. the top is screwed in with 3 screws on two of these horizontals, 6 screws in all. Easily replaceable.
Thought this might be a practical design for a study table or other. It is extremely strong, cheap to build, replaceable top, and very stable. It could be upgraded in many ways, including wood, finish, etc. The boxed double legs are the trick. They make it very tough indeed.
-- Jim, Anchorage Alaska
---