I am nearly done with building my table saw switch mechanism using the original toggle switch. CHEAP, fun, and interesting. My rules are…. no new purchases allowed. Scrap box and odds-and-ends. Not done enough for pictures, lost a lot of time today for a variety of reasons, but did get some of the Sketchup stuff done, and got the mechanism to the point that a couple of hours will have it on the saw. The concept has been established in wood and a tiny bit of metal and works well. Mind you, this is just mechanics, not electricity. I am using the original toggle switch for the electrical part.
I will be posting Sketchup plans, photos etc.
So why do I do this silly stuff? Got it from my Dad. Great excuse. Bet a bunch of you out there have used that one….............
For instance:
My dad bought a new wringer washing machine, so he retrieved the motor from the old wringer washer. That was a long time ago, while I was in grade school. He used the motor to power a grinder, belt driven, for knives, axes, etc. Then he made it into an electric lawn mower with a wooden chassis that he built with hand tools, painted that chassis green. I used that to mow the lawn for about 5 years while growing up. Finally he bought a gas mower, so he made the lawn mower into a scrubbing machine for the floors at the department store he worked in. He found a better method for floor scrubbing, namely he and I using a sprayed on strong soap solution and mops, very effiecient, and I made some money. So the motor became a grinder again, that my brother used for about 20 or more years. That motor should be gold plated and immortalized…............... I think it had a 40 to 50 year life time of usefulness.
Nothing like old motors…......
So my toggle switch is soon to be encapsulated in wood, some aluminum tubing bearings for the dowel that moves the toggle (with a washer as a bearing surface), attached to my saw with some angle iron, oak, and plywood…...all, and I mean all, is from left overs and scrap…....CHEAP…...................................as long as you don't count my time, most of it spent in design…......
.......well, just one picture…...... Aren't pictures wonderful? Yeh, I like them too….......you can understand most anything you want to from pictures…....and a lot of things you don't want to understand too…......
This is the original toggle switch handle, now controlled by a dowel with a washer bearing. It is screwed with tiny screws to the dowel. There is a shallow hole in the dowel. The washer is inset into the dowel with a shallow depression created by a Forstner bit. Note the aluminum bearings. Still have some work to do with them. Actually, that is most of the work left. The mount to the saw is finished.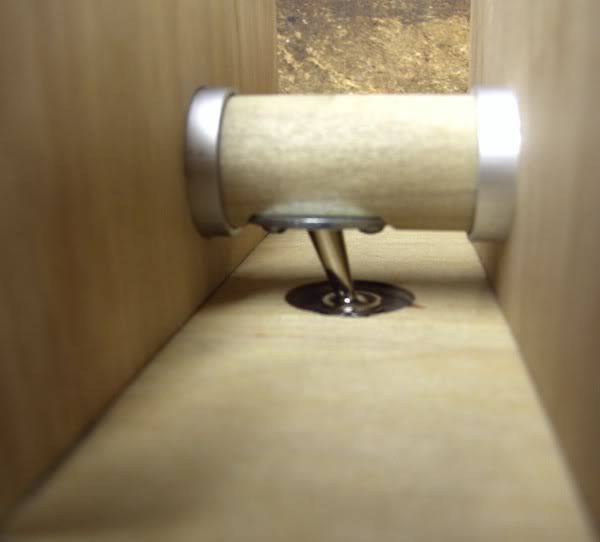 ........tomorrow…..............and more pics!
-- Jim, Anchorage Alaska
---