DESCRIPTION
Sanding downdraft table to be used on a bench or other. 3 perforated top plates, 2 of which can be exchanged out for non-perforated plates to use on smaller objects.
TIMING AND GENERAL FORMAT
I cut this out about a month ago, all but the perforated top plates. Then was going to put it together with pocket screws for practice, but the 7/16 ply is just too thin for reliably placing pocket screws. While getting my Kreg jig set up on a board, I noted my RAS needed tuning, actually a new table. So that, and tuning my, table saw, and a few other diversions…....but I got to the downdraft table this week. Don't have the time right now to make a floor mounted mobile unit that would double as an outfeed table etc. So bench top looked right. I don't like the sawdust much, especially the fine stuff, so it was very necessary. In fact I sanded parts of it while having it connected to the dust collector.
DESIGN CONSIDERATIONS
Size:
It is 17" x 28" x 6" roughly, a size that just squeezes onto my bench including room for the 4" hose hook up. It is not to heavy, so can be hung on the wall.
Plan:
It is based on a Rockler design for their metal perforated plates. The only way it varies from their design, are:
1) Wings on either end that will allow for clamping [and a hole to hang it up, eventually]
2) The top plates are wood, loosely placed so as to be interchangeable. I made two non-perforated blank plates so that one or two of the perforated plates could be switched out to increase the downdraft if the full table area is not needed. The total area of the holes with all three plates in is slightly less than double that of the 4" dust collector hose feed.
MATERIALS
The body is 7/16 birch veneer ply. The top plates are 3/4 oak veneer ply, left over from covering my bench. The stretchers are some scavanged oak 3/4" baseboard solid wood I installed 25 years ago, and subsequent removed in another remodel but saved for later use. The materials were selected to make it to strong, durable, portable, and flexible in use.
CONSTRUCTION
The parts are connected with screws and glue for the most part. The slanting dust slides inside are glued and nailed from the sides. The bottom is nailed and glued. The outside screws are plugged, nails sunk and covered. Plywood voids and nail holes filled with Elmer's Wood Filler.
FINISH
The body of the table is my usual black walnut WATCO, doesn't chip, can always have another coat, and the dirt color of black walnut hides everything.
The top plates, both the perforated and non-perforated ones are covered with 3 heavy coats of Plasti-Dip on the top for friction, and WATCO on the sides and bottom. This is just a curious experiment for me. The major issues with using the Plasti-Dip are unknown wear characteristics, friction levels when coated with sawdust, and cost.
PICTURES
DUSTY ready to go, with two perforated panels in.
DUSTY ready to go, with one perforated panel in.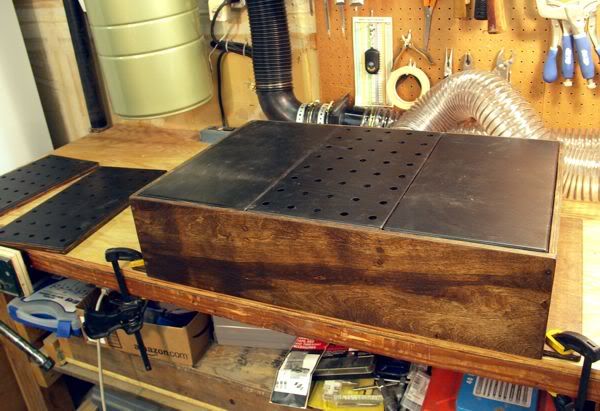 DUSTY insides.
DUSTY backside.
USAGE AND COMMENTS
I used it some during the construction, and in particular it keeps the sawdust down like it is supposed to. When in use it is connected with 4" hose to my Delta 50-760 1.5 hp dust collector running on 240V. With two blank plates exchanged in it has a very strong, perceptible flow of air, less so with all perf plates in. I have not used it since I put the finish on, completed the WATCO on the plates this morning.
I may at a later date put it on legs and wheels. If I set the height right, the top plates could be exchanged out for a plate with a roller on it to be used as an out or infeed. At this time, I do not have my TS cabinet built, and it probably won't get done for 6 months to a year, so I don't know the height of infeed and outfeeds. So in the meantime, the portable configuration of the downdraft table is the best setup.
So DUSTY is officially done. Dark suit, no sport coat and light pants….............(-:
-- Jim, Anchorage Alaska
---