.....OR HOW DUSTY GOT A SUIT INSTEAD OF A DARK SPORT COAT AND LIGHT PANTS.
OK, I admit this is not really a project, but is a significant addition to the shop, that I built with my own two hands. So I will try to BE SHARP[groan] and do it up right. This is about Dusty, my new benchtop (meaning clamp it to the bench) downdraft table.
About the clothes….........well I tried to use dark Watco on the outside and clear on the inside because I was using some reclaimed and previously finished lumber on the inside that had a clear finish, and the evil, invidious, and repugnant yelllow phlegm couldn't be sanded off in any reasonable way on the inside…...well of course the dark stuff ran, you know, like I really thought I did a great job of masking, but I guess I didn't. So I pull off the masking….there it was…. I knew it might happen, though I was really hoping it wouldn't.
In case you don't know…...I have to shroud my shop objects in dirt colored black walnut WATCO, because they are subject to much use and abuse, it is important to me. My OBSESSIONS. I don't want to see the scuffs, dirt, sprays, spittle, cuts, blotches, abuse, and memories of my ineptitude displayed on my shop objects. We must have our fantasies of perfection. Black walnut WATCO hides the evidence to the contrary.
May I digress, you know I always digress, it is inevitable. The yellow phlegm….I have expounded on this before… the yellow phlegm, Elmer's yellow glue, when it lands on anything, unless you thoroughly sand it off…......makes an imposslble substrate for other stains, and finishes. And of course, inside DUSTY, there are the telltale signs of trying to set closely fit objects together, and glue them too. Damn the phlegm. Oh well, it is the inside, and nearly impossible to sand…......I will compromise.
So then I finished the inside with the dark color, and all the old finish, and phlegm marks….........flash in psychodelic obscenity….....oh. Again, it is the inside. But remember my obsessions…...the compulsions….......yarrrrgh.
So a photo….....PRELUDE TO A PROJECT IN b#...........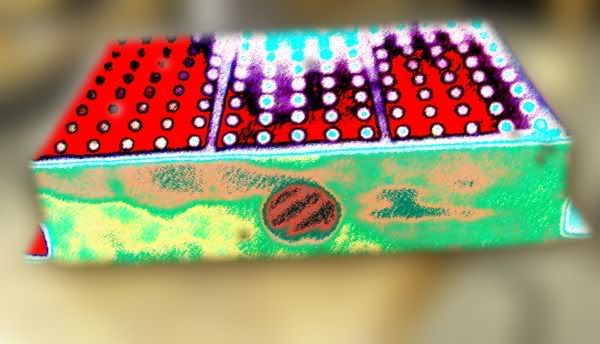 Well, that's how it looks to me…........you know, Saturday night…......we'll get our act together tomorrow…..
Tomorrow…......the whole enchilada…........., the experimental surfacing, the interchangeable panels…..and tomorrow, perhaps I will see things differently….....perchance a better mood….the final touches will be complete.
Anon.
-- Jim, Anchorage Alaska
---