I was hoping to be further along this weekend in my quest to become a real woodworker. You know, real woodworkers have real shops…..... And I was going to talk about my plans for the real shop…that's what real woodworkers do…I know…I have learned that on Lumberjocks. Well, just like when I found out I needed a new radial arm saw table, shop maintenance took precedence. That project, where I was forced to retune the radial arm saw, brought to mind some basic needs for my table saw. I realized I needed a different kind of blade for table saw, and admitting that I hadn't done a first class tune-up of my Delta Contractor Saw, vintage 1990, since I bought it new, and even then didn't do much…..I decided it was overdue about 20 years. Watching me in action for 25 years, my wife Sherie says I redefine the concept of procrastination…why do today what you can put off till tomorrow?
So instead of plans for the shop, I will reenact my formless, free-spirited enterprises of the weekend…which did finally result in a tuned up saw, but with a rather profligate expenditure of time and energy:
My 10" Delta Contractor Saw, 1990, 34-444, joined the shop about 1990, when getting desperate for a safe method to rip some wood…RAS's are not the best way to rip wood I know by some very harrowing and exciting personal experiences…I ran over to Fred Meyer on a Saturday, they carried such things in those days, fell in love with the Delta at first sight, (they didn't have any other saws, good thing we were a match) and bought the saw, opened the box and started putting it together. Problem. There was no motor, ran back the F.M. and they gave me a motor. It was a good thing, your true love needs all its parts, especially the M O T O R, so I ran back home and finished putting it together, and used it that day. With no calibration or maintenance of significance I am sure…until this weekend. Well, slight exaggeration. About 6 weeks ago I added a Vega fence (the Biesemeyer cost almost as much as the saw) that I really like, and a Wixey digital readout that I am already addicted to. But just adjusted the fence to the miter gage slot, didn't do anything else with the saw.
So it was time…really was the time…long overdue…no more screwing around. Tune the saw. I had a new blade in it, a first class Freud crosscut blade, that's because I used it primarily for cutting plywood…remember… this was a utilitarian shop with an eye on results, and being frugal…until my wife's, oh so naive and indulgently benificent prodding to turn me into a maker of fine furniture finally turned a switch in my brain…it was a blank check to the candy store. So now, the saw had to be more…balanced in its capability. I had a reprieve. I had to order a new blade. Forrest WWII, thin kerf, looked like a good all around blade, and the dampener as well, so now I had a reprieve, I would wait for the new blade. But it came on Thursday, no excuses, tune the saw. So I then had to do what I always do, be excruciatingly compulsive. I wanted a digital readout for my blade to perform miter slot adjustment and my fence to blade/miter slot adjustment. Phew. I had a reason to procrastinate again.
And now, the fundamental error in judgement. I had a Wixey Caliper. This is not a device designed for checking fence and blade alignment to the miter gage slot. But it could be made to. I knew it could. It was basic logic. This was a precise small distance measuring device, and I wanted to measure small distances. I would make my caliper multipurpose…waste not want not. No need for another device.
I digress. Compulsive, at times my middle name, is not to be confused with timeliness, or reasonableness. To the contrary…they are competing attributes…best not be labeled virtures…my self image is at stake here. So when you see what comes about, you can understand…it was a war of attributes…compulsiveness, stubborness, self-reliance, and creativity won out over reasonability, efficiency, and providence. It was not reasonable to make a mount for a gage that took somewhere between 6 and 12 hours ( I purposely lost count), it would have been much more efficient to buy the proper gage, and I wasn't thinking about what happens when the caliper breaks or fails, and my delicate, totally inflexible and proprietary mount becomes obsolete because the manufacturer has changed the dimensions of the gage.
To make a long story short, I made the mount out of two hundred pieces of plywood….or about that….it is not designed to be nailed down…and it worked. I clamped it into the miter gage with the OFFICIAL MITER GAGE CLAMP ATTACHMENT I bought 20 years ago and used twice, and it performed brilliantly. Here is a picture of the mount: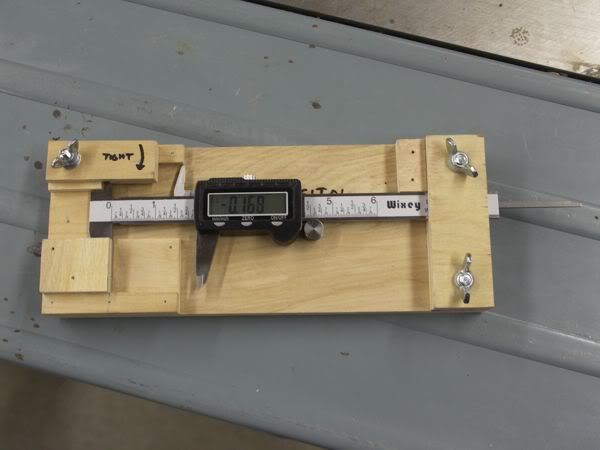 RESULTS:
The saw blade was dead on within .0001 of an inch parallel with the miter gauge and the fence. I think that this whole endeavor was a was a monumental waste of time, or a tribute to the venerable contractor saw design, or the manufacturer that delivered me a perfectly set up saw from the outset. Of course, somehow, I managed to set up the fence without digital means to the same standard…..serendipity.
The saw was 0.2 degree off of vertical, and the miter gauge, that I never used anyway, was off at 45 degrees by a degree or so. The caliper was not used for these measurements.
So as long as the digital caliper lives….and it is constantly in use, because remember, I am compulsive…I will have a means, at the expenditure of untold…I AM NOT TELLING!!!!...hours, to check the alignment of the saw and fence that was perfect from the outset and has remained so without checking for 20 years.
I will never learn.
-- Jim, Anchorage Alaska
---