This purpose of this entry is to provide pictorial detail of my workshop space, and a little more personal background information relevant to the SPACE.
My intention is to solicit comments and advice for short term utilization and the eventual long term redesign of the shop.
GEOGRAPHY:
Anchorage, Alaska. We live in the middle of town, Lowe's and Home Depot 4 minutes away. The 3 major hospitals and two universities 4 minutes away. BP Alaska headquarters 2 minutes away. We are buried in the middle of the only city of size in Alaska. But the city is not a fortress. The creatures of the wilderness have successfully invaded….they are among us.
INHABITANTS:
Alaska – 656,000 humans, untold number of critters.
Anchorage (Its largest city) – 278,000 people, 1900 moose, 250 beaver, 250 black bears, 60 brown (grizzly) bears, 3.34 trillion mice.
Anchorage is just one big zoo…..if there are other Anchorageites out there, please don't take offense, I didn't mean YOU live in a zoo, it's just that Anchorage is like……..oh well, I think I will always be politically incorrect. So back to the narrative: In the city proper, there are no resident bears, but there are definitely incursions on a regular basis. Every year one or more people are killed or maimed by bears while traversing the trails at the wild edge of the municipality. Wolves accept offerings of pet dogs tied up on the back porch feedlots for a supplemental source of protein. There are 300 year-round resident moose in the city proper, and as many as 1000 moose in the winter. They routinely prune my bushes and birch trees each year in the front yard. They calve in our yards. This is not your average city. The moose are not tame, they are huge, and they have maimed and killed people here in Anchorage while I have lived here. They are like the bears in Yellowstone. They may be accustomed to people, but they will defend their young, and defend themselves if they perceive that they are threatened. One kick and you are down, then with a few stomps you are dead. Definitely not Bambi.
Now why do I mention these critters……..well if I left the garage doors, and thereby my shop open, especially in winter, I suspect a moose might eventually wander in, but it is not likely to happen. However, Daddy long-legs come in routinely and are tolerated…because my wife (Sherie) deems it so ('cause they eat other insects)… I must pick them up and move them outside if they are in the way. Mice, however, are not welcome, but they arrive uninvited during the winter. Sherie, between shrieks, yells out "there's a rat in here!!!". You get the drift. In an otherwise egalitarian, non-genderized household, I am allowed, but only for the moment, to become the "man", beat my chest, and go on the attack, responsible for maintaining the social integrity of the cave… we do not socialize with mice. Perhaps 3.34 trillion overstates the census slightly, but I guarantee those mice stand in line to become house-mouse in the Anchorage wintertime, there must be trillions. Where are the wolves when we need them? Over the years I have gathered a formidable arsenal for the mouse wars. No weapons of mass destruction says my wife with the only organic lawn and garden in the territory. Hence no d-Con. Until last year. Then her fear of the invidious rodents got the best of her, and now d-Con has rid us of the pestilence. Whew.
So my shop is now inhabited only by me, my wife passing through… with only random effects, (isn't she cute?), and the occasional Daddy long-legs. I have considered special habitat for the Daddy long-legs, walkways with over and underpasses through the tools, feeding stations, and spas ( they must have quite a time washing under their arms, er, and legs) just to focus their attention away from the busy areas of the shop, but that will have to wait for later. Right now, as long as I step carefully, the ecology of the shop, and…….the ecology of the family, is reasonably managed. I do have to be careful, Sherie seems to have names for all those Daddy long-legs….Twinkle Toes….Daddy-be-good…Big Daddy…Bo-Diddley, Chicken-Legs…………………yes dear, I did pick him up carefully, no, I don't think it was Twinkle Toes, yes, he walked off normally, unhurt and unafraid, humming a happy tune after I put him down, and yes, he waved goodbye and winked as he slipped under a dandelion…………………………..
FLOOR PLAN:
First a little description. This is a 20.5 feet by 20.5 feet space. I know it is so. I measured it with my trusty "Craftsman Laser Measuring Tool" I purchased with a gift certificate after the device had been marked down to about 25% of its original price. We all know what that means. But I have actually used it a few times. Now 4 times. Fun.
My SPACE (now talking about floor dimensions) has one totally immovable object imbedded in it, a 96×41 inch stand upon which resides the water heater and two furnaces…I know, but it is just like the cowboys with two pistols instead of one….Another less immovable object is a 31×32 inch freezer. Once we have totally remodeled, and the miscellaneous prepurchased doors and such are gone, that freezer might be moved. About two years from now I think.
Next comes some pictures and endless boring commentary……..I am hoping to learn Sketchup real soon now, and will be able to play doll house with it and show even more boring pictures as I rearrange shop furniture in virtual mode. Bet you can't wait.
So here from my trusty "Craftsman Professional Shop Camera Model 173"……… nah, it is a slightly outdated Konica – Minolta modestly priced and somewhat abused…
Shop – from the front (near the cars). You can tell by the bottle that I was busy lubricating the saw….........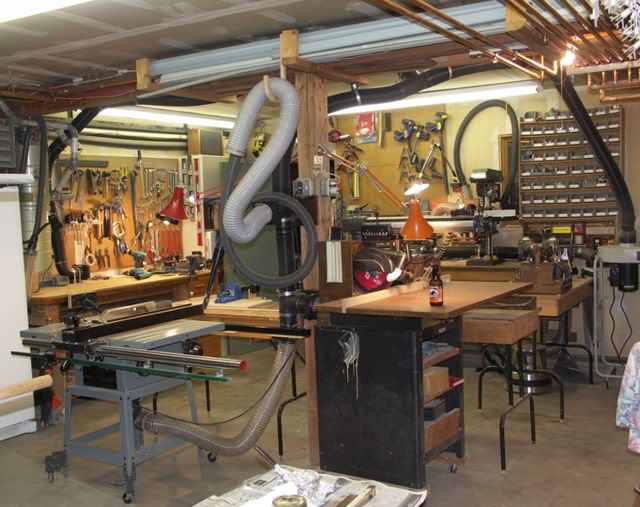 Shop – old kitchen cabinets installed as an electronics area in 1985. Also contains the sink. The Xmas lights are from a few years ago when we had the whole kitchen installed down here, even had the ice maker running on the fridge…during a remodel of course. Note the brown lamp at the right. Purchased in 1959 to go to college with. Still has the original bulbs. Either those are the world's greatest bulbs, or I didn't study very much….....
Shop – from the rear, looking towards the cars (not in the garage at this time). Notice the 3 project tables I made about 20 years ago with picnic table fold down legs. The tops are loose and replaceable. Nice to be able to fold them away when this space was used during a big remodel for storage. I also use them as outfeed tables, they have adjustable leg heights.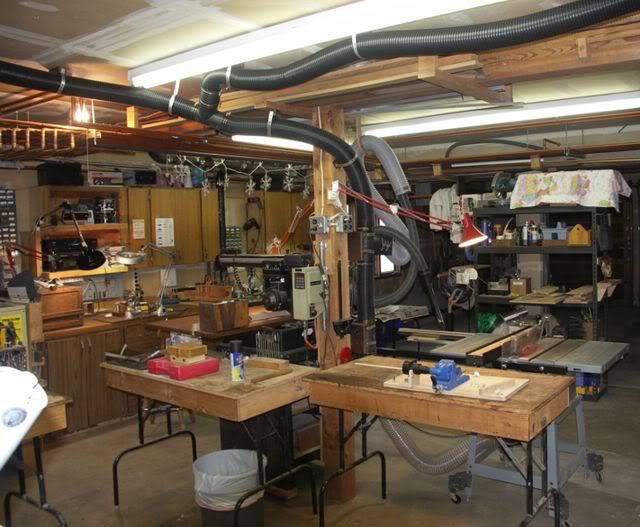 Shop – the main workbench, built in 1971 from 2×10 for top, 4×4 for legs, and 2×4 for the rest. With a 3/4" plywood Watco treated top. Put together with nuts and bolts, and some lag screws. Needs new drawers, but is otherwise, as you would expect, indestructible and works like new. Notice the freezer, central vac, miscellaneous cabinets…........
Shop – back bench. Bunch of small power tools. Note dust collector on the edge at right. I plan to demolish this bench put the tools on movable stands, or other.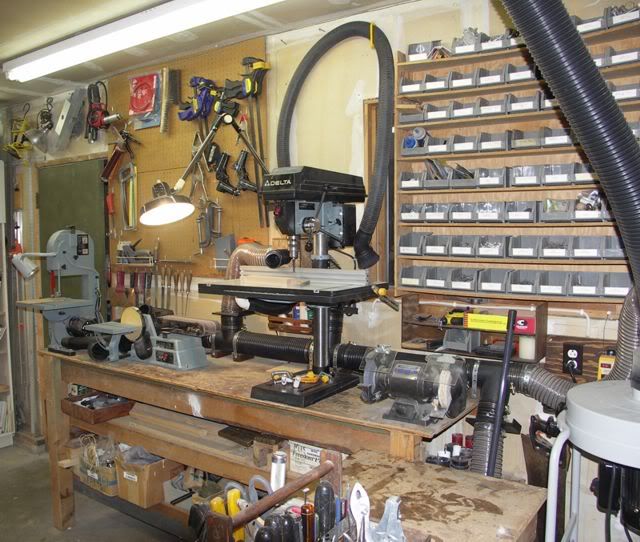 Shop – my new radial arm saw table, haven't put the oak edging on yet (-: Absolutely flat, sandwiched 1/2 inch MDF, couldn't find anything thicker here. The surface is sanding sealer and two coats of Watco. Wonderful feel. May put one coat of wipe on poly on it.
Shop – RAS sawstop, that I clamp in place with a small vise grip clamp. Accurate to a few thousands of an inch, don't have to measure crosscuts. I sight along either side of the acrylic top. It is exactly 10 inches long, so I can set for very small cuts off the back end.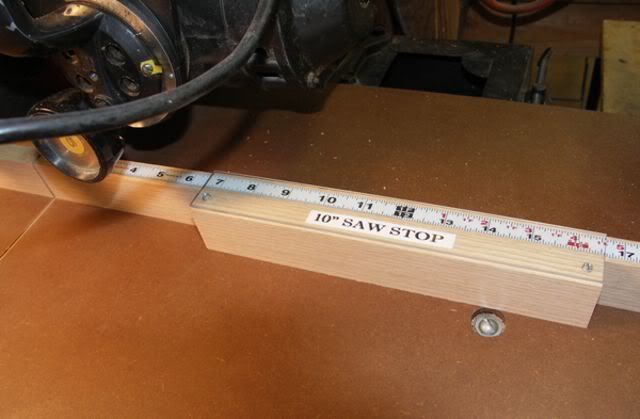 Shop – My way of keeping the registration of the fence exact. In the past I used extra 5 1/4 inch floppy labels – wow does that date me, but this one I made with my label maker. Set the fence so that the ruler is exact, then put the label on the fence and push it into the angle with a block of wood. Then cut it at the angle with a box cutter. Can see if the fence is set right at a glance. Or you can put it back precisely if the fence is temporarily removed. Place different labels for different blades. Literally, I make settings within a few thousands of an inch measured with a Wixey digital caliper (boy does that get a lot of use, love it)...........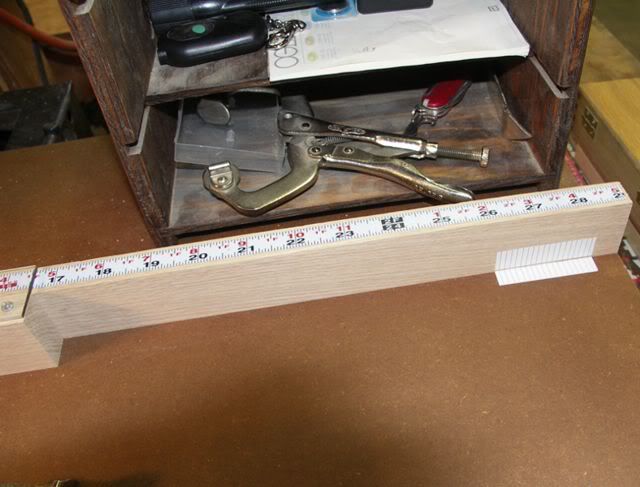 Well that's all folks. Next blog entry will state my thoughts about revamping this old multipurpose utilitarian shop to become a real woodworker's shop. But bring on the suggestions and comments – anything would be appreciated.
Thanks
Jim
-- Jim, Anchorage Alaska
---