Last week I received the 17" Incra LS Positioner router table fence system that I ordered. Unfortunately I don't yet have a place to mount it. If I previously had a full-size table, I could just add an extension to accommodate the positioner. However, my existing router table is a cheap benchtop unit made of aluminum, so it's time to head back to the drawing board—literally.
I originally was going to purchase the 27" x 43" offset router table combo at Woodpeckers, but they're out of stock on the metal legs for the next three weeks. That's way too long to wait to play with my new toy. So instead, I just ordered the tabletop. And with the money I was saving, I opted to go for a router lift rather than just the plate. My goal is to have a solid base built before the tabletop arrives on my doorstep. Tonight I used the dimensions published on Woodpecker's website and Google Sketchup too draft up a model. My goals were:
- Construct a very solidly-built stand to support the heavy, oversized table and help keep it flat for the next 20 or so years.
- Use standard SYP dimensioned lumber to keep the costs down. Preferably as many 2×4's as possible because they're almost three times cheaper than even 2×6's. Smaller wood also means a lighter table.
- Eliminate the need for fasteners by minimizing end-grain and maximizing face-to-face glue points.
After several revisions, this is what I've ended up with: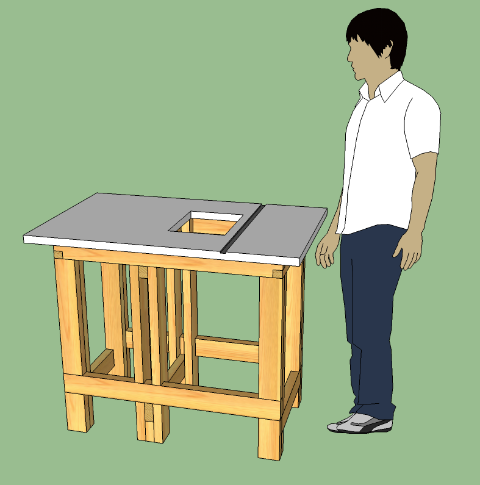 And without the top…

The whole thing is made only of 2×4's except for a single 17" long 2×6 used in the center-top stretcher. I decided to use that only because I have some 2×6 scrap already laying around.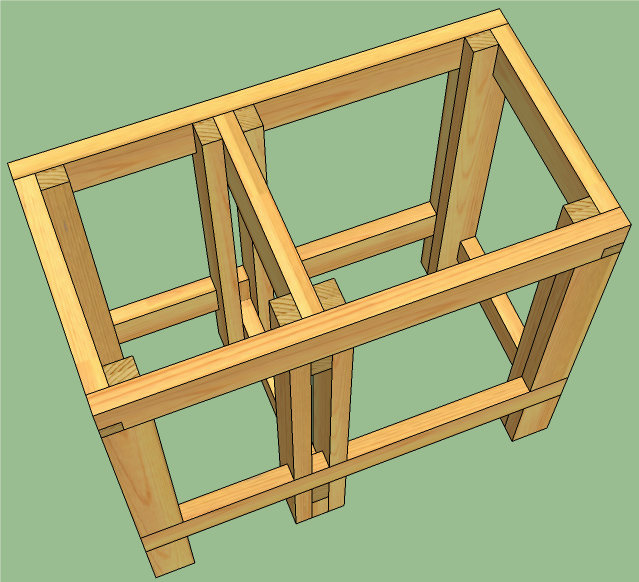 A little closer view of the construction.

I'm thinking that this should give me plenty of room for the lift, plus enough space to build an enclosure for dust collection once I get a real dust collector in my shop.

I was hoping to get some feedback on my design before I start to build it over the weekend. Since I've never built a router table before—much less specifically designed for the Incra fence system; does anyone have any suggestions? Thanks!
-- Woodworker? Nah, I'm a clamp collector and expert in sawdust production.
---