Here we go – Round 3 is underway!
First, here's the map.
I've go the stops numbered but it might be hard to see on here. The trip will start in Georgia and go 1st to Karson in Delaware, drop south throw Virginia and Florida then bounce back up to Georgia as we cruise through Kentucky and Illinois. After that we jump back east for stops in Maryland, Pennsylvania, New Hampshire and New York. From New York we head north into Canada with a stop in Ontario. On our departure from Ontario will skip over to Minnesota then out the Pacific Northwest through beautiful Washington and Oregon. After this we'll be tuckered out so we'll slide down through California and slingshot back to Tennessee and finally back home to Georgia! WOW!
FYI ON POSTAGE – We're using a large flat rate box to ship. We can go anywhere in the US for $12.95, and if you buy and print the postage online it's only $12.50. Quite a bargain!
Now here's the box as it looks leaving here – already STUFFED!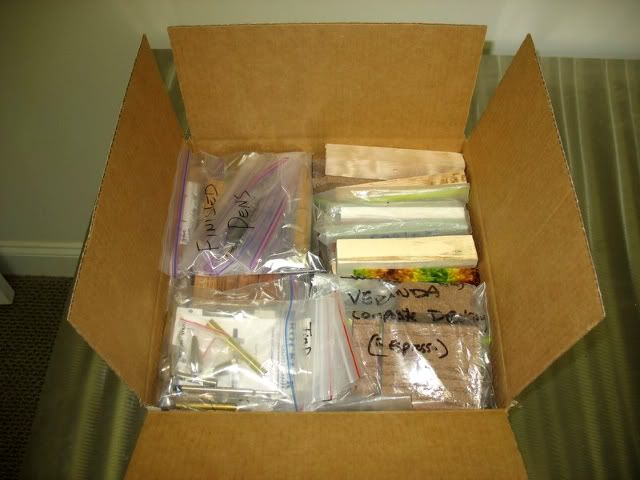 My takeaways from Round 2 are posted over on the Round 2 Blog, here's what I added before starting Round 3.
My blanks include some Brazilian cherry, a stabilized and dyed corn cob (makes a cool pen!), some Dogwood I cut from a branch out of my friend's yard, a piece of lacewood, a CSUSA acrylic called 'Toucan' and a piece of cherry that I glued some pickguard material in as an accent – I tried to make it interesting! I also added a satin nickel patriot kit – my kit selection was limited…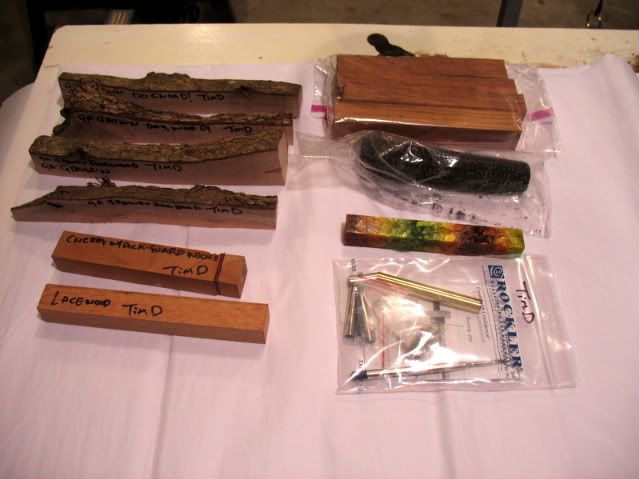 I picked a couple of my favorite finished pens and added those in as well. A black chrome patriot kit with a red and black swirl acrylic and an elegant American with grey fleck acrylic.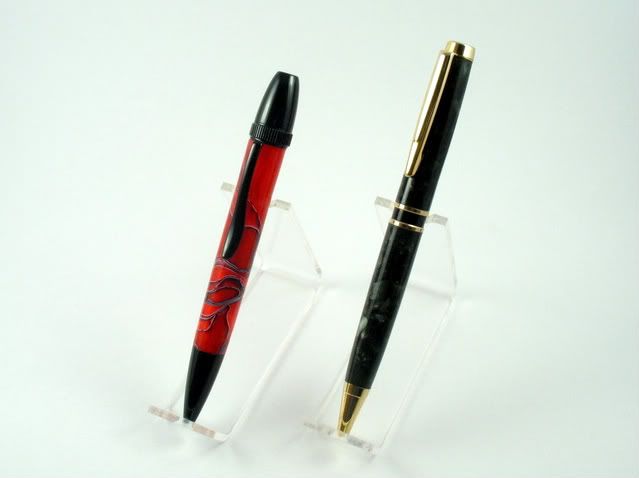 And Bob's your uncle! (I love that saying…)
The box will leave Georgia tomorrow, actually just before I do with some travel to Chicago and Indy.
-- Tim D. - Woodstock, GA
---