As Nils mentioned, the Goodie Box was on my doorstep yesterday. I wasted no time at all digging in and seeing what was in this Treasure Chest!
WOW! This sure did G-R-O-W since it left Georgia, it's packed full of stuff. I'll get to the pics soon but first here's a recap of the trip.
Started with me in Woodstock, GA (5 Kits – 5 Blanks – 5 Pens)
I sent it to jeffthewoodwhacer in Tennessee
Jeff sent it to Karson in Delaware
Karson sent it to FrankA in New York
Frank sent it to scottb in New Hampshire
Scott sent it to Relic in Nova Scotia
Relic sent it to Rikkor in Minnesota
Rikkor sent it to Nils in California
...and Nils sent it to me back in Georgia!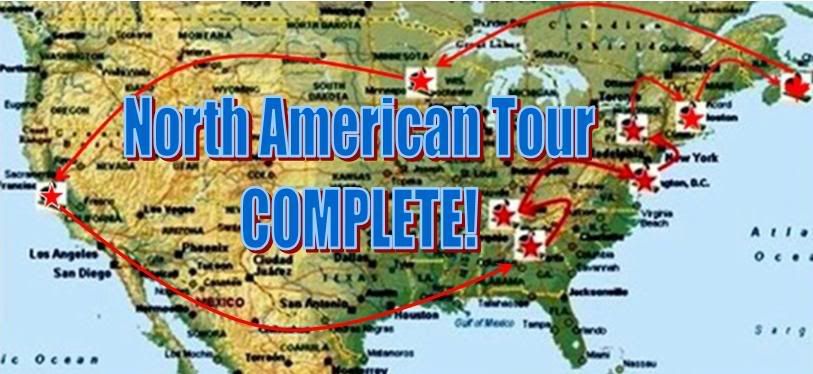 Like I said, we grew a lot on the trip. Seems most jocks added more than they took out and some really went above and beyond. We got some great native woods from some of the folks and some unusual and interesting turning materials. Corian, stair railings :-), smokebush, Canadian maple…. here's the full list with pics
Here's The Box complete with markings from our journey around North America!
Here's what was inside!
PENS
Bloodwood Slimline in Gold
Canadian Bird's Eye Maple Euro in Gold (Maple from Relic's yard!)
Maple Euro in Gold
Padauk Slimline Pencil in Gold
Slimline in what looks like Gunmetal (very nice), not sure the wood. (Goncalo alves?)
Pink Ivory Americana in satin pearl
Walnut Burl Euro in Gold
Figure Maple Euro in Black Titanium
Red/Black/White Acrylic cigar in chrome
Zebrawood Euro in Gold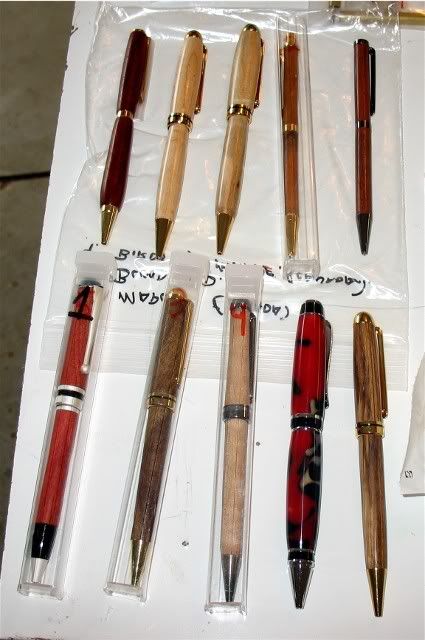 KITS
Mini Euro in Gold
Cushion Grip Click Gold
Cigar in Bright Black
Euro in Chrome
Slimline pencil
Cigar in Bright Copper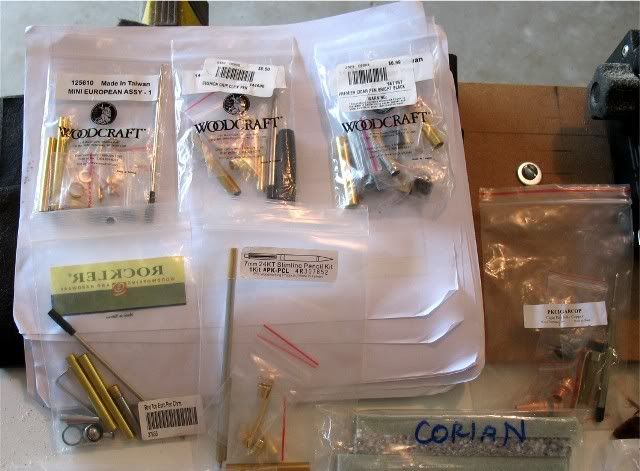 And now, the BIG turnout was… BLANKS
Grey fleck corian, light green corian, red corian, white corian, figured oak crotch, purpleheart, bloodwood some 'I think this is Walnut' :-) , maple, curly maple, lacewood, red oak, walnut, African blackwood, big leaf maple burl, amboyna burl, Brazilian rosewood, smokewwod bush, zebrawood, osage orange root, figured maple crotch, bocote, birch, cherry, jatoba and some salvaged hardwood spindle bottoms. Whew!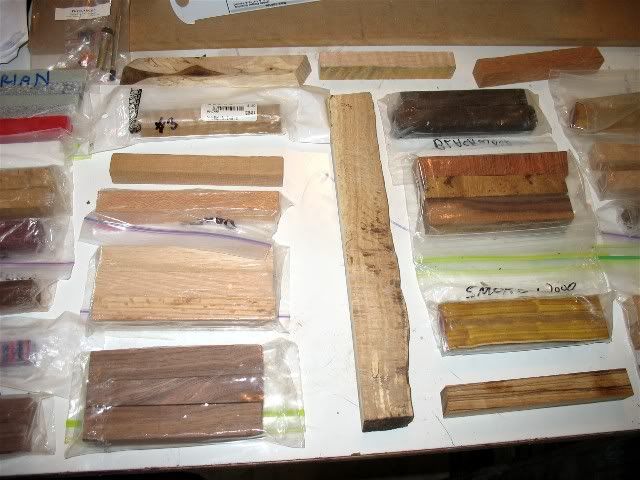 So there you have it, the journey is completed. We started this in mid-February and we've visited 8 states and 1 province in 2 countries! Pretty cool…
THANKS FELLOW JOCKS!!! Everyone was awesome, some great notes and comments were sent along by everyone not to mention all the great woods we added in. I really appreciate everyone joining in the trade and helping to blog the journey – it sure was fun!
Now… we need to look at #2 and get that geared up. :-) I'll take a few of the items out of this box but I'll pack it full on it's way back out. Perhaps this time we can try to get creative with local woods, unusual turnings… who knows? ;-) Who's in for Round 2 ?
-- Tim D. - Woodstock, GA
---