Fellow Jocks, two quick notes here.
1) Please don't take this as a political statement. I know we come from all over the world and each have our own beliefs. No matter what we feel about the Middle East, I appreciate our men and women that serve our country – I'm very proud of them and this is here to showcase my miniscule 'Thank You' to them.
2) This blog is written for the men and women that get these pens, I hope you enjoy it as well but thought some of them might like to see where the pens came from.
WELCOME SOLDIERS!
If you're visiting this blog there's a good chance you received a pen that was given to you through the Freedom Pen project. I make pens in a small shop in my garage and when I saw the program I knew I had to be part of it.
First… thank you, thank you, thank you. I know many people have many opinions on the war and I won't use this forum to voice mine but will let it be known that I (and many others) appreciate your service to America and to Freedom worldwide. As a small token – I'm sending you great folks some pens.
I took some pics of the process and wanted to show you how one of these comes to be. This is a Clif Notes version of what's involved. It's a simple process in concept but as you make more you want to challenge yourself with new ideas. I'm a decent, beginner level pen turner – there are many others doing amazing things with their pens that I hope to learn one day.
CHOOSE YOUR KIT AND TURNING MATERIAL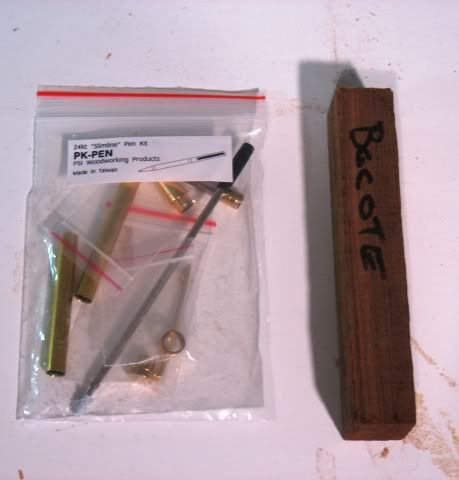 I try to choose a kit and a blank that compliment each other – there's a huge variety. Many of the pens I'm sending are a "Slimline" style in a Satin Gold finish.
FYI – The kit and blank are 'stunt doubles', they aren't the ones I'm showing through the whole process. :-)
CUT THE BLANKS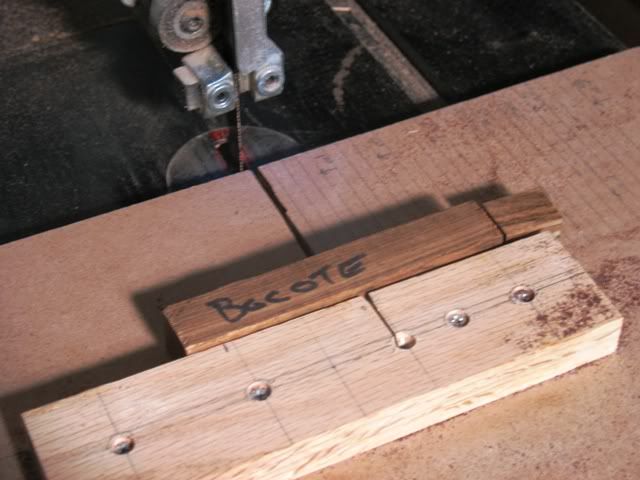 I've made a simple jig that I use at my bandsaw to cut the blanks, I've marked where to line them up for many of the kits I use regularly. Most kits use two pieces (uppe and lower) but some only use a single blank.
DRILL THE BLANKS AND INSERT TUBES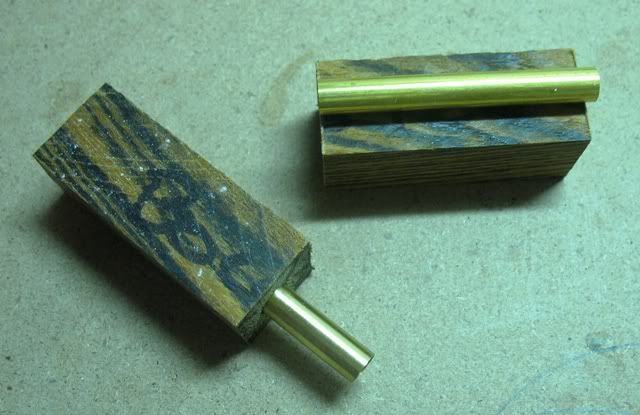 After cutting I clamp these in a special vise and drill them out, it's important to stay as much on center as possible. Different kits many use different size blanks, and as such different size holes need drilled. Then you have to glue the tubes in – some pen turners use epoxy to give these a bit of time to work with, I personally use cyanoacrylate (or just CA) glue – a super-quick set super glue. After gluing the tubes you clean and square the ends of the blanks to prep them for turning.
TURN, TURN, TURN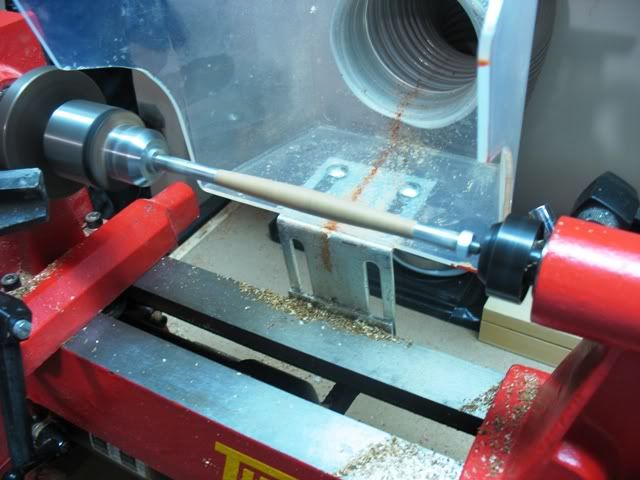 Each pen kit uses special bushings to determine the diameter of the pen, as you'll see on some of the pens coming to you we get a little creative sometimes in turning these and don't always conform to the bsuhings or basic guidelines. The tools are fairly simple, a couple chisels is all that's needed for turning. On the one in the pic above I wanted to try making a pen without a center ring, I measured the blank longer (equal to the size of the center ring) and left out the middle bushing – it worked OK but I wish you couldn't see where the cut is so much – I'll work on that…
FINISHING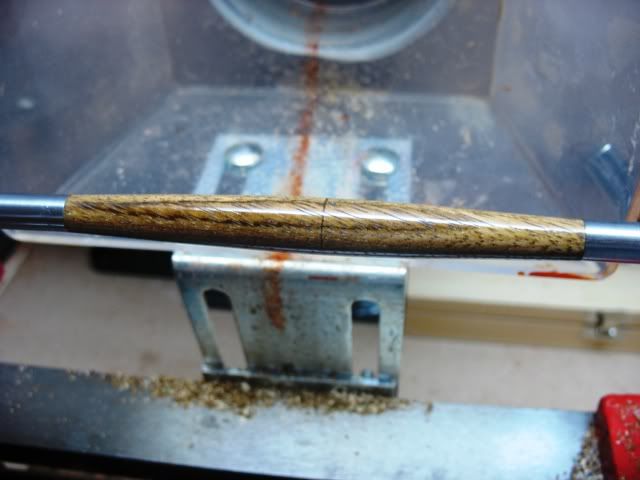 After turning to the size, sanding, polishing, sanding, yelling, sanding,taking a nap, and finally sanding… it's time to put some finish on the pen. There's no color added here – simply showcasing the natural colors of the wood. Turners use a combination of finishes to get their own personal look – my process includes boiled linseed oil (BLO), CA glue and a mix of shellac and wax called Shellawax.
ASSEMBLY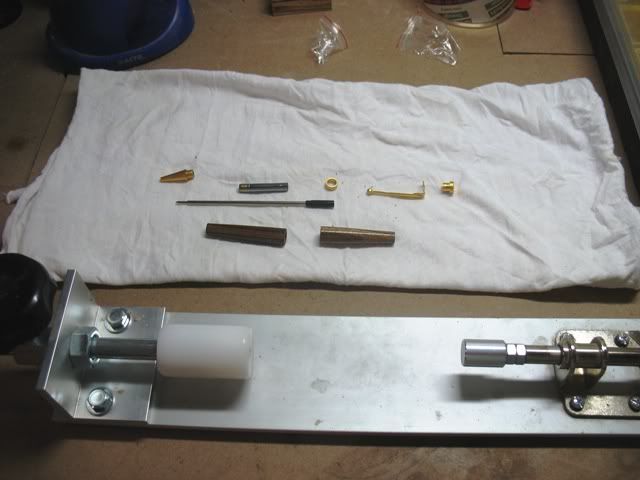 Once I've got the sheen on this that I want it's time to assemble the pen. This is a critical part and there's been more than once that a heavy hand has destroyed one of my pens after a lot of hard work. On this kit I show the center ring that I'm leaving out on the pen.
THE FINISHED PRODUCT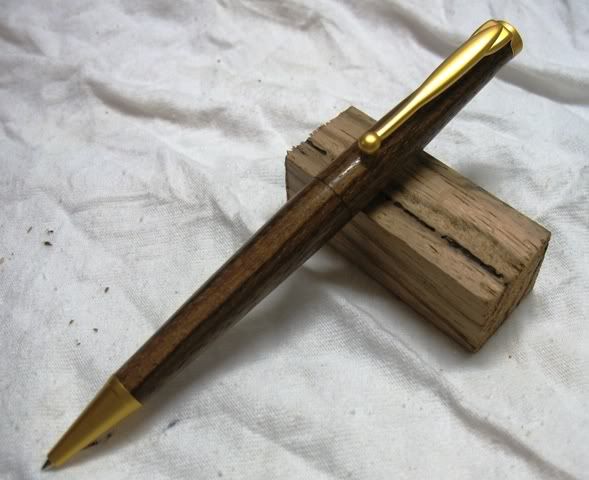 Basically, that's the process ladies and gents. This is how a stick and a bag of metal becomes a pen. It's a lot of fun IMO.
I made two special pens to send, both are a Wall Street II style. In one I tried a new method and inlaid one wood in the other (no close up on that but you can see it in the group pic) and the other is a Red, White and Blue acrylic I call "Let Freedom Ring"! ;-)

Finally, here's a pic of all the pens I'm sending – laid out patriotically… :-)

I hope you enjoyed this simple how-to, and I hope you enjoy the pens. If you'd like to know more feel free to drop me a line. And if you are ever in Atlanta and want to make a pen let me know – I'd gladly open my shop to any of our troops and help them make a pen. Thanks again, God bless.
-- Tim D. - Woodstock, GA
---