Hi Folks,
Wanted to share a few pics of my shop upgrade in progress, I'm a bit into it now but nothing that is too advanced – just some basic framing. I'm working out of a 2-car garage and wanted to maximum my shop space while still retaining some use of the garage.
The major tools that I needed to accomodate were:
- Grinder
- Drill press
- Spindle sander
- Mini lathe
- Bandsaw
- Tablesaw
I built the bench to hold the grider, drill press, sander and lathe with a spare bay as an 'assembly station'. I also installed a Delta AP400 dust collector with the hoses running under the worknbench. At each station there is a blast gate mounted flush with the bench and next to the dust collector I have a floor sweep.
I still need to run an auxilaary line to connect on the table saw and planer – once I get one!
Here's a picture of the bench -
The worbench is 21 3/4" deep, this makes it flush with the door leading into the house. There's still room a the opposite end to store our lawnmower and access the water heater.
I try not to waste anything in the shop so for the bottom shelves I used random pieces of 2×4's to create cross-support braces – reminiscent of setting up a waterbed frame in you remember those. Since they won't be visible they only needed to be functional and not visually pleasing.
Here's a pic showing one of the supports: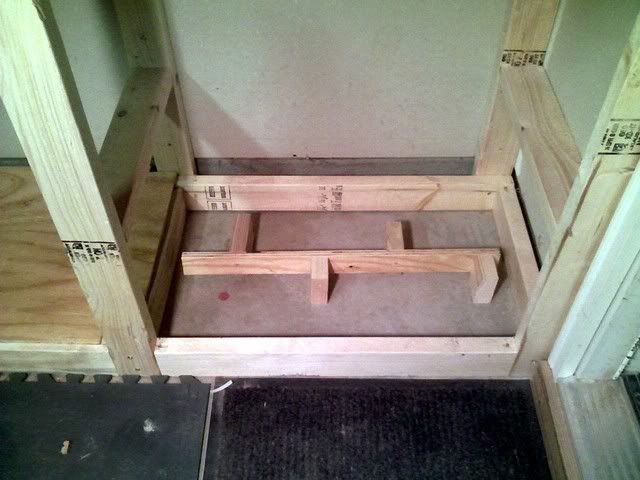 My plan for here is to finish closing in the worbench. I'll add 2 doors at each bay. For the bottom shelf I'm going to use drawer slides to make a sliding shelf for easier access.
Still to come are a rolling bench to be used as a miter saw staion, possibly with a router table integrated. Once everything is situated this should still leave 1/2 where a car can be parked if needed.
Any comments or suggestions are welcomed and appreciated!
-- Tim D. - Woodstock, GA
---