A few of us her at LJ that turn pens decided to get together and swap some of goodies. We've started a package moving around the country (actually, around North America – we dip into Canada as well!) containing 5 turned pens, 5 pen kits and 5 blanks.
Here's a map to show where we're located and where our pens will travel: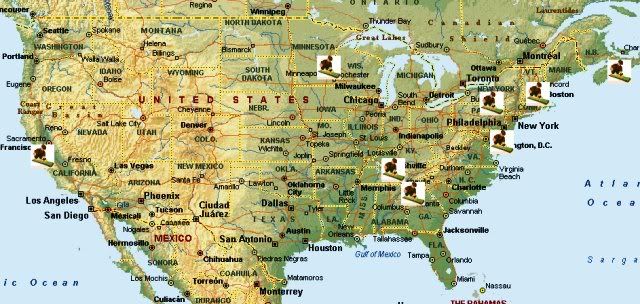 When each Jock gets the package he'll go through it and decide what he wants to take from it, he can take all or nothing but… whatever we take we have to replace it with a like item that is of equal(ish) or better value, and then we pack it up and send it on to the next Jock on the list.
When the circle is completed the package will come back to me, hopefully with 5 new pens, 5 new blanks and 5 new kits. I have to admit my pens are not the best – I'm still learning – but I hope the other jocks will take pity on me and take some of my pens… :-)
I wanted to start the kit with a nice mix of low, mid and higher-end items as well as different styles and materials. I think I got a good mix to start off with. The first jock to get the box (you know who you are!) will get a preview of what's coming to him here.
For the pens: (In numbered pen tubes so they are easily identified)-
1 – Chrome European in Lacewood
2 – Pearl Classic American in Pink Ivory
3 – Slimline Pencil in Goncalo Alves
4 – Black Titanium European in African Blackwood
5 – Black Titanium European in Figured Maple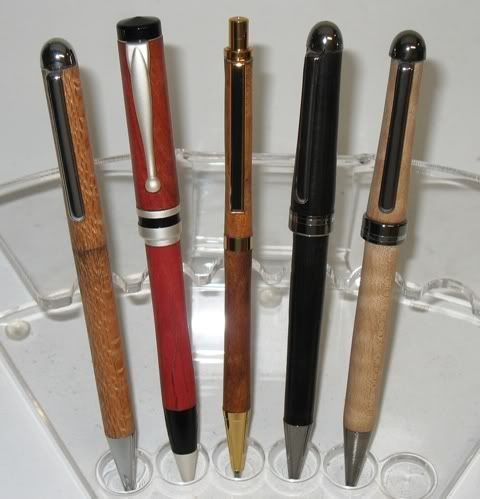 For the pen blanks:
1 – Mango Creamsicle Acrylic Blank (Nowhere near as delicious as it sounds)
2 – Lacewood
3 – Curly Maple
4 – African Blackwood
5 – Dymondwood-style blank in 'Bubblegum'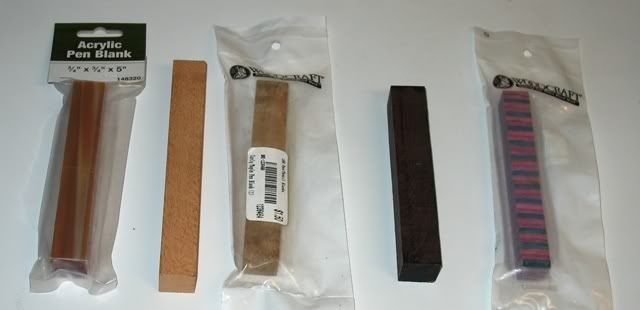 For the pen kits:
1 – 24kt Slimline Pencil kit
2 – Round top European Pen kit in Chrome
3 – Classic American Screw Cap Fountain Pen kit in Gold
4 – Mini European Pen kit in Gold
5 – Cushion Grip Click Pen kit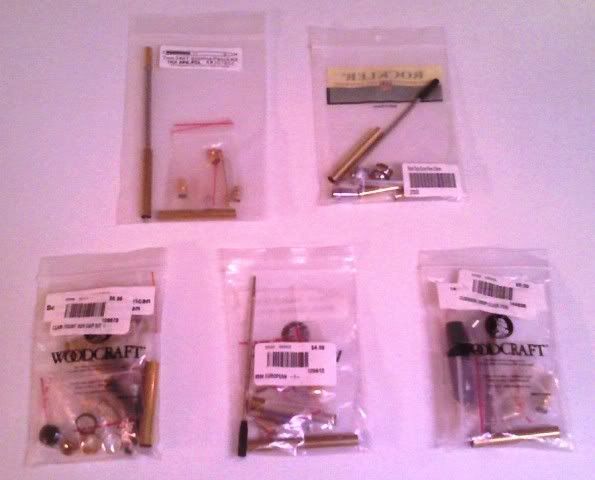 And so it begins… as each Jock gets the box and sends it on he'll update the blog here so we can see the journey these take. We'll also share any comments or suggestions with each other (maybe via PM instead of the blog!) that might make each of us a little better at our carft.
Stay tuned!!!
-- Tim D. - Woodstock, GA
---