What a great day we had in High Point, NC saturday. Tracy, Lauren and I drove up from Myrtle Beach,SC (about 4 1/2 hour drive) to attend the Lumberjock's picnic in High Point, NC. It was held at the Valspar Color Studio and I'll tell you a little more about that in a little bit.
Nothing like a "tailgate party" to get to meet new friends and talk woodworking.
Jerry (Cabinetmaster) cooked us up some hot dogs and hamburgers to go with the macoroni salad, baked beans, chips and I found out "after" we left, there was desert! Tracy informed me that after we ate, we got so involved in talking "woodworking" that none of us guys even notice the deserts. We seemed to be more interested in looking at the bowls and cutting boards that Jerry brought and talking woodworking then worrying about food. LOL
Check out these bowl that Jerry turned. He had a really cool collection, but I have to show you one of my favorites.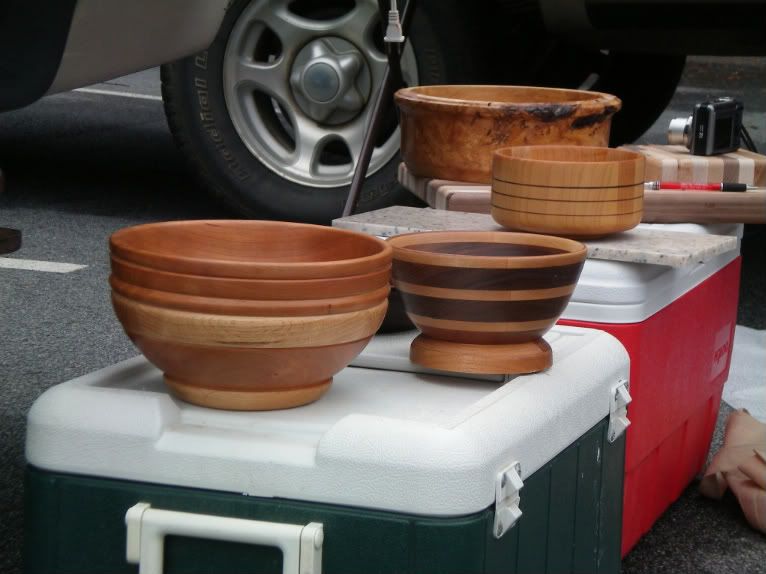 I brought a few small projects to show -n- tell, a couple band saw boxes and the steam engine I did for my Dad (posted some pictures of that a couple months ago). I also brought a few pieces of Wenge along that I had left over from the last project I did, to give anyone that might want to try some. Jerry brought two large drawer boxes full of turning blanks to give to anyone interested. Thanks Jerry!
Here's our mug shot! left to right
Jerry (cabinetmaster), Bill (BHawk), Scotty (SgtSnafu), John (Huff) and Ken (Woodbutcher)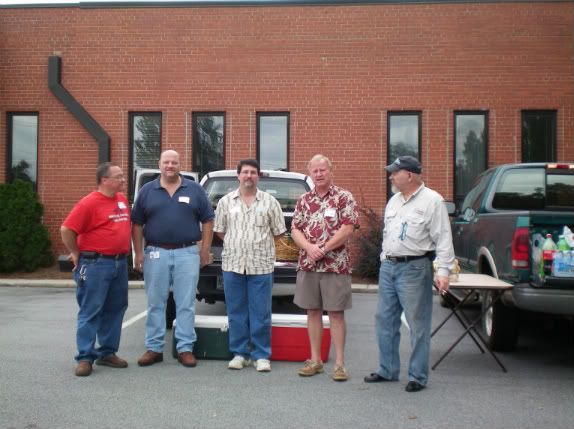 I'd like to give a special Thanks to Jerry and Bill for organizing such a great get-together. They really did a great job.
I also wanted to tell you a little about High Point, NC and also Valspar ( who was kind enough to allow us to have our picnic there and David King from Valspar taking the time to give us a tour and tell us a little history of the company and how they are involved in the global market today. Bill (BHawk) was our inside man getting this all organized (He works for Valspar)
I was told Valspar has been in business since 1806 making finishes (That's right, over 200 years). High Point is known as the Furniture Capital of the World. It used to be because of all the furniture manufacturing that was done in High Point, but now it's because of the International Furniture Market that shows twice a year. Manufacturers of furniture from all over the world showcase their new lines there and wholesale buyers from around the world come to High Point to make their purchases. Most of these manufacturers have showrooms in High Point year round.
.
David was telling us that most of the Brand name furniture manufacturers we are familar with has moved their operations overseas, so for Valspar to continue making finishes for them, they have become a global Company, even though they still do their manufacturing here, they ship worldwide.
Anyway, all that being said, Tracy, Lauren and I did get a chance to go downtown for a little while and stroll thru a couple of the furniture stores. After only a couple stores and thousands of pieces of furniture, I realized there are hundreds and hundreds of these showrooms in High Point and had a hard time grasping the fact there is so much mass manufactured furniture out there. That's why I enjoyed my day with the other LJer's, simply knowing we do it one at a time!!!!!! and we do it for the love of Woodworking. We are a special breed…..and something to be proud of.
I would recomend that anyone that knows of a Lumber Jocks gathering near them, they should take the time to go and meet the other LJer's. It was so nice to put a face to the names. Their post and projects are going to mean so much more to me now. Thanks again to Jerry and Bill. Well done!
-- John @ http://www.thehuffordfurnituregroup.com
---