I presented the "finished" Creche to the wife for her artistic additions. Needless to say, I wasn't finished. It needed a back wall. OK, back to the shop. In keeping with the design criteria (leftovers and simplicity) I came up with a new joinery method to join together lengths of 1/4" dowels to form a palisade wall, I call it the knot and dowel system. Actually, I think I saw it in the latest King Kong remake. As you can see, all it requires is some lengths of dowel with knotted twine between the dowels to form a wall. I thought of making a video of the process, but you probably already know the principals.
I glued a length of 1/8" redwood strip to the bottom and wedged the whole works beneath the roof structure so that it can be removed for storage (like the rest of the creche). I'm not sure if I added to the creche or just created a beach shack, but that's it …. I'm done (maybe).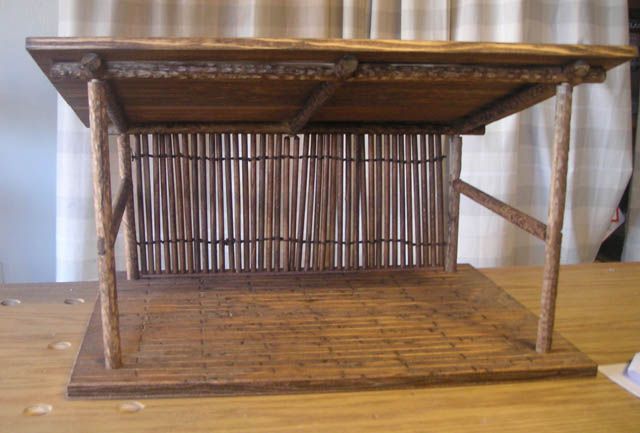 Thanx for look'in in. Alll comments, criticisms, and insults are welcome.
-- Greg, No. Cal. - "Gaudete in Domino Semper"
---