Things move along quickly as long as employment doesn't interfere. Actually, I am transitioning into retirement and it is not taking much effort. As you may have noticed in the first blog, the ½" plywood base was cut with shallow 45 deg. kerf cuts and cross cuts were made by chisel to emulate staggered planking. To make the new structure not look so "new", I distressed the base with files, rasps, hammers and chain to dent and mar the pieces. That was tough, I usually try to avoid dings and dents. Similarly, the glued up roof panels received shallow 45 deg. kerf cuts on both sides along the glue line and mid lath line to give the roof a planked look and to disguise the glue lines. The roofing panels were attached to the roof structure with glue and wire pins.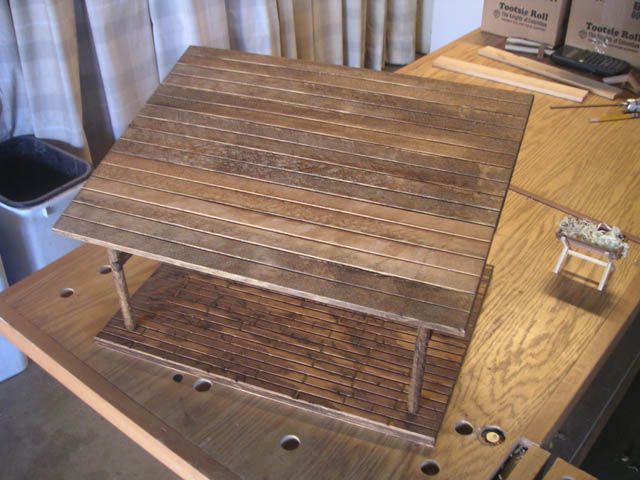 The dowels (let's call them logs from now on) were textured by cutting shallow scallops on the surface using a utility knife to emulate a "rough hewn" appearance. Actually, I was half way through before it occurred to me that timbers are hewn, not poles, so I will consider them as being roughly de-barked poles. I also cut splits on the surface and ends of the logs, but that probably doesn't show up very well in the pics.
Finally, I added some leftover oil stain and linseed finish (no shortcuts or shoddy materials here). I think I'm done with the construction phase.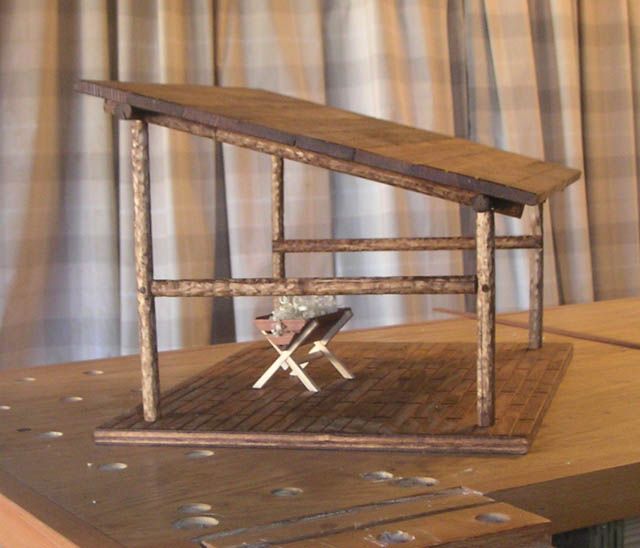 Oh yeah, while I was waiting for the stain and oil to dry, I cobbled together some small leftovers to create a hay feeder (crib) for a bed. The "straw" is just some shavings I planed along the edge of the leftover lath.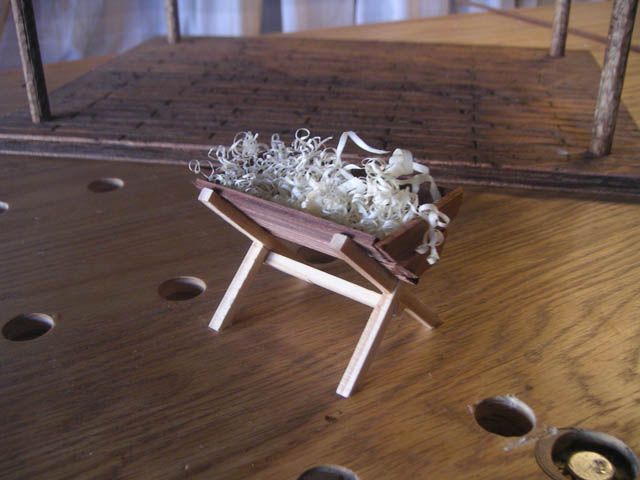 Next is where the wife's "help" comes in. She being an avid scrap booker (and just between you and me, she's pretty good at it), I asked for her input into decorating the crèche to give it an "aged" appearance. She has agreed to it if I don't get in her way, which I have a tendency to do. The next posting will probably be in the finished project category.
Thanks for look'in in and I hope to see you all again soon.
-- Greg, No. Cal. - "Gaudete in Domino Semper"
---