Actually, the inspiration came indirectly through his son John, who developed Lincoln Logs ® and who's design I slightly amended. OK, the joinery technique is really just half lapped joints, but I thought the inspiration tag sounded better.
Anyway, to move on, I was "tasked" by the wife to help build a crèche (manger) for her figures by next Christmas (this is not a last minute project). Having a handful of 18" x ½" dowels leftover from a previous project, I thought that I might just design a "pole barn" structure with my leftovers and odds-n-ends laying about the shop. Off to the design center, I spun up the "Sketch Up" program and did some quick renderings using the given figure heights of 5" (Joseph & Mary) and material limitations (1 doz. 18" maximum pole lengths) and came up with a simple shed design with "Golden Sections" on the front and side views (I love this SU program).
As you can see in this first set of pics, the joinery is simple half lapped joints which I glued and pegged. In order to index the plane of the half laps, I cut out and glued up some keys that insured that the joints were square on the round dowels.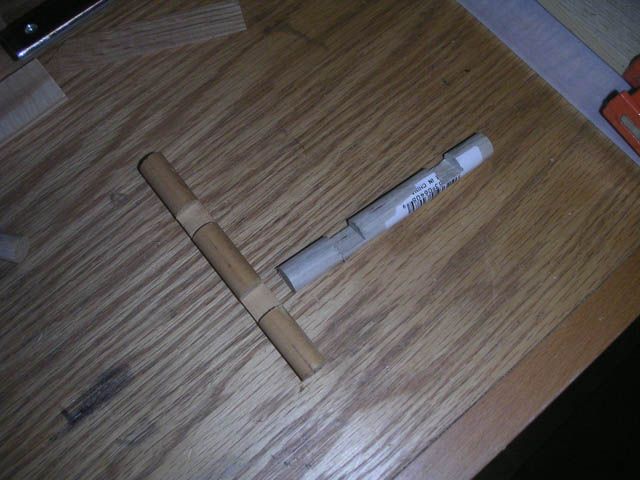 So that the structure would collapse for storage, I designed the unit to consist of four (4) components which could be pulled apart and reassembled. The vertical poles slip into holes in the ½" plywood base, and the top of the uprights have ¼" dowels drilled and glued into the tops to attach the roof structure. To receive the ¼" pins, I drilled a hole through the intersecting joints on the corners on a 15 degree skew to compensate for the slope of the roof.
The roofing panels were cut up from some surveying lath and edge glued.
Well, she is dry fitted and beginning to take shape and more ideas are beginning to form to make the creche more "rustic" I'll be back soon and thanks for looking on.
-- Greg, No. Cal. - "Gaudete in Domino Semper"
---