My family is just too big…
Either that or my house is too small.
We have four children at home. Two are college age, and two are in their early teens. Thye two youngest ones share a bedroom…nothing uncommon about that. However, they definitely do not want to use bunk beds. As you might imagine, this can lead to floor space issues. This is especially true when you consider that they really can't share a single dresser, and they both have school work that needs doing—at the same time of course.
The Love Of My Life and I found the perfect furniture solution in a catalog. Essentially it is a captain's bed, but there's more to it than that. It has an honest-to-goodness pull-out desk, a dresser, and more built-in. A pair of those packs a lot of function into no more floor space than the bed alone!
Here is a picture of a bed found in a catalog: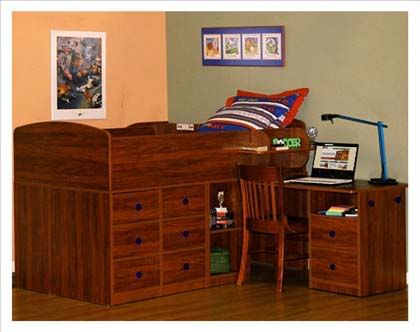 Unfortunately for my budget, the price tag was too high for the particular style we wanted ($2000) and we needed two of them!
Fortunately, I (think I) have just enough wherewithal to tackle the job of building my own. In additional benefit, of course, is that I can build something tailored to my kids' liking.
One of these bed systems has already been built—complete with several lessons learned in the process. This was done before I joined LumberJocks. I'll post some pictures of it in the next post.
My design differs from teh above picture. At the foot end of the bed, I'm using the space for a mini-closet. It has enough space inside to hang quite a few clothes. This is something I wanted to include so that they each can have their own special place for hangables. The closet section also has a couple of shelves for shoes and the like.
So much for history. Next time… more about the previously built bed, lessons learned, and changes that go into the second version!
-- "A day without sunshine is like...night."
---